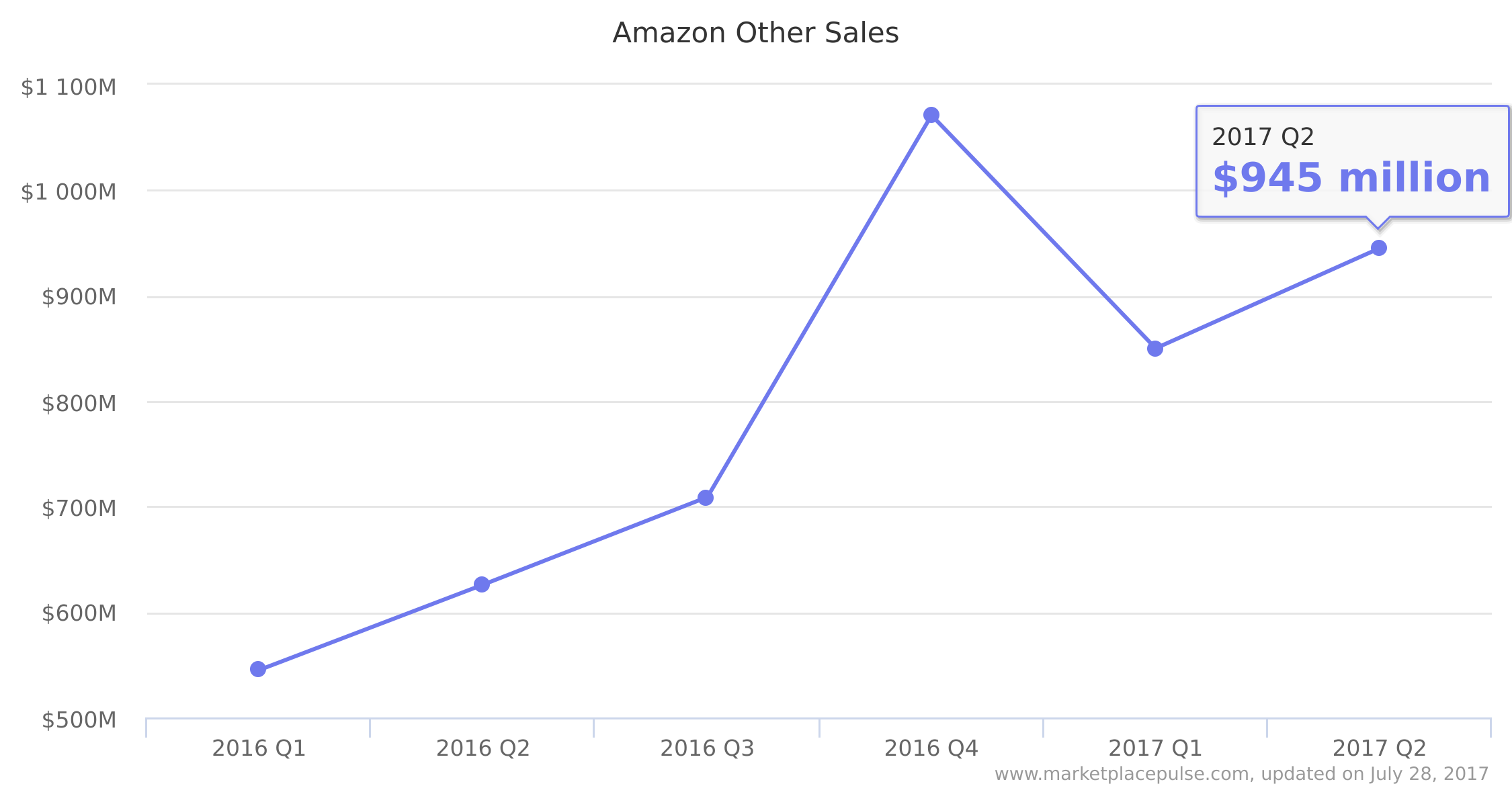 According to Amazon's second quarter earnings, company's "other" revenue - believed to be made up mostly of advertising - category grew faster than anything else. The category includes advertising revenue, as well as some minor items like cobranded credit cards. At 53 percent, it was way ahead of retail growth of 18 percent, and more than third-party seller services 40 percent growth.
When asked about head count growth, Brian T. Olsavsky, CFO of Amazon, said this last week:
"Right now, what we're seeing is an accelerated growth rate in software engineers and also sales teams to support primarily AWS and advertising."
Both AWS and advertising are very technology intensive businesses. Yet Amazon needs those to catch up with the sophistication Facebook and Google have in their adverting products.
It might take years for the advertising business to grow big enough for Amazon to consider breaking it out as a category of its own. But most estimate that by 2018 it will reach north of $5 billion yearly run rate. Yet Google and Facebook, which together control most of ad spend, generate over $30 billion in a single quarter though, so Amazon's share of the market is tiny in comparison.
And yet as more sellers join the marketplace, and as they bring private label products, and as more brands appear on the marketplace, the competition for potential customers is down to using ads. The challenge of launching a product on the marketplace has only gotten harder, and now requires some internal or external push. Thus Amazon's advertising business will only get more important and bigger.
Advertising on Amazon grew quietly over the years, but as Amazon became a starting point for shopping for most people, spending on advertising elsewhere made little sense. While Facebook knows everything about the customer, and Google knows what the customer is looking for, Amazon knows when a customer is ready to buy. Making advertising on Amazon potentially much more effective, and efficient.
The Wall Street Journal in "P&G Cuts More Than $100 Million in 'Largely Ineffective' Digital Ads" wrote:
"Procter & Gamble Co. said that its move to cut more than $100 million in digital marketing spend in the June quarter had little impact on its business, proving that those digital ads were largely ineffective."
It will be interesting to see when big brands like Procter & Gamble move their advertising spending to Amazon. This why Amazon is spending effort meeting with consumer packaged goods (CPG) companies, and explaining them the vision of Amazon. Once big CPG brands come, with their multi-billion ad spending budgets, it will cause major changes in the marketplace.
According to Digiday "L'Oreal UK is shifting some of its search budget to Amazon", quoting Nick Buckley, L'Oréal's digital director in the UK:
"As a percentage of L'Oréal's total search budgets in the U.K., Amazon's share is still in the single digits. But as the volume of searches increases, L'Oréal will "also look to increase in line with this, so anticipate this spend to grow," said Buckley. For the beauty terms and searches the cosmetics company's makeup brands are keen on, it is "buying up all the inventory on the platform," Buckley revealed. He added: "As we start buying keywords in other categories [skin care and luxury goods], this will naturally increase the scale.""
Currently Amazon is still early in developing the advertising business, but not only it will get bigger as competition on the marketplace requires it to succeed, it will be a major income source too. If Amazon could get a profit margin similar to that of Facebook or Google, it will be a major profit driver for the company.
Other marketplaces are growing their own advertising businesses too. In May eBay changed their ads product to remove external ads, and instead put promoted listings in their place. Previously ads would drive customers to buy on other sites than eBay which - while generating extra revenue - looked confusing.
This growth of advertising products is bringing back the question how marketplaces should make money. In China, eBay's equivalent Taobao.com is free of commission fees, and Tmall.com which is very much like Amazon has fees up to 5 percent. Both of these are run by Alibaba, and generate most revenue through additional services like fulfillment, payments, and advertising.
By comparison both Amazon and eBay are much higher in fees. With most products at Amazon commanding a 15 percent commission fee. Which then only grows once a seller uses Fulfillment by Amazon (FBA), Amazon Lending loans, and advertising. It is not uncommon to see sellers pay 30 to 50 percent of the product price to Amazon.
Etsy for example already generates more revenue from services to sellers which includes advertising than it does from the commission fee. By growing the amount of services on offer, and by making them effective, marketplaces can reduce the commission fee to avoid competition.