For the first time in Amazon's history the percent of units by marketplace sellers reached 51 percent. This is the first quarter where marketplace sellers contributed more than Amazon itself.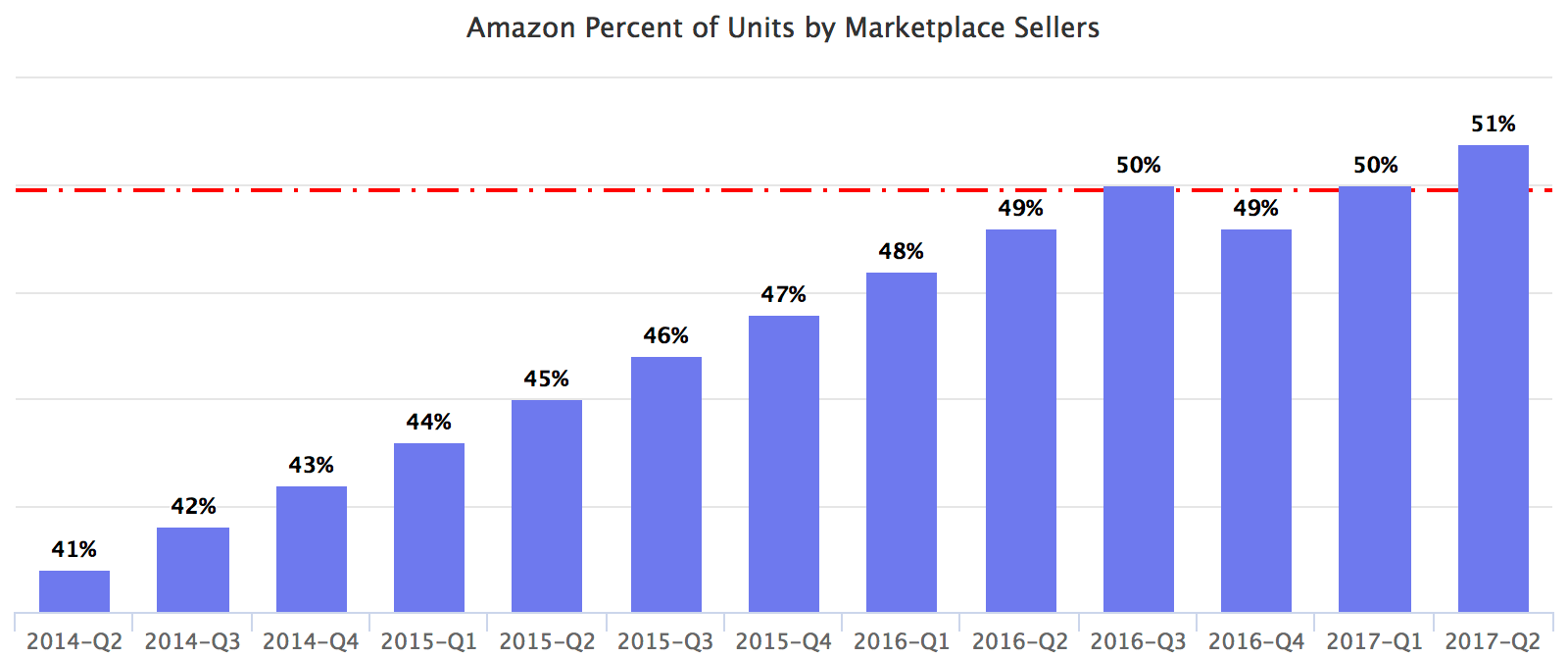 After reaching 50 percent in Q3 last year, the share came down to 49 percent, and then back up to 50 percent last quarter. Last year we predicted that in 2017 the marketplace will finally grow bigger than Amazon.
It is interesting though that in the quarter earnings report, and in the following earnings call, there was no mention of the marketplace and sellers. The focus continues to be on what Amazon is doing.
Amazon sold $23.8 billion worth of products in the quarter, up from $20.4 billion last year. But this 18 percent growth in retail sales, while still the largest piece of Amazon's sales, is being caught by other segments.
Sales growth by segment:
Retail products - 18%
Third-party seller services - 40%
Subscription services - 53%
AWS - 42%
Other (advertising) - 53%
Amazon's business is increasingly about providing services, from Amazon Web Services (AWS) cloud hosting, to Fulfillment by Amazon (FBA), payments, loans, and advertising. This is why other segments are growing so much faster.
In total Amazon generated $37.95 billion in sales in Q2, and for the first time passed $150 billion in sales for the trailing 12 months.
Big part of this is the Third-Party Seller Services which Amazon started to break out last quarter, and include commissions, related fulfillment and shipping fees, and other marketplace seller services. This is because as the marketplace grows services to sellers is key. Total marketplace GMV - sales by marketplace sellers only - is expected to reach $135 billion this year. And will continue to grow faster than Amazon retail sales.
The Other segment, which is believed to mostly consist of advertising used by brands and sellers, grew even more than seller services. It reached $945 million in Q2, as brands fight to get a sale. Most experts in the market agree that this is a key area to watch as once big CPG brands join the platform it should only go higher. Amazon is taking away revenue from Google by solidifying as the default place to start retail search, and providing opportunities for brands to advertise there.
However while Amazon posted a profit for the 9th straight quarter it has failed to meet analysts expectations. The profit was much lower than expected as Amazon continues to invest into international expansion, with India being one of the major areas of focus. Losses reached -$724 million for the segment, eroding the profit from AWS and North America.
Shira Ovide at Bloomberg Gadfly wrote in "Amazon Is a Rebel With a Successful Cause":
"Amazon keeps acting like Amazon – a company that plows about 97 cents of every dollar in sales back into fueling its endless ambitions. The company has more than proved it knows what it is doing, although some of its newer projects like physical bookstores and convenience stores and an expensive splurge on online video programming deserve more of an explanation to investors on how they are worth the investment.

The real problem isn't Amazon but investors' inflated hopes of profit inflation. The company has never generated more than $4.2 billion in annual operating profit – its total in 2016."
As Amazon retail looses momentum (it grew by 18 percent compared to 22 percent a year ago), services continue to grow. Outside of AWS cloud hosting, they are all coming from marketplace sellers which have now expanded the market to new heights.