Credit Suisse has published their most recent estimates for Amazon's growth, and highlighted the increasing contribution marketplace sellers are going to have in achieving that. Thanks to Scot Wingo of ChannelAdvisor for sharing this on Twitter.
They estimate that last year on top of the Amazon's own $91 billion, marketplace sellers contributed $103 billion, totaling in $194.4 billion gross merchandise volume (GMV).
The marketplace contribution is expected to grow from 53 percent in 2016 to 70 percent in 2023. In just three years the marketplace is estimated to double - from $103 billion in sales in 2016 to $212 billion in 2019.

Like we wrote in Amazon Is Twice as Big as It Seems, the sales figure Amazon announces includes only their own sales. The marketplace sales are not reported, outside of the marketplace share of total units sold. But it is commonly agreed that Amazon's marketplace sales are likely as big as their retail sales.
Amazon has recently started reporting Retail Product Sales which were $68.513 billion in 2014, $76.863 billion in 2015, and $91.431 billion in 2016. This is the figure Credit Suisse used for Amazon's 1P sales. They estimated 3P sales based on this figure, and a combination of other information available.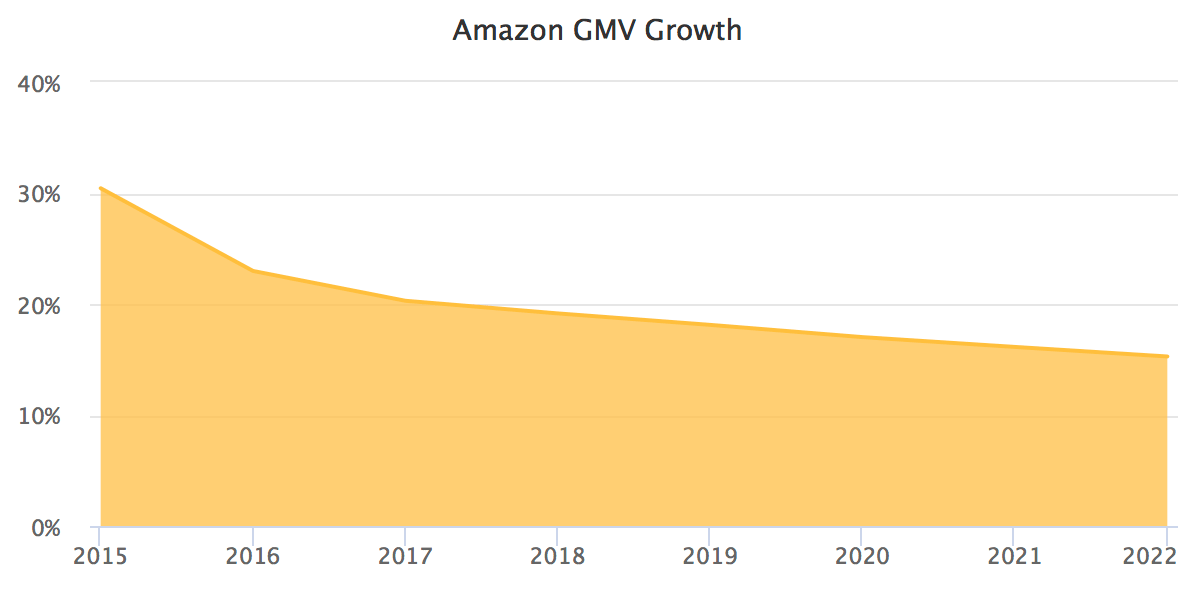 Credit Suisse estimates that Amazon will continue to grow, but at a slowing pace. They expect 23 percent growth this year, but for it to slow down to 15 percent by 2023. Even though this growth is for worldwide sales, the US e-commerce growth is at 14-15 percent so even then Amazon would be the major contributor outpacing the market.
Another area highlighted in the report is the growth of Fulfillment by Amazon (FBA). By 2020 Credit Suisse estimates that 70 percent of third-party units will be fulfilled by Amazon. Our research matches their estimates as we see continued growth of FBA use among top sellers.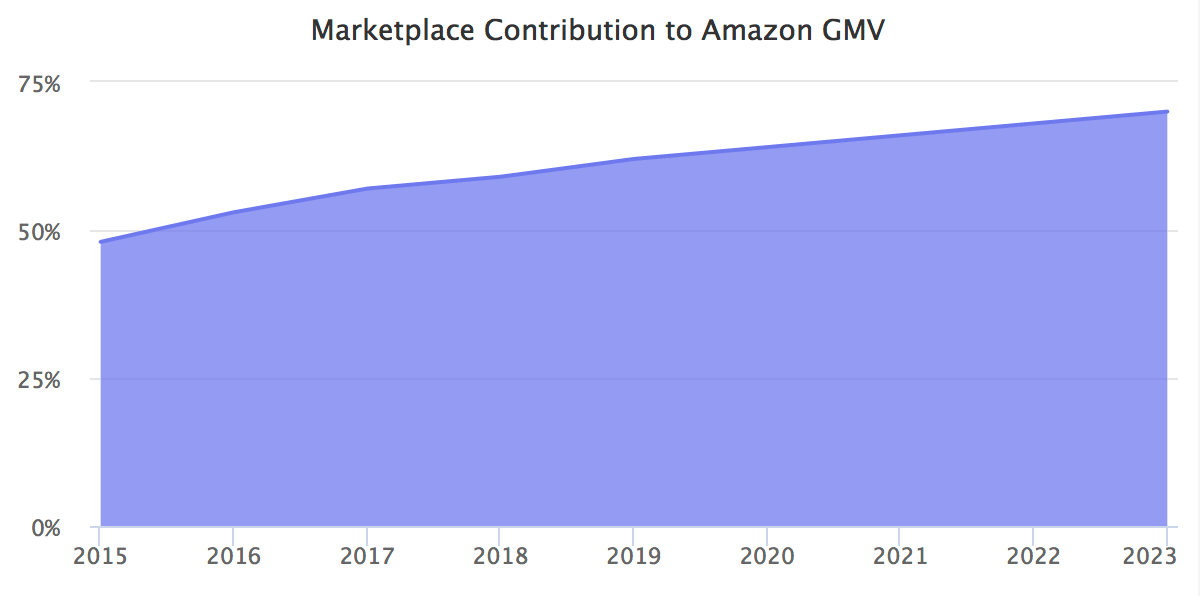 These are estimates, and just like all predictions go they might end up being wrong. Either way, the general concensus for the market is the same: marketplace sellers are growing faster than Amazon itself, FBA service use is growing among sellers, and Amazon is yet to reach its peak.
Credit Suisse estimates that the marketplace is going to grow by roughly $35 billion in both 2017 and 2018. The challenge for sellers is positioning themselves in a way so they can benefit from this.
| Year | Amazon Total GMV | Marketplace Share |
| --- | --- | --- |
| 2015 | $149.1 billion | 48% |
| 2016 | $194.4 billion | 53% |
| 2017 | $239.1 billion | 57% |
| 2018 | $287.7 billion | 59% |
| 2019 | $342.8 billion | 62% |
| 2020 | $404.9 billion | 64% |
| 2021 | $473.8 billion | 66% |
| 2022 | $550.2 billion | 68% |
| 2023 | $634.2 billion | 70% |