Amazon is pocketing more than 50% of sellers' revenue - up from 40% five years ago. Sellers are paying more because Amazon has increased fulfillment fees and made spending on advertising unavoidable.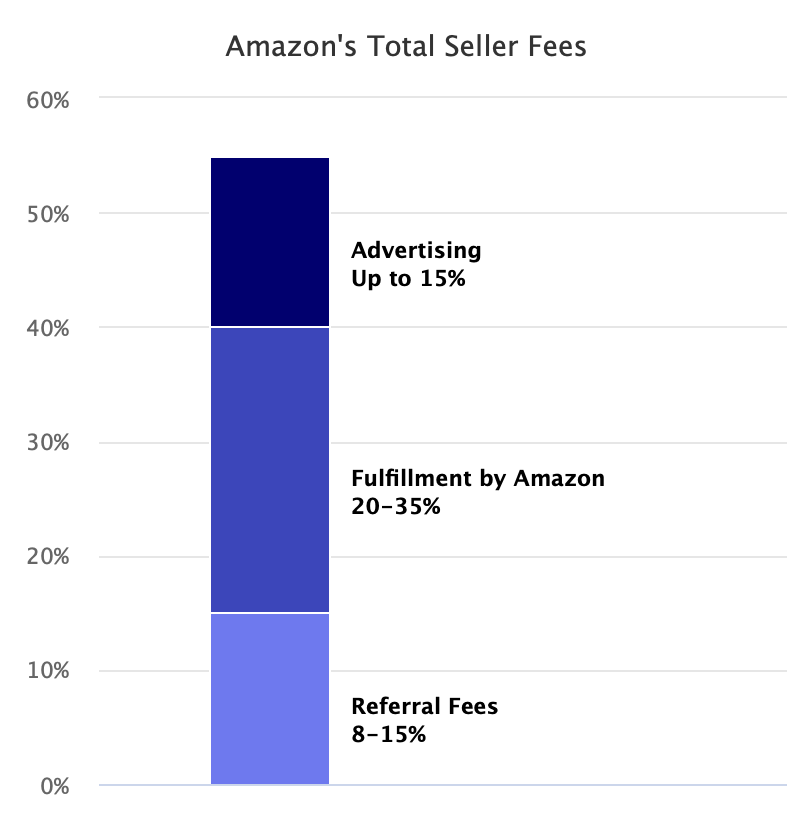 According to P&Ls provided by a sample of sellers, a typical Amazon seller pays a 15% transaction fee (Amazon calls it a referral fee), 20-35% in Fulfillment by Amazon fees (including storage and other fees), and up to 15% for advertising and promotions on Amazon. The total fees vary depending on the category, product price, size, weight, and the seller's business model.
The 15% transaction fee has stayed the same for over a decade. It varies by category and can be as low as 8%. Fulfillment by Amazon (FBA) fees have steadily increased. Amazon has raised fulfillment fees every year and introduced increases in storage fees. Selling on Amazon is tied to using FBA, so it's rare for sellers to be successful without using it.
Amazon doesn't set advertising prices, but as more sellers choose to advertise, advertising gets more expensive due to competition. Advertising on Amazon is not optional. Most of the best-converting screen space is allocated to advertising; thus, sellers inevitably have to advertise to have a chance to be discovered. Some sellers still pay very little for advertising, and many resellers spend less than 5% of sales on it, but private label sellers often spend more than 10% on growing their brands.
Every year, Amazon sellers pay more fees as a percentage of their sales. The increase is not a result of sellers using more services. The same services have gotten more expensive (FBA) or unavoidable (advertising).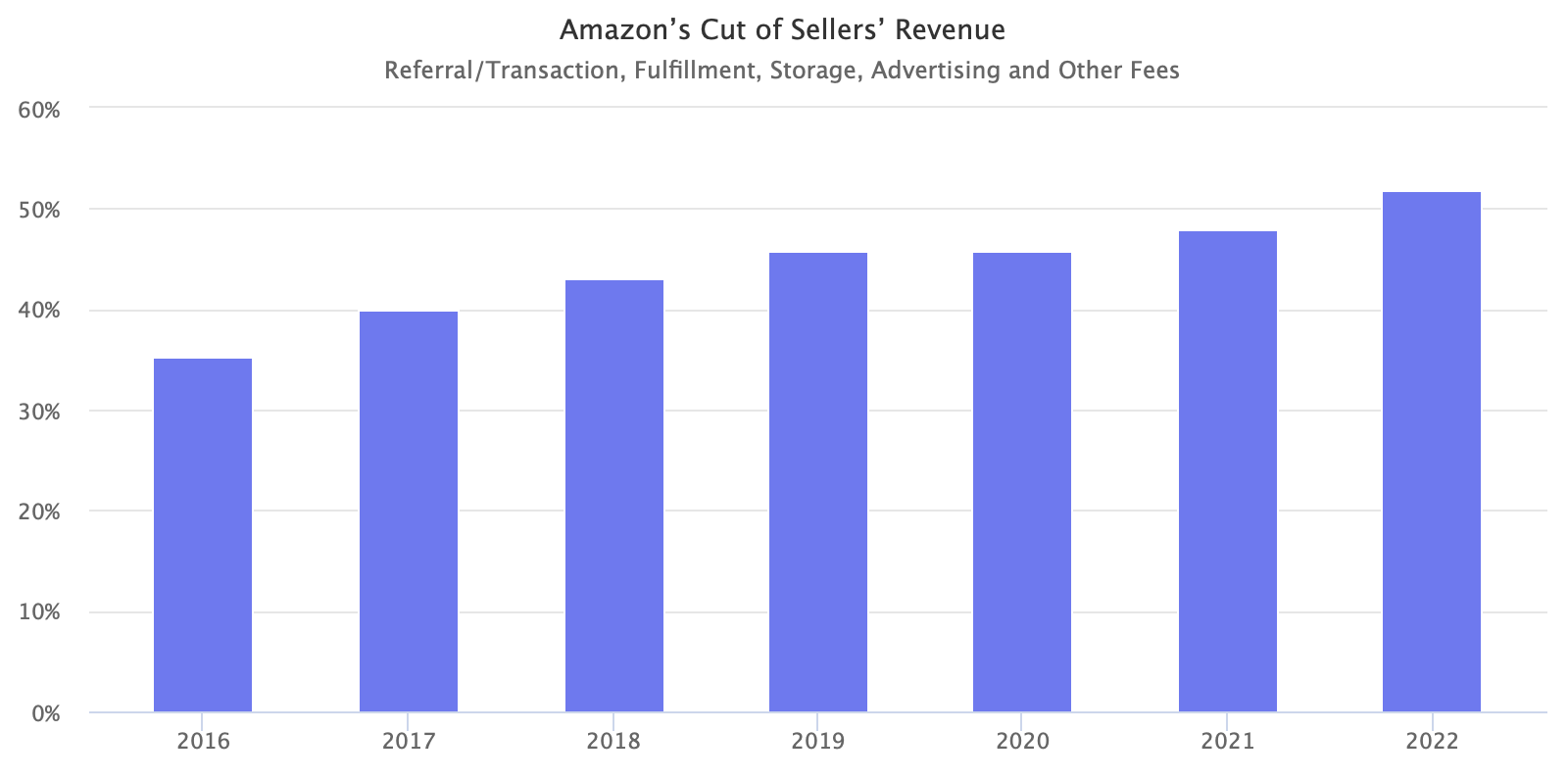 The fees pay for services that wouldn't be free elsewhere either. Advertising on Google and Facebook - two major consumer acquisition channels - has also gotten more expensive, and fulfillment services by 3PLs are not always cheaper than FBA. Amazon fees pay for a lot of value; whether they are too costly or have risen too fast is subjective. But both Amazon advertising and FBA are not optional services - 50% is the cost of selling on Amazon, and the various services that the 50% pays for are required.
That bundle is hard to directly compare against marketplaces like Walmart and eBay or shopping platforms like Shopify. Walmart, for example, is cheaper than Amazon, especially for new sellers for which it offers transaction fee discounts. But it's also an order of magnitude smaller than Amazon; a seller can only partially replace Amazon with Walmart. And direct-to-consumer e-commerce through platforms like Shopify is a fundamentally different business model - the fees are not the only consideration.
Sellers are combating fee increases by either raising prices, diversifying from FBA, or diversifying from Amazon altogether. However, sometimes it's only at the end of the tax year that they realize how little net profit they have left. A few sellers showed paying 60% and even 70% of their revenue to Amazon in fees. They still had to pay for inventory, freight, employees, and other expenses.