Shein will likely launch a marketplace in the U.S. after testing the model in Brazil and Mexico. The number one most-downloaded shopping app in the world is expanding beyond fashion and local manufacturers in China.
Shein is one of the world's largest fashion companies - according to The Wall Street Journal, it sold $30 billion worth of goods in 2022. Its website receives hundreds of millions of monthly visitors, its mobile app is consistently near the top of the most-downloaded list, and it has a bigger social media presence than most brands or retailers. While it doesn't have a broad appeal and is thus invisible to many shoppers, it's a major player in the U.S. and global commerce.
Originally a fast-fashion retailer built on consumer-to-manufacturer (C2M) from China, Shein now hopes to do more. It has added more categories, like Beauty and Home, and has diversified its supply chain from China: it started manufacturing some items in Turkey and opened warehouses in the U.S. and Poland (for Europe). "[Shein] is planning to build three large distribution centers in the U.S. that could eventually reduce shipping times for its customers by three to four days," George Chiao, president of Shein's U.S. operations, told the Wall Street Journal.
Shein also wants to expand by adding a marketplace. Last year, Shein added a marketplace in Brazil with local sellers. Recently, it also added a marketplace in Mexico and started recruiting sellers. Marketplace sellers expanded Shein's assortment with goods that could be delivered in a few days. Typically Shein orders take one to two weeks to arrive.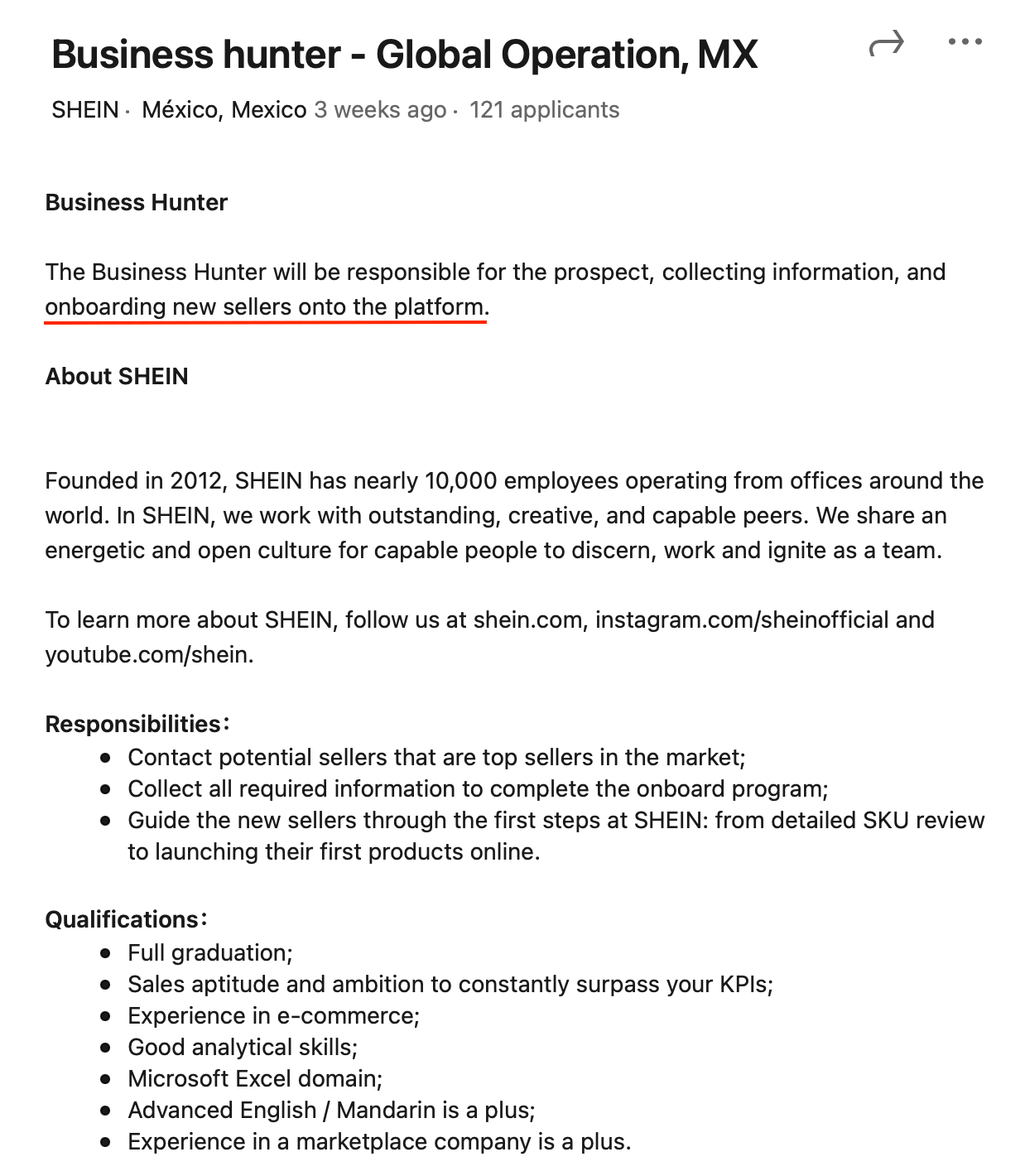 According to LinkedIn data, Shein built a team of over a dozen people in Brazil to grow the marketplace. It is currently hiring in Brazil and Mexico for "Business hunter" positions, who will be responsible for "the prospect, collecting information, and onboarding new sellers onto the platform."
Wish, AliExpress, and other marketplaces built on supply from China have tried similar strategies to diversify their seller base. However, they were largely unsuccessful in both attracting a significant number of local sellers and repositioning themselves in the eyes of consumers.
Shein's brand is low-price week-long-delivery throw-away items. That's a problem for the marketplace, the same problem Wish and AliExpress had. Adding other types of products, even fast delivery, might get ignored by many shoppers - dozens of other retailers already provide that. The marketplace brings Shein closer to Amazon - an everything store - but Shein grew as fast as it did precisely because it's different from Amazon.
Shein has yet to start inviting sellers in the U.S., but if Brazil and Mexico take off, more markets will likely follow. Although given trends in other marketplaces and Shein's original value proposition, it will probably focus more on recruiting sellers in China. It's the best Direct-from-China retailer yet, why throw that away.