Amazon has been unable to unlock live commerce three years after launching Live in February 2019. Its amateur content didn't attract viewers and, without users, brands and influencers are unwilling to commit to it.
Amazon Live is shoppable videos streamed by influencers, sellers, and brands, featuring products shoppers can easily purchase. It also has a chat functionality that allows shoppers to interact with the host. The videos attract the biggest audience during Prime Day when Amazon typically hosts its own - it had 30,000-70,000 active viewers during Prime Day 2021.
In November 2021, Amazon rebuilt the Amazon.com/Live experience to mimic other streaming platforms like Twitch (owned by Amazon) or video platforms like YouTube. It now has a list of highlighted creators, users can follow creators, and it lists dozens of live and previously live streams. Yet, there is zero interest from shoppers - Amazon Live maxes out at less than a thousand active viewers on a regular day.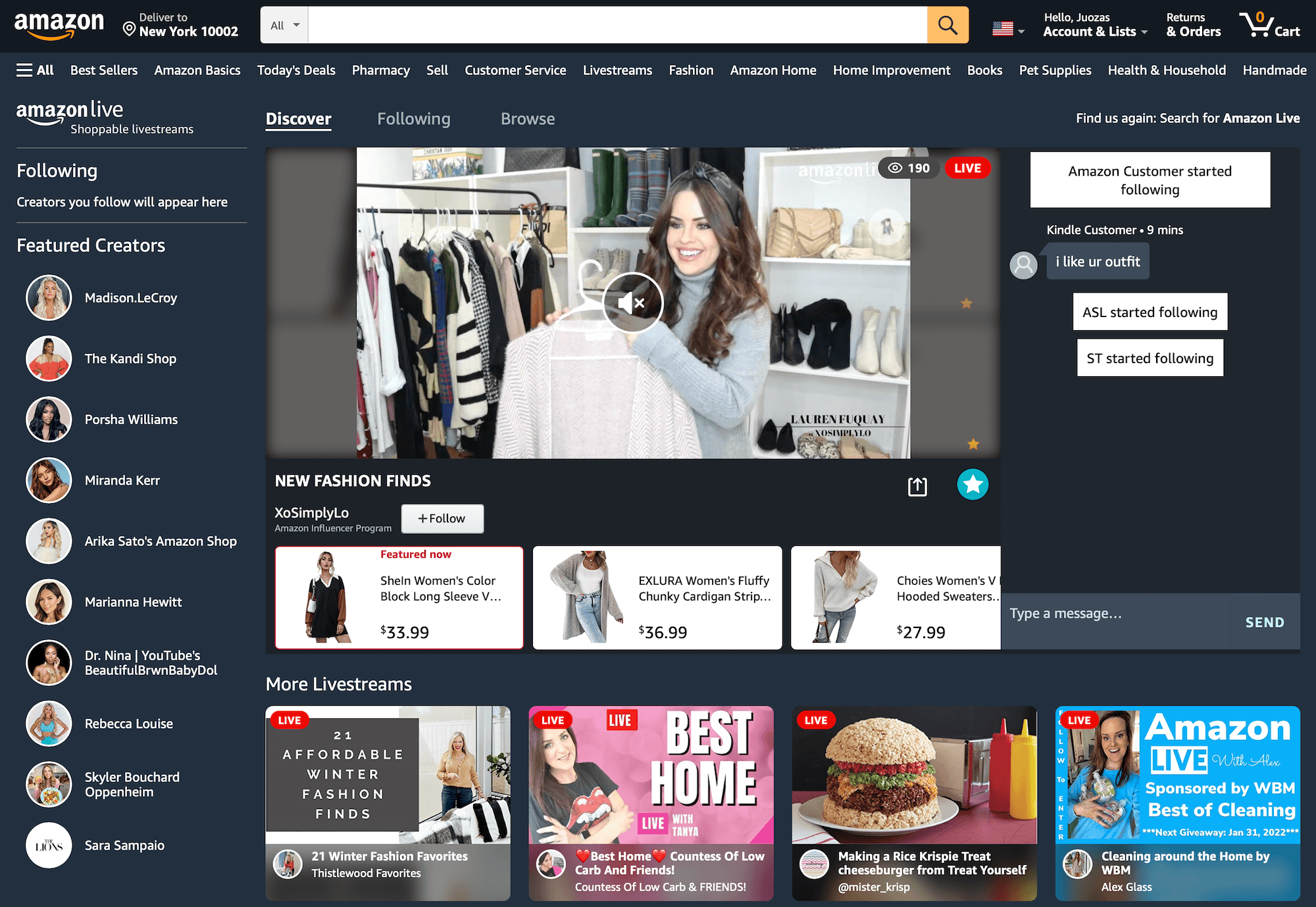 The audience is tiny because there is little reason to watch the live streams. They are not entertaining or well made. Despite being about shopping, they are too focused on selling. They have no chance competing for attention with YouTube, TikTok, or even QVC. Amazon Live's catch-22 is that no shoppers watch the videos because they are not interesting, and there are no interesting videos since no shoppers are watching them.
Amazon's challenge is that its website and app are best for shoppers who know what they are looking for. The search bar is its core feature. It is not a destination for browsing or for getting inspired or entertained. The features it launched over the years to become experience-led eventually fell by the wayside. Most Amazon shoppers are likely uninterested or unaware of the many things it can do.
Amazon's first experiments with live video were during Prime Day in 2017 and 2018. Those experiments eventually became Amazon Live in 2019. However, it has stopped there. Amazon runs dozens of experiences it has half-committed to. They are often functional but do not appear to be important focus areas. Amazon Live is one of those. Audience size - which is publicly visible - is the KPI.
The inspiration for live commerce is China - there, it is a vital part of retail. But despite years of attempts by companies in the U.S. and elsewhere in the West, it has made little inroads (it made more progress elsewhere, for example, in developing markets like India and Brazil), perhaps because live commerce is not a feature. But instead, a concept that works in China because of e-commerce, social media, and cultural context.
If live commerce was to happen, it doesn't look like Amazon would be the one to build. Although Amazon is in a position to be the market maker for live commerce - they could invest in content, make it prominent on Amazon, and find what it needs to be for Western shoppers to like it. But it has been in the half-committed category for years. And it's not going to be Walmart, Target, or any other incumbent. The best bet is platforms like YouTube, Instagram, TikTok, and the new breed of specialist companies like NTWRK or OOOOO that exclusively focus on live commerce.