Amazon, together with singer Lady Gaga, launched a beauty line Haus Laboratories. The first major beauty brand sold exclusively on Amazon. Pushed by the Amazon marketing efforts on Prime Day, the brand became the number one best-seller in the Makeup category by the end of the event.
Prime Day was only pre-sale; products started to ship on September 17th. On that day the brand added additional items, which too by the end of the day became best-sellers. Nine out of the top 100 best selling products in Makeup were by Haus Laboratories, and the eyeliner was the number one best-seller.
Makeup is a category inside of Beauty & Personal Care department. The top Haus Laboratories products on July 15th, Prime Day, as well as September 17th, the day preorders shipped, were not only best-sellers in Makeup, but were in the top 10 of the whole Beauty department. A department which otherwise includes tens of millions of products.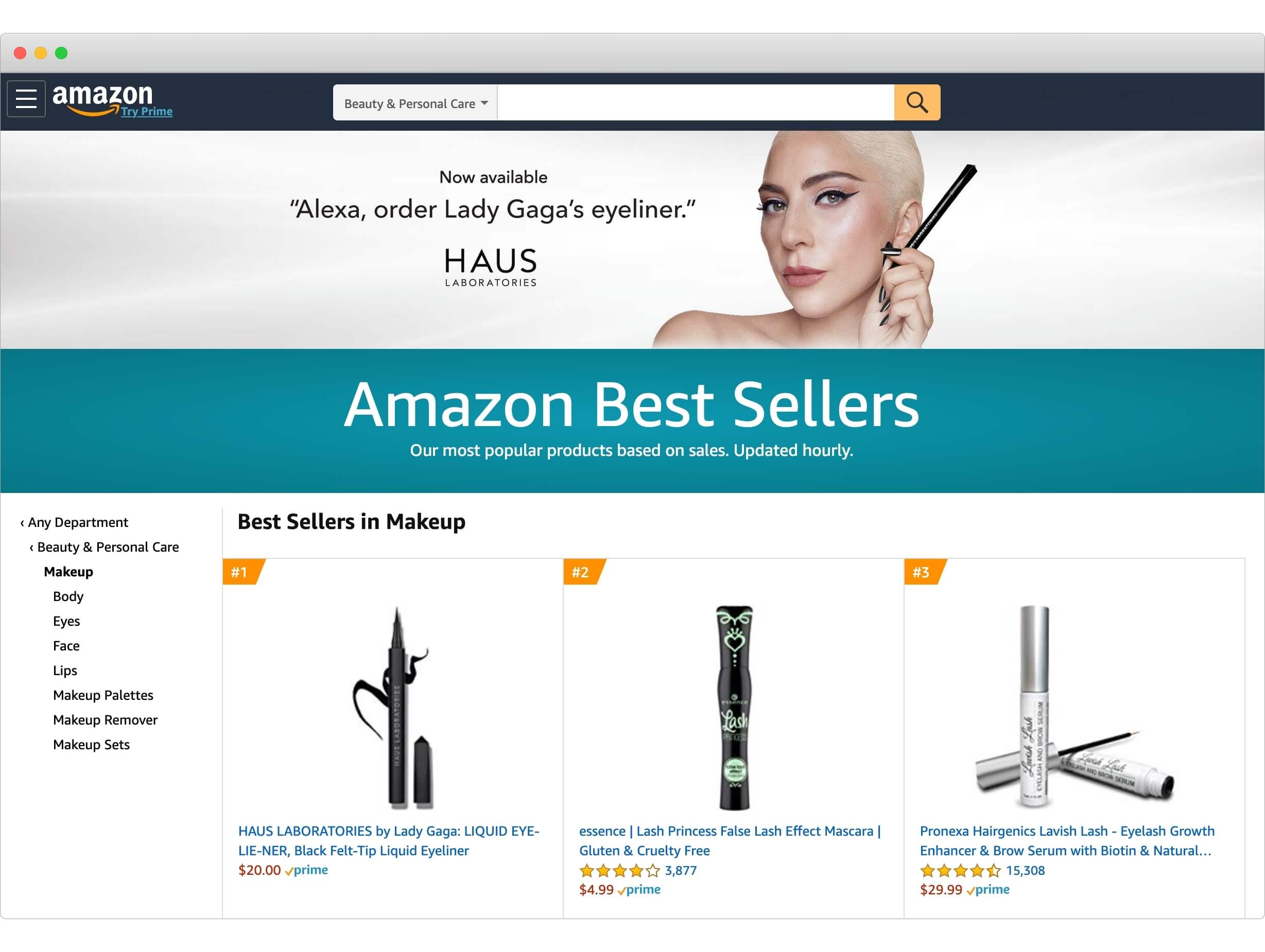 The eyeliner became a best-seller because Amazon featured it prominently on the homepage as well as the app. On Prime Day, Haus Laboratories had a 30-minute long video segment repeated a few times during the real-time video stream, was part of Prime Day Launches section, as well as included in the featured products list. Unsurprisingly, that was enough to "make" it number one.
The brand (or maybe Amazon, the relationship is unclear) is also investing heavily into ads on Amazon. Searches for "eyeliner" have the Haus Laboratories as the sponsored brand ad unit as well as the first two sponsored products ads. Other searches in beauty like "lip gloss" and "eyeshadow" have similar results. Those searches have tens of thousands of results each, making it virtually impossible for any brand to stand out organically.
After debuting as one of the best-sellers on Prime Day, the three-item pack including eyeshadow, lip gloss, and lip liner has started to lose popularity once marketing budget decreased. Nonetheless, as September 17th approached, it began to rise in ranks again as shoppers previously unwilling to wait months for delivery were happy to get it sooner. The real test of the Haus Laboratories brand will be months later once exclusive ads by Amazon are no longer, however.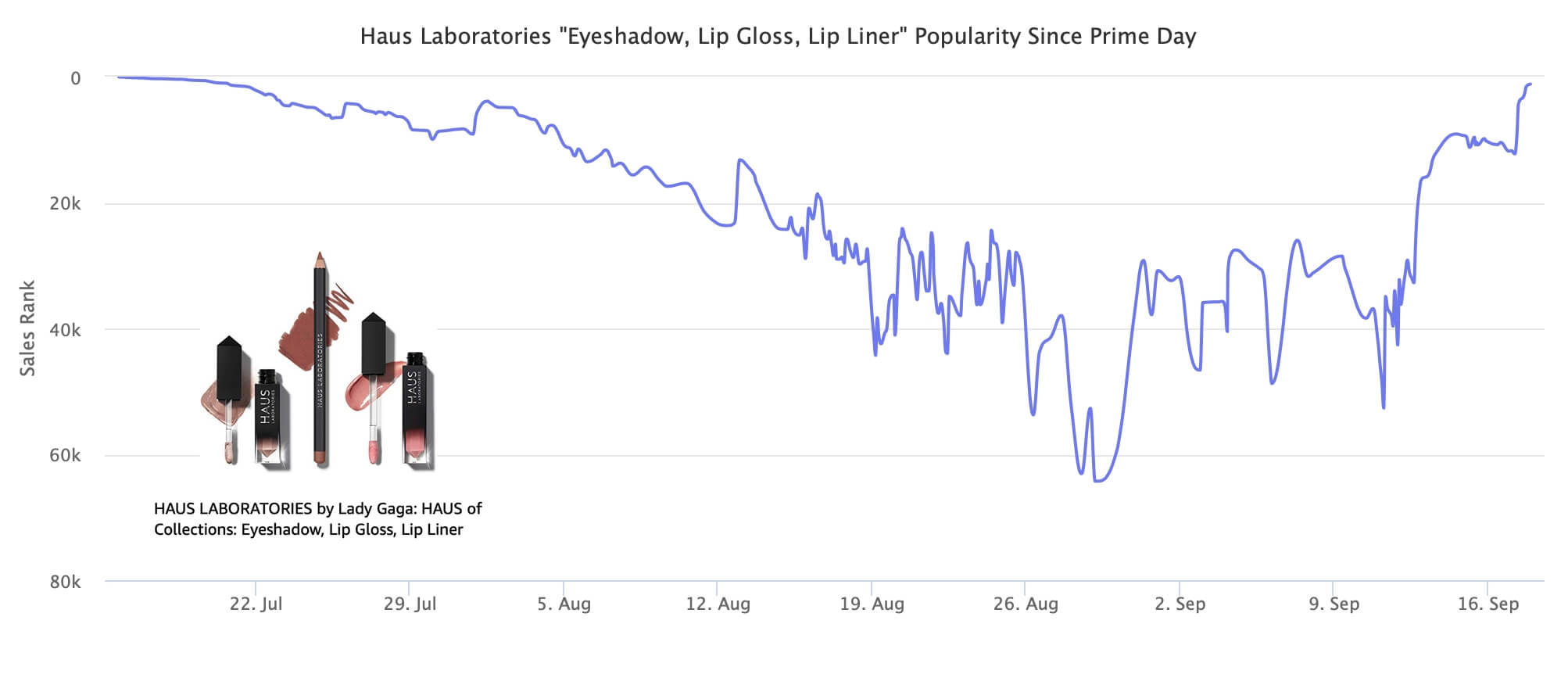 In March, Amazon launched Belei, a skincare brand consisting of cleansing wipes, moisturizers, masks, and serums. Six months later, the brand has failed to impress consumers. Amazon has pushed Haus Laboratories more aggressively than Belei, but the Lady Gaga brand also has a unique product, hundreds of thousands of followers on social media, as well as a celebrity behind it. Belei, by comparison, has none of those drivers, and thus unsurprisingly is lost among thousands of competing products on Amazon.
Haus Laboratories, as a brand, despite the success on Amazon, misses out on what direct-to-consumer (DTC) brands get by building their own sales channels. DTC brands do that to build a relationship with consumers as well as capture valuable data. Lady Gaga's brand got more sales than any other DTC beauty brand in that short amount of time, but long-term will need to find ways to survive without Amazon's preferential help.
Amazon is the winner. As more retailers are catching up with Prime Day offerings, it needs to find new ways to differentiate. This year's Prime Day focused on new exclusive products more than previous years, and future Prime Day events are only going to increase that. By launching a brand with Lady Gaga, Amazon is showing what it can do for other brands too. For many reasons that's not what many of them will want to do, but Amazon will find more of Haus Laboratories in the future and will make all of them best-sellers overnight. Because it can.