In 2020, sellers on the Amazon marketplace sold $300 billion worth of goods, adding a staggering $100 billion net growth since 2019. The total gross merchandise volume (GMV), including sales by Amazon itself and by the marketplace, was almost $490 billion, according to Marketplace Pulse estimates based on Amazon disclosures.

Amazon marketplace added eBay's worth of sales to its volume (eBay's GMV in 2020 was less than the net growth of Amazon marketplace sales). It grew 50% in 2020, twice the rate of 2019. As a result, the marketplace expanded to represent 62% of the total sales on Amazon. The marketplace has been growing faster than Amazon's retail sales since it started.
Sales by Amazon itself reached $190 billion, growing 40%. The company added $55 billion in net sales growth. Despite the marketplace growing faster than the retail sales, and undoubtedly more profitably too, there are no indicators that the company might abandon being a retailer.
The total gross merchandise volume, combining sales by the marketplace and those by Amazon, grew 46% to reach $490 billion. GMV added $155 billion from 2019, compared to just $58 billion the year prior. In 2021, Amazon will surpass Walmart's total retail sales to become the largest US-based retailer.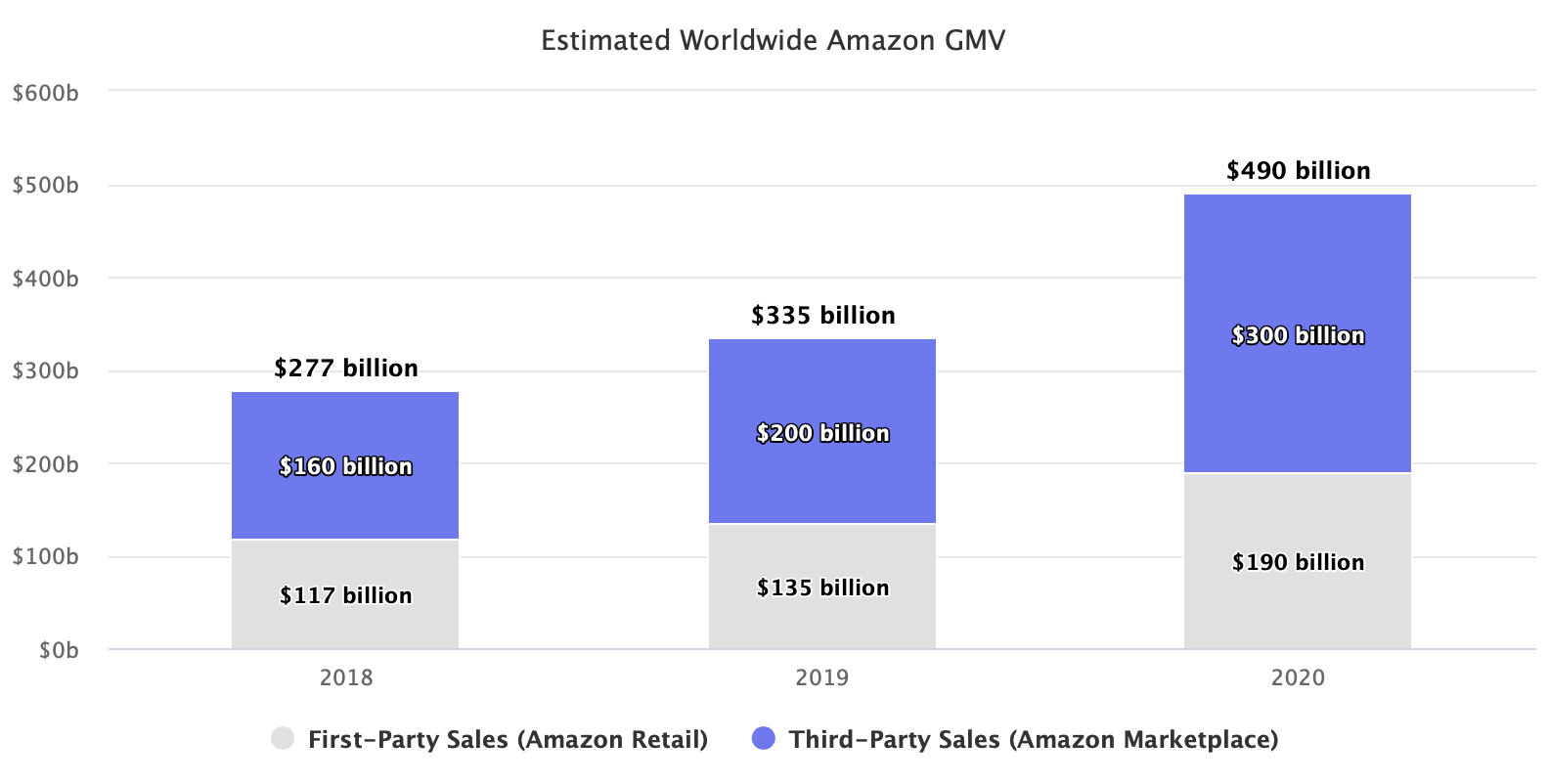 2020, distorted by the pandemic, advantaged Amazon. Amazon had become the default shopping engine for many shoppers - not limited to the nearly 200 million Prime members - and built a fulfillment infrastructure larger than the competition combined. It spent most of the year maintaining reliability rather than recruiting more shoppers.
If Amazon maintains at least 25% growth in 2021, it will reach $600 billion GMV.