The Amazon Coronavirus Index tracks the popularity of items like face masks, wipes, medical gloves, soap, hand sanitizers, toilet paper, paper towels, and emergency food on Amazon. Nearly 40% of e-commerce spending in the US happens on Amazon; thus, shopping trends on the site are indicative of the overall consumer trends. For the last two weeks, coronavirus-related shopping has overtaken e-commerce.
Many of the most popular items, especially face masks and hand sanitizers, are out of stock. Hence, the index would be even higher, as currently there is not enough supply for the high demand. The coronavirus index reached an all-time high on March 13th. Shopping has expanded to include alcohol (to make sanitizers), aloe vera gels, water purifiers, and zinc lozenges.
The index had the first visible acceleration at the end of January when face masks became popular, and later at the end of February when the demand for hand sanitizers and similar items skyrocketed. Since then - for the past two weeks - demand has remained high and has only increased towards the end.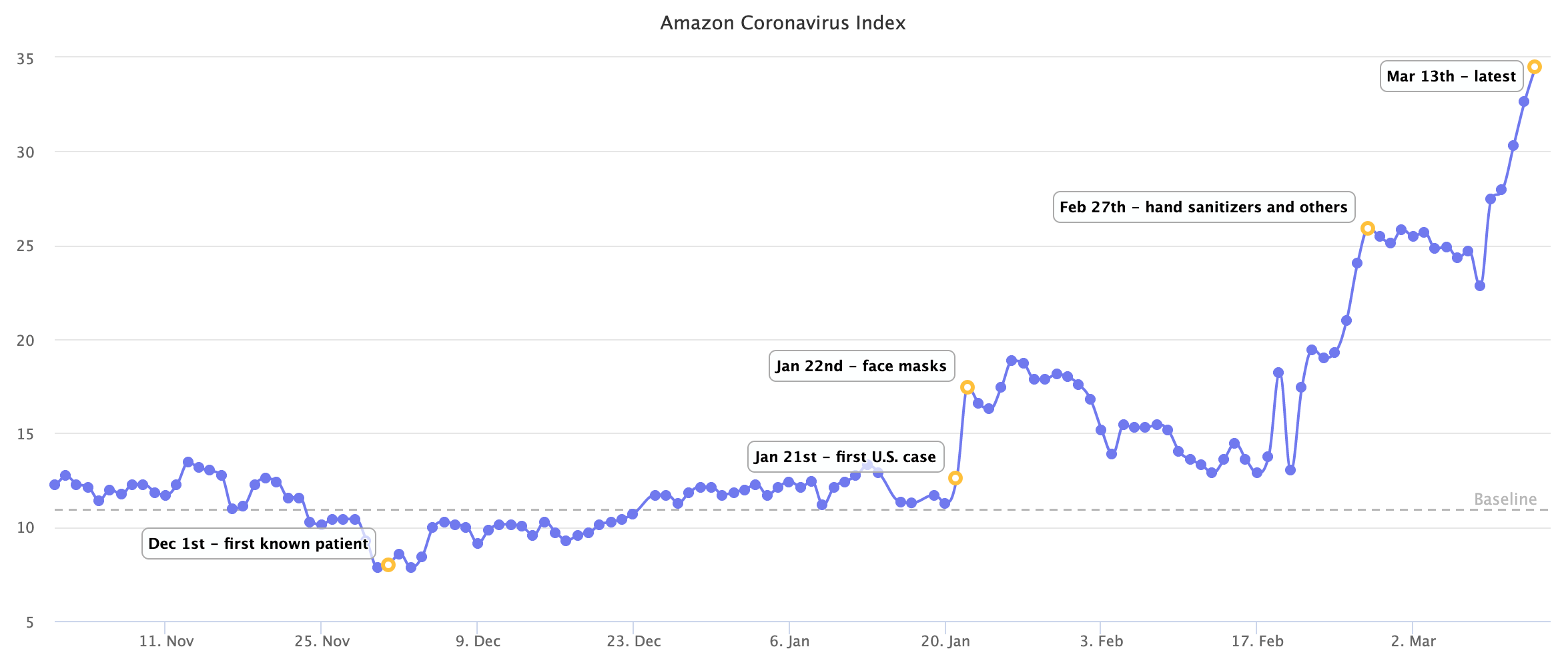 The index is the share of Top 100 best-sellers on Amazon by coronavirus-related items like face masks and hand sanitizers. It considers Baby, Beauty & Personal Care, Health & Household, Home & Kitchen, Industrial & Scientific, Sports & Outdoors, and Tools & Home Improvement departments.
Compared to the baseline - average demand for those products over the past two years - the index has now increased three-fold. However, the total sales have increased many times that as the index is not a measure of relative sales volume.
Search on Amazon is also indicative of the high demand for personal hygiene items. Top 10 most searched terms on Amazon are now coronavirus-related and include "hand sanitizer," "n95 mask," "Clorox wipes, " and "aloe vera gel," replacing previously popular searches like "wireless headphones" and "AirPods."
Amazon is uniquely positioned to capture the most spending during the past few weeks and months to come. Enabled by its vast marketplace, it has the most extensive selection of products for the in-demand searches. While some of that has resulted in concerns of price gouging and a few third-party sellers have started selling counterfeits, overall, the supply on Amazon is considerably greater than other online retailers. Competing retailers like Walmart and Target are out-of-stock of most items on their online sites and do not have robust marketplaces to provide a backup supply of goods.