US e-commerce grew 17.3% in the third quarter, the fastest growth since the fourth quarter of 2011 more than seven years ago. Retailers generated $145.7 billion in online sales in the third quarter compared to $124.2 billion a year ago, according to the Department of Commerce.
Since the fourth quarter of 2011 - for thirty quarters in a row - US e-commerce grew, on average, 14.7% every quarter. The third quarter of this year represents a sizable acceleration compared to the first two quarters of the year, both of which were below the average.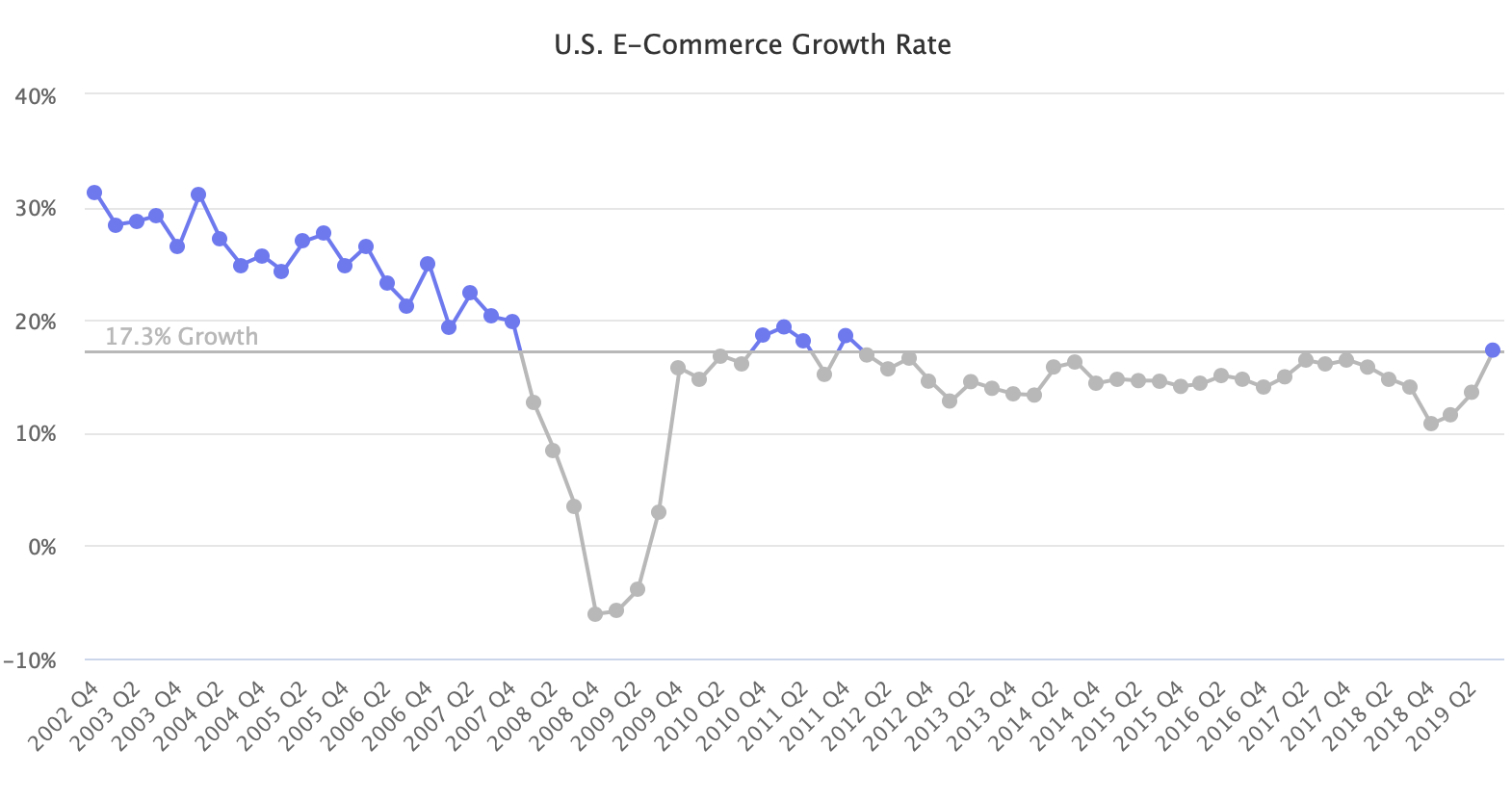 A major contributor to the accelerating growth was Amazon; the company's sales rose 22% in the third quarter, the biggest gain in two years, in part thanks to the Prime Day event hosted during the quarter. Walmart's e-commerce business in the US grew 41% in the third quarter.
In ten years since 2009, the e-commerce share of retail spending in the US has grown from 3% to over 10%. However, e-commerce share is likely considerably higher - total retail sales include sales of items not sold online, like automobiles and fuel. This estimate underplays the actual share e-commerce has of the overall retail market.
Despite representing a modest slice of the overall retail spending, e-commerce is driving close to 50% of the growth. Consumers spent $523.64 billion online in 2018, and spending so far in 2019 puts the estimates at close to $600 billion for the full year. US e-commerce spending will exceed $1 trillion by as early as 2025, doubling from its size in 2018. It will reach the milestone faster if online grocery adoption accelerates, given that grocery is one of the largest categories of consumer spending.