Amazon, not unlike other retailers, is making the shopping event starting on Thanksgiving calmer. Deals are no longer constrained to Black Friday and Cyber Monday. Instead, they are spread out over days leading up to it and continue once it is over.
The five days from Thanksgiving through Cyber Monday are now commonly referred to as "Cyber Five." Yet over the past few years, Cyber Five has continued to expand and now spans the Thanksgiving week and days following Cyber Monday - as much as 14 days in total.
Amazon has started to increase the number of deals during the week preceding Thanksgiving, and the first noticeable bump was just as Thanksgiving began on Thursday morning.
During Black Friday, there was a significant increase from Thanksgiving, which then died down over the weekend. However, the weekend between Black Friday and Cyber Monday still saw just as many active deals as during Thanksgiving.
Cyber Monday was the biggest day in terms of the number of deals, and thus, unsurprisingly, it became the single biggest shopping day in the company's history. Once Cyber Monday was over, the number of deals dropped to the lowest point in seven days; however, it is expected to maintain this level to Christmas.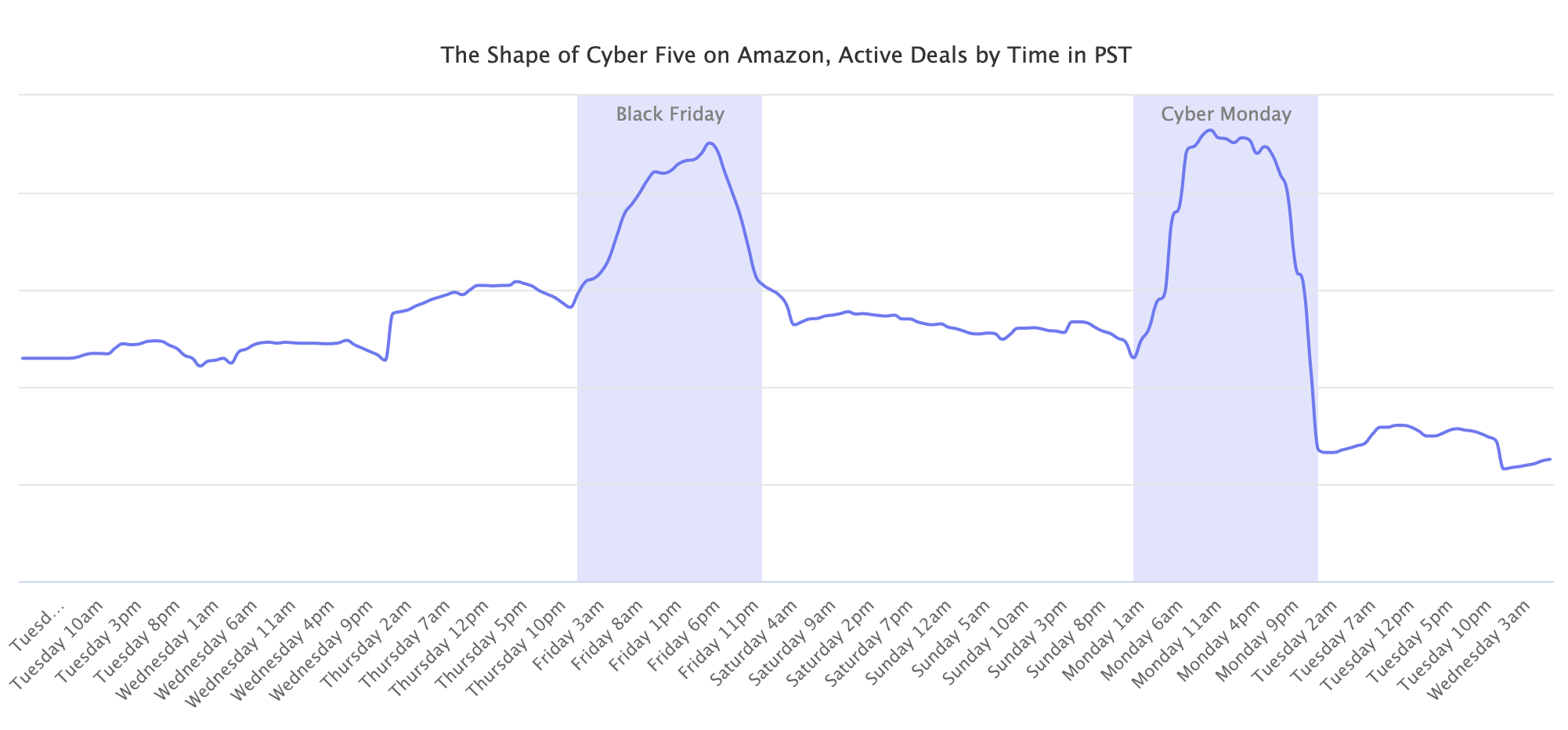 Compared to Prime Day, Cyber Five shopping event is not as focused on a limited number of days. During Prime Day, there was a drastic increase in the number of deals once it started, but also a drastic decrease once it was over. Cyber Five was introducing new deals days leading up to the event, and once it was over, it marked the start of holiday shopping.
Prime Day also focused on new product launches and exclusive products, both of which were absent from Cyber Five. Instead, most deals focused on established brands and holiday shopping. Deals page included a live video with a carousel of products featured in the broadcast, the same as during Prime Day. However, Amazon is mainly relying on shoppers buying more without a considerable push, as well as external websites (like Wirecutter) curating deals and driving traffic to Amazon.