In September 2017 eBay launched a new program called Guaranteed Delivery, allowing shoppers to filter search results to show only items that offer guaranteed delivery within 3 days or less. eBay automatically guarantees the delivery dates on listings from stores with 100 or more transactions per year, a late shipment rate of 5% or less, and same-day or 1-day handling time.
According to our research of the 800 million items on eBay in the US, 18 million are available with 3-day guaranteed delivery, 8 million are available with 2-day guaranteed delivery, and close to 2 million are available with next day 1-day guaranteed delivery.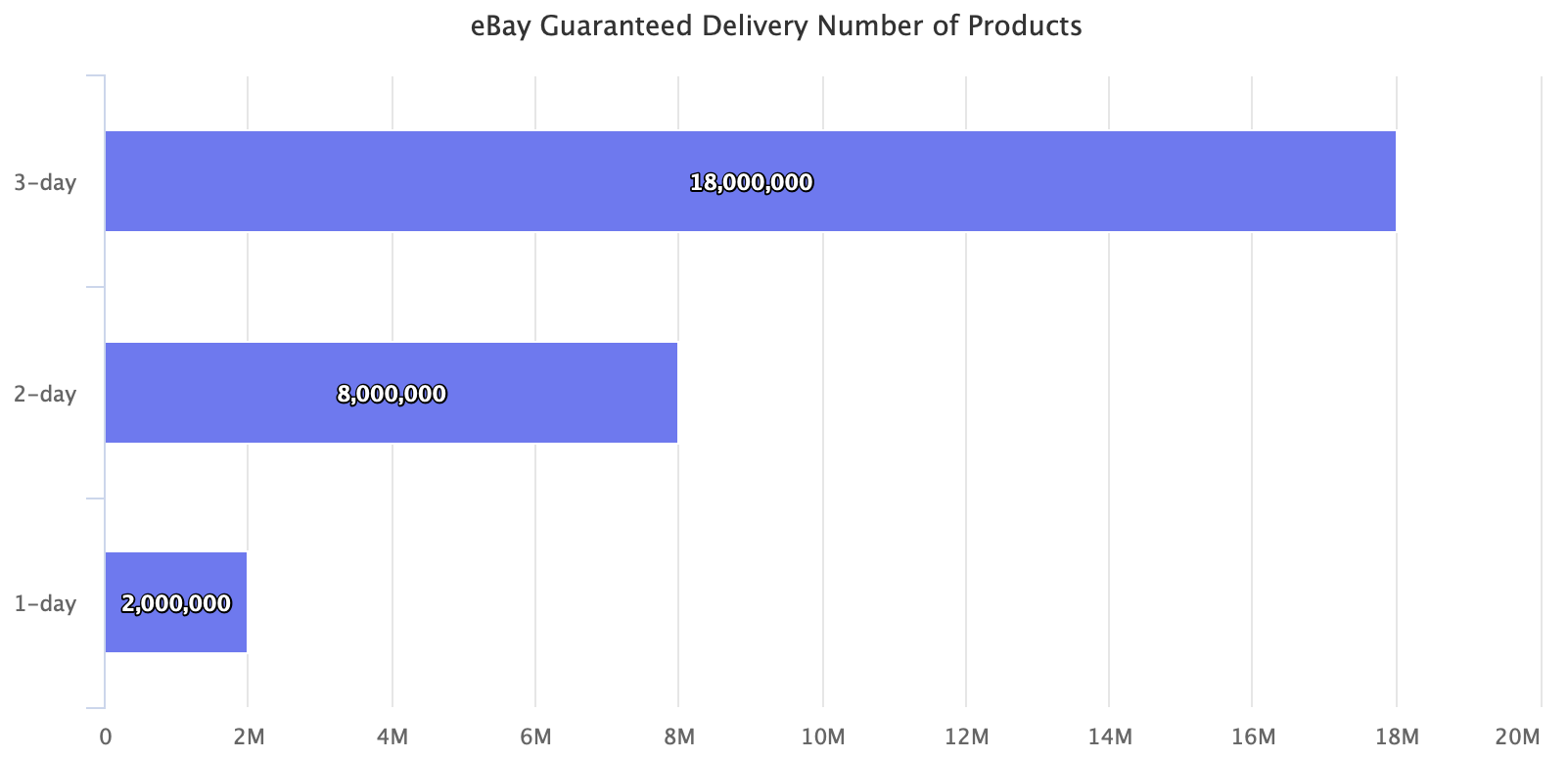 1% of eBay's inventory is available with two-day shipping. By comparison 5% of products on Walmart and 15% of products on Amazon are available with two-day shipping. Some categories on eBay have it as high as 3%, but some, like books for example, are less than 0.5%.
eBay's Guaranteed Delivery is an attempt to offer Amazon Prime-like convenience without a membership and without eBay owning any warehouses. "In today's world of e-commerce, two-day free shipping is table stakes," Marc Lore, president and CEO of Walmart U.S. eCommerce, eBay wants to offer the same. But unlike Amazon or Walmart, eBay wants to achieve that without investing into physical infrastructure.
"The one thing I don't think we need to do is deploy large amounts of capital to build the warehouse strategy. I've never thought that. I don't believe that and I think that we use data and we use the diversity of our inventory to close the gap."

– Devin Wenig, CEO of eBay
eBay is probably right. eBay is too late to join the game of building an Amazon FBA competitor, and even if tried to it would take years. However the relatively small percent of eBay's catalog available with guaranteed fast shipping is showing that sellers often don't have the capability to do it themselves either. Achieving nationwide free two-day shipping is hard and expensive, and thus few do.
Most of the tens of millions of sellers on eBay are small operations, often one-person side-businesses. They can't offer nationwide fast shipping without the use of a third-party logistics infrastructure. eBay has built the website functionality to showcase fast shipping, but not partnerships and services to help, educate, and enable sellers to offer it. It's not build warehouses or do nothing.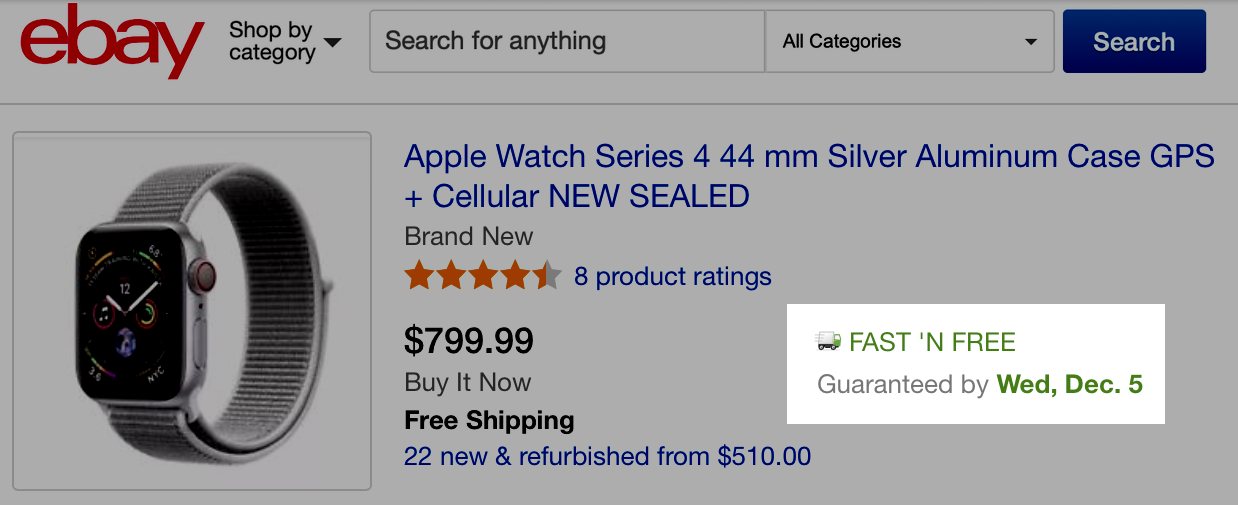 It's also unclear how much visibility boost do items with fast shipping get on eBay. Other platforms aggressively push fast delivery items to the top of search results, and thus sellers who can offer it get a sales lift. Some search results have the guaranteed delivery filter available, but it has to be selected every time, while other initiatives like the highly promoted Cyber Monday deals page makes no mention of it.
The gross volume of goods sold on eBay in the US grew 2.6% year-over-year in the third quarter to reach $9.01 billion. This was the slowest growth in three years. To get it back growing eBay needs programs like Guaranteed Delivery to work, but the number of products available is realatively small and the presence of fast shipping in the app and on the web is lacking. The challenge of eBay Guaranteed Delivery is building a marketplace with industry-leading shipping convenience while relying on a distributed network of sellers and logistics companies.