Shopify is now nearly 50% as large as Amazon Marketplace after surpassing $54 billion in GMV in the fourth quarter of 2021. Said differently, Amazon marketplace is only two times larger than Shopify.
Sellers on Amazon transacted $390 billion worth of goods in 2021. Shopify merchants reached $175 billion combined GMV. Shopify's GMV was 45% as big as Amazon Marketplace for the whole year. However, it reached an all-time high of 48% in the fourth quarter. Shopify merchants as a group have been growing faster than Amazon third-party sellers for the past few years.
Amazon marketplace was four times larger than Shopify in 2018. Shopify's GMV that year ($41 billion) was less than its GMV in the fourth quarter of 2021 alone. Since then, Shopify has grown twice as fast as Amazon to reduce that to only two times as large. Shopify has more than doubled its merchant base over that time, and some of the existing merchants continued to grow.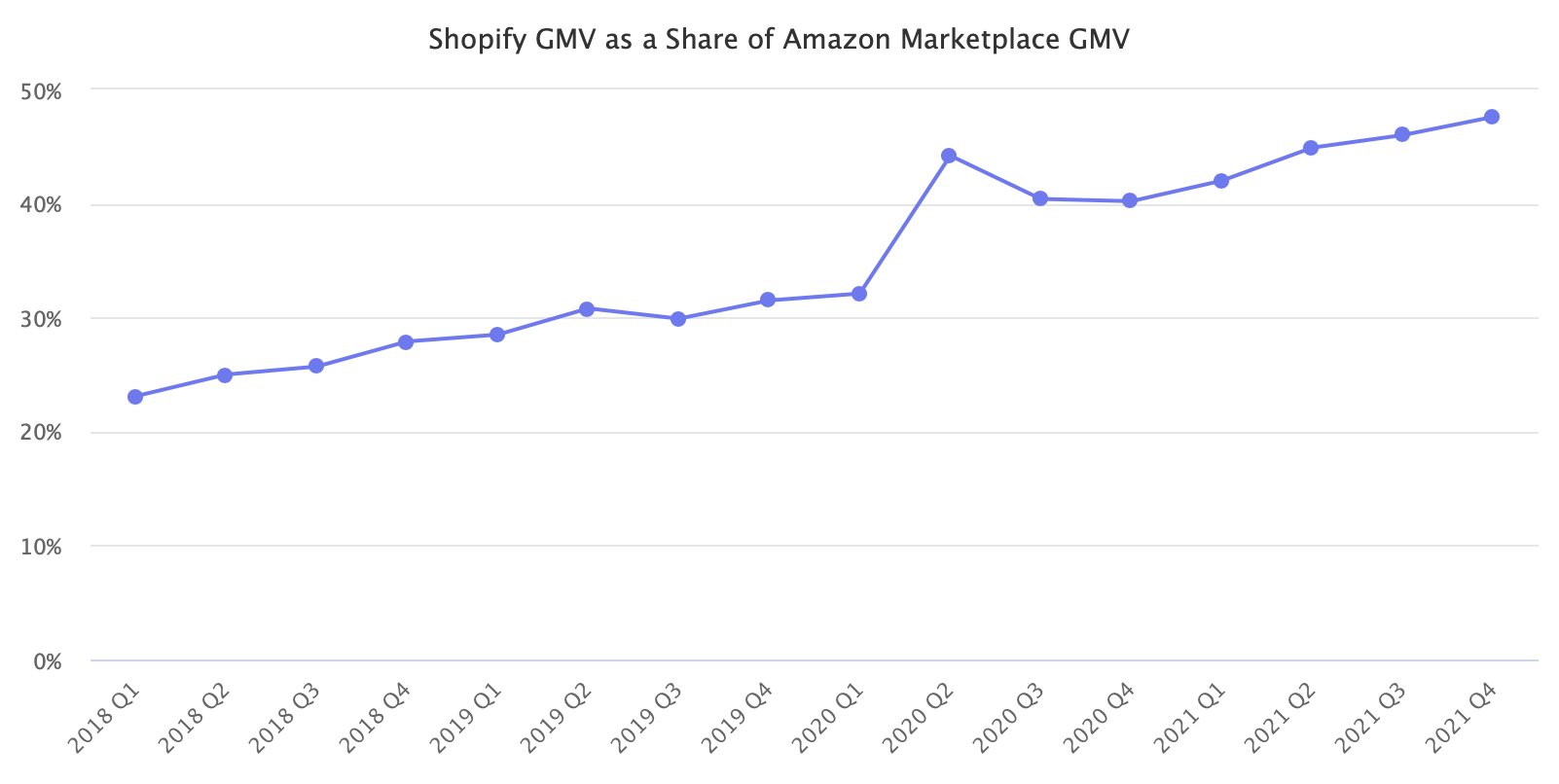 All Amazon third-party sellers sell through one channel - Amazon. Shopify merchants each run their independent channel. Thus Amazon and Shopify are not comparable. E-commerce websites existed long before Shopify; the significance of Shopify's scale is the readiness of brands to sell directly to consumers. That, combined with the effectiveness of advertising on Google, Facebook, and beyond.
Ultimately, Amazon and Shopify compete for entrepreneurs. That's the basis for GMV comparisons. There is a growing overlap between the two, but stark differences remain. Few third-party sellers could be transported to Shopify and be successful. Many Shopify merchants would likely fail on Amazon too. Thus the growing GMV of Amazon and Shopify is a success of two different e-commerce models.
Considering that Shopify has many alternatives like BigCommerce, WooCommerce, Magento, and others, the scale of direct-to-consumer e-commerce is even greater. Amazon marketplace is not the only way small businesses can reach consumers, despite Amazon's massive e-commerce market share in key geographies. Shopify's results are the proof.