The #1 most-searched term on Amazon is "squid game costume." Netflix's hit dystopian thriller "Squid Game" spawned a craze for Squid Game costumes less than two weeks after the show was released.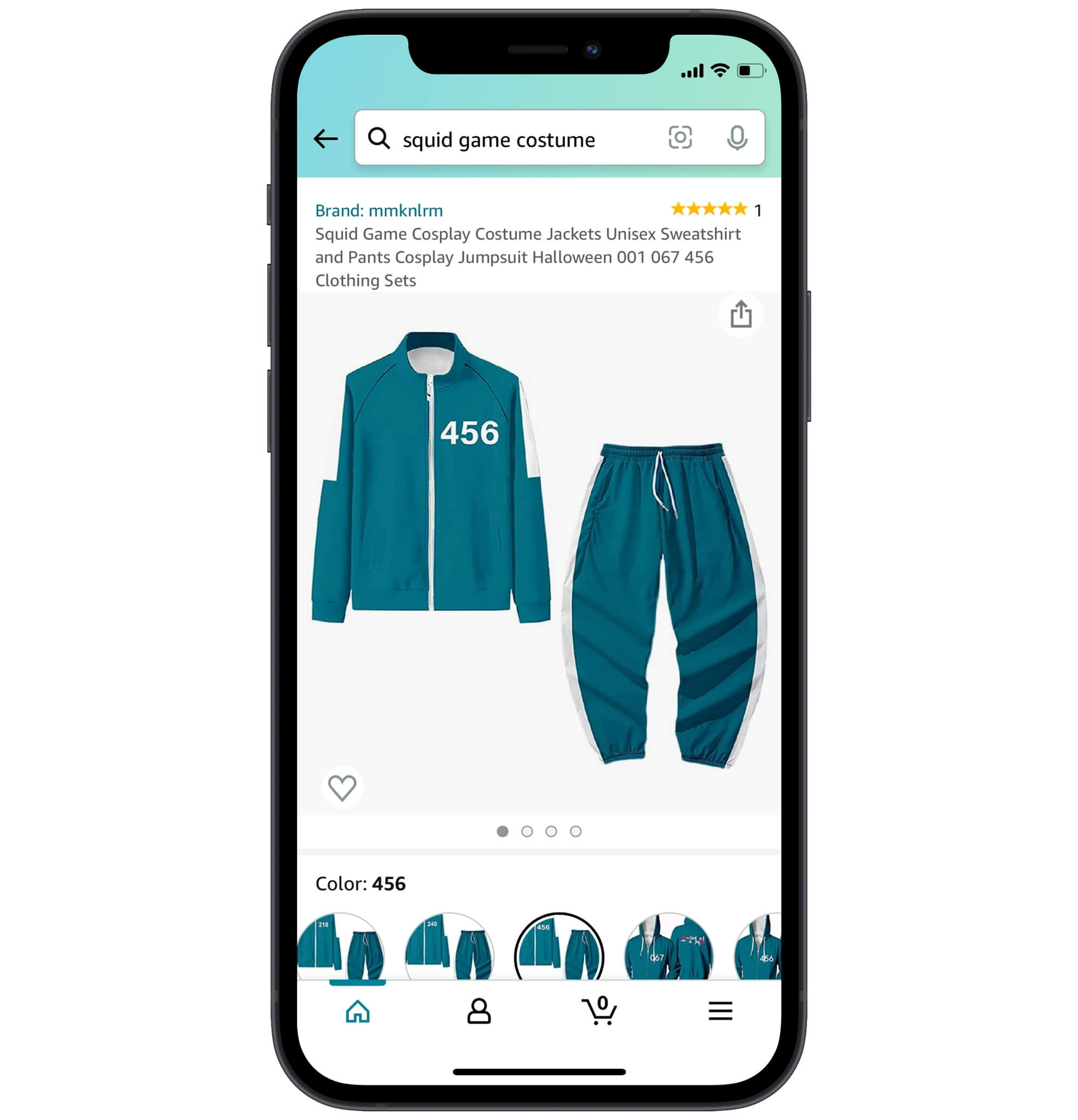 Netflix released Squid Game on September 17th. In less than two weeks, "squid game costume" has become one of the most searched things on Amazon. There is no official show merchandise, however. Netflix only has t-shirts with the show's branding for sale on its merch website. Retailers like Walmart and Target have no related products at all.
Unlike them, Amazon has products on offer because its marketplace is typically the fastest to respond to changing trends. A few hundred sellers are actively selling improvised merchandise - particularly the tracksuits. As a result, four out of the top 5 best-selling costumes in Women's Costumes and Men's Costumes categories are related to the Netflix show. Other marketplaces like eBay, Wish, and Etsy also have thousands or more items for sale.
But plenty of shoppers will be disappointed. Halloween is on Sunday, October 31st. Many shoppers who ordered the costumes this week and are yet to order will likely not receive them before then. Those items do not have Prime shipping and will come individually packaged directly from China. Because of ongoing supply chain disruptions, they are not going to arrive quickly.
| Date | Squid Game Search Rank on Amazon |
| --- | --- |
| September 17th | --- |
| September 18th | 191,190 |
| September 19th | 62,575 |
| September 20th | 23,520 |
| September 21st | 9,863 |
| September 22nd | 7,076 |
| September 23rd | 2,639 |
| September 24th | 1,312 |
| September 25th | 610 |
| September 26th | 219 |
| September 27th | 83 |
| September 28th | 6 |
| September 29th | 6 |
| September 30th | 3 |
| October 1st | 2 |
| October 2nd | 5 |
| October 3rd | 4 |
| October 4th | 4 |
The craze for Squid Game merchandise will soon be over. But it highlights multiple interesting e-commerce stories. First, Amazon is the default search engine for many shoppers. When they see something they like in a Netflix show or elsewhere, they go to Amazon to find it. Amazon's infinite catalog helps here. Amazon captures that demand without having to pay for advertising or affiliate fees.
Second, Netflix's merchandise selection is lacking. Perhaps they could be home to the same sellers but on Netflix's merchandise marketplace. Additionally, it launched the merchandise website in June 2021, but it receives little monthly traffic, and Netflix has not integrated it into the Netflix app. Thus it appears to be a non-priority experiment.
Third, while Amazon's marketplace is quick to react, Amazon often has difficulty policing the explosion in SKUs - it already has over 10,000 listings related to Squid Game. Sellers that only joined recently and others with hundreds of negative reviews are selling some of the top search results for "squid game costume." Typically these types of crazes result in a lot of frustrated shoppers. For example, a year ago, during the high demand for PPE equipment.
Finally, similar to "as seen on TikTok,", Netflix indirectly drives shopping decisions; Netflix is an example of social commerce. In addition, social platforms like TikTok and Instagram boost trends born on Netflix (#squidgame has over 28 billion views on TikTok).