One of our longest running studies is the scam sellers on Amazon marketplaces. Those sellers get created just to list thousands of products at hard-to-believe prices, all in hopes to get as many orders as quickly as possible. Customers never receive their orders, but by the time they have realized it the seller is gone. Customers do not loose their money in this, but it's still a bad experience. The sellers created for this are hoping to get the sales payout, and/or customers list before Amazon suspends them.
We first wrote about this exactly a year ago in Rise of Scam Amazon Marketplace Sellers. Since then over 21,000 scam sellers were detected in 12 months. That's 57 sellers a day everyday.
77 percent of which were on Amazon.com, while other marketplaces were in single digit percent. Those sellers on Amazon.com collectively received close to one million negative reviews during the 12 months. Since not all customers leave a seller review - even if the experience was bad - the number of orders affected by this issue is undoubtedly even larger.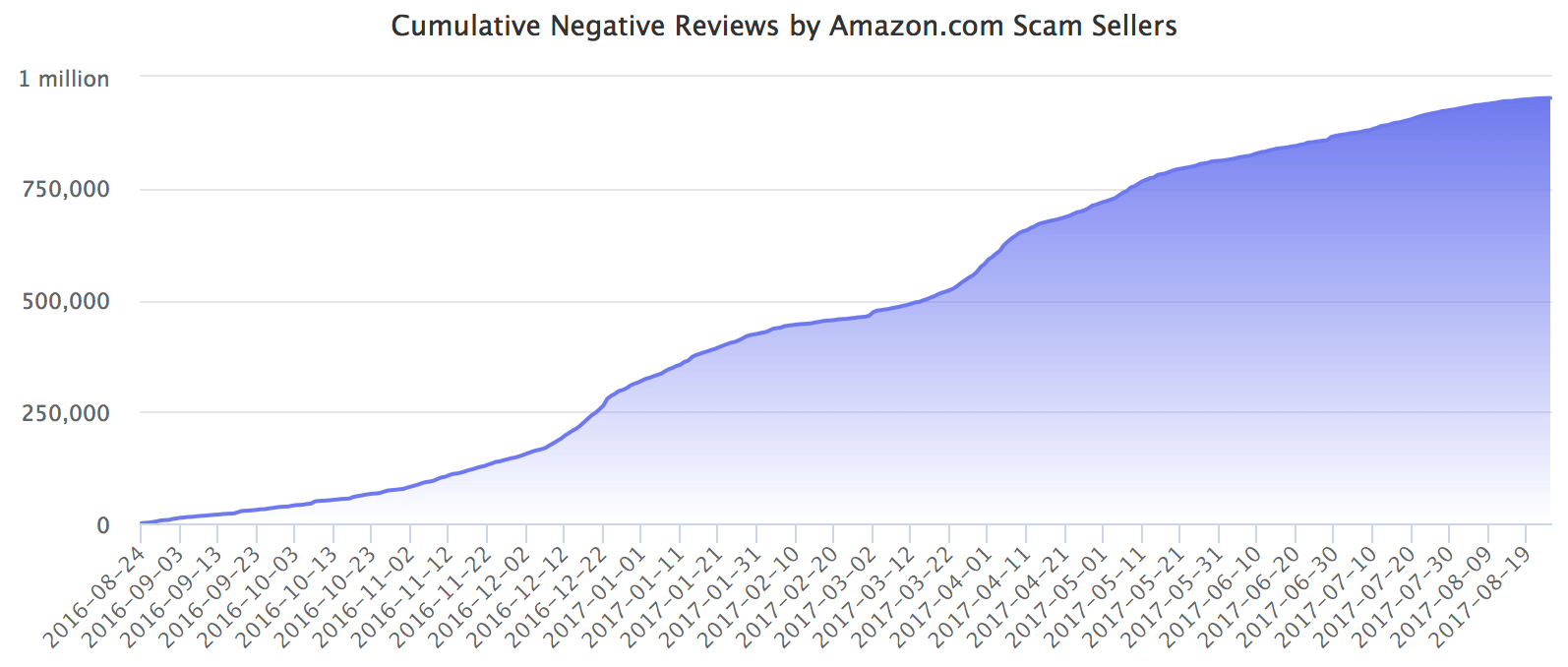 We count a seller as a scammer once they have received at least 10 reviews, and at least half of them are negative. While this misses some sellers, especially those which get suspended thanks to legitimate sellers reporting them to Amazon, historically it has been good enough.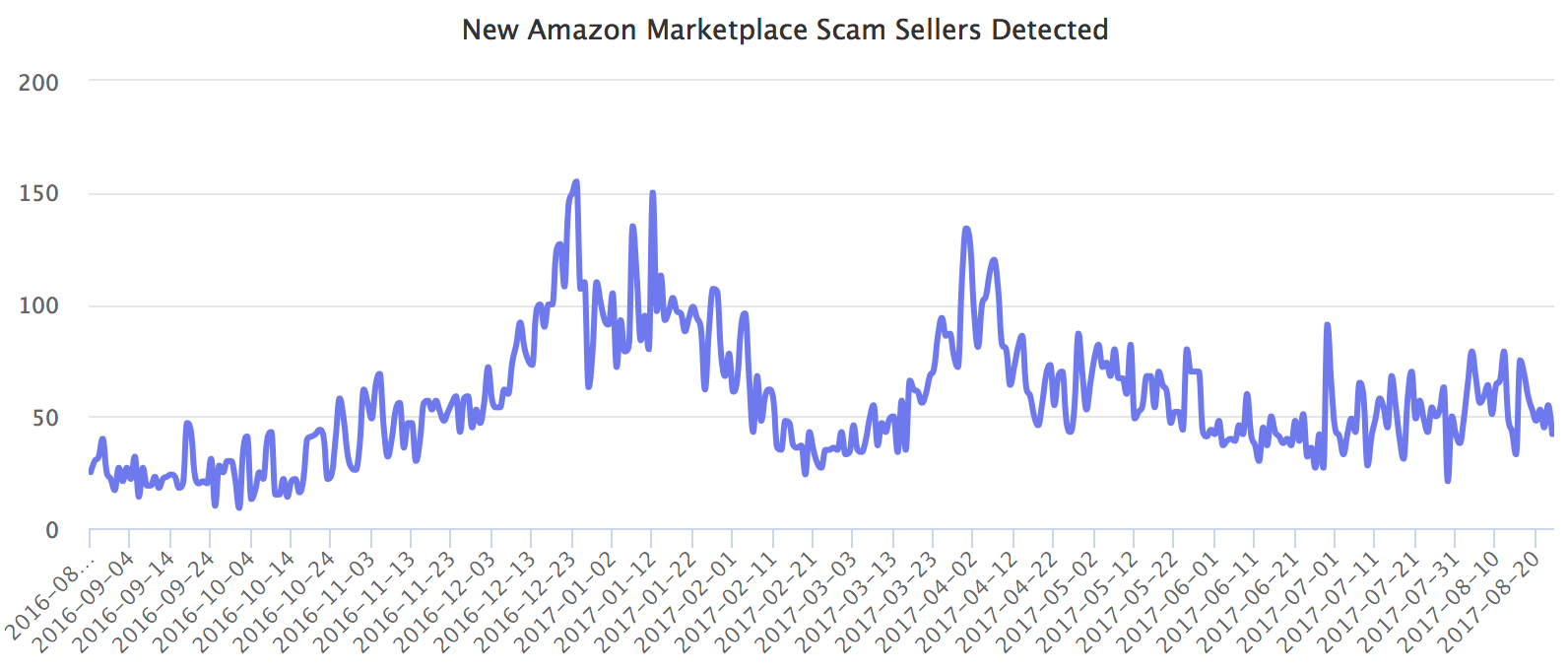 As seen from the chart the issue has a few times gotten worse, but would then fall back to normal. The upcoming Christmas holiday period is going to showcase if any changes made by Amazon were effective at all. Amazon is slowly making changes to limit new sellers, but our research shows that it hasn't been effective yet. Or that scammers have found new ways.
Thousands of new sellers join Amazon every day which inevitably brings a pool of new bad actors. Some seller forums have since grown thousand-messages long threads of legitimate sellers catching newly created scams. For many sellers scammers affect their sales since the scammer wins the buy box thanks to their unrealistically low pricing.
Paytm, one of the most successful mobile payments companies in India which has recently also launched an e-commerce marketplace, made changes last month to make new seller registration require providing business documentation. We think Amazon will inevitably make similar changes. Allowing anyone to join, and start interacting with what is one of the most visited online shopping websites in major markets is not good.
Sellers are limited in sensitive categories like Jewelry, which requires third-party seller pre-approval, and like mentioned above some changes were made to automatically limit new sellers. Yet the scam issue continues. In terms of dollars it likely doesn't cost Amazon a noticeable amount, but it does make the marketplace chaotic, and confuses customers.
For a couple months scammers even got to using hacked obsolete seller accounts to scam buyers, instead of creating new accounts. This has mostly ended now. But the general idea is that marketplaces are a hot target for malicious behavior - from selling counterfeit products, to scamming customers, to trying to scam the marketplace itself. These issues won't ever go away, but they are testing marketplaces' ability to react, and manage them.
Amazon has so far not taken any action, which is arguably disappointing.