MercadoLibre (MercadoLivre in Portuguese) is the leading e-commerce company in Latin America, having built marketplaces in many countries including Argentina, Brazil, and Mexico, a total of 18 countries already. Second-quarter financial report numbers were mixed - net income was down causing a drop in stock price, but other key metrics are all continuing to grow.
Gross Merchandise Volume (GMV) has grown to $2,722.4 million, a 35.8 percent increase in USD. MercadoLibre reports earnings in USD, but some markets are very currency volatile so FX neutral grow was 55.6 percent. Venezuela in particular is affecting numbers.
Items sold during the quarter reached 61.5 million units, a 41 percent increase. Because of the currency volatility units sold are a more reliable indication of the marketplace growth. The highlight was Mexico with 95.4 percent growth.
Payment transactions on MerchadoPago, a payment system with country-specific payment methods, increased by 63.3 percent to 52.1 million. Total payment volume processed over $3 billion dollars, ending the quarter with $3,152.0 million, a year-over-year growth of 73.5 percent in USD and 76.1 percent on an FX neutral basis.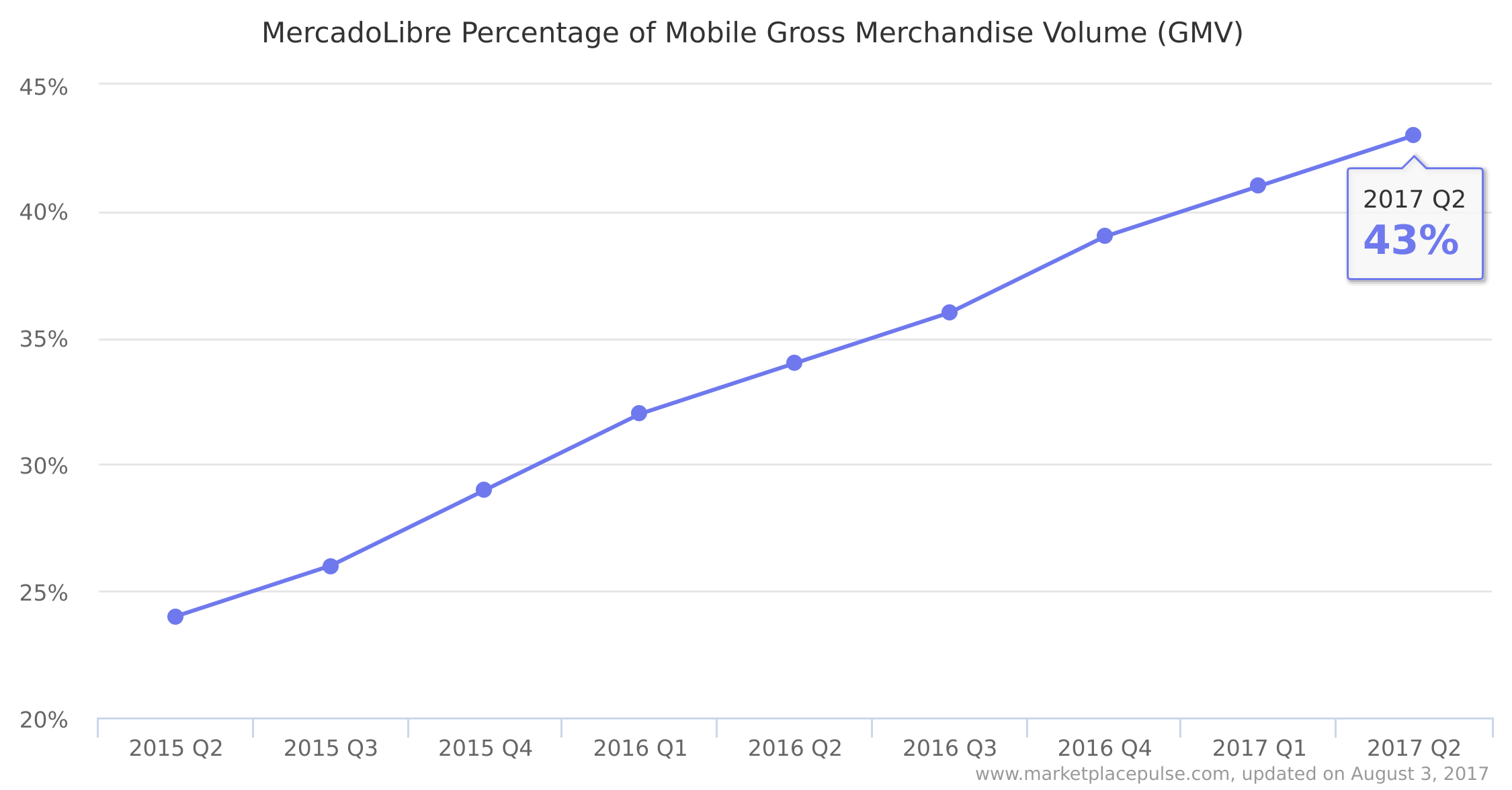 For the first time the company has released mobile engagement numbers. 43 percent of Gross Merchandise Volume was done on mobile devices. The share has impressively risen from 34 percent in 2016, and from 24 percent in 2015. Highlighting big changes in the market, as more people gain access to the internet using mobile phones. The company said that mobile visits represent two thirds of all traffic.
In May MercadoLibre launched MercadoCrédito, a platform offering working capital loans, and advancing cash to sellers on the marketplace in Brazil and Argentina. It uses marketplace data, and MercadoPago payments data to score merchant's creditworthiness. The company has not disclosed any specific numbers about the performance of this initiative yet, but it is going after the same market as Amazon Lending which is now lending at over $1 billion/year rate.
Amazon, Alibaba, and now MercadoLibre, just like other marketplaces like Uber too, have all built smart credit score systems based on proprietary data. Compared to a bank which only has access to the bank statement, and accounting information, modern credit score systems are much more focused, and thus also more accurate in deciding creditworthiness. This is key in the Latin America market.
MercadoEnvios, the "Fulfillment by MercadoLibre" equivalent, shipped over 54 percent of all units sold on MercadoLibre. In a market which was notoriously unreliable when it comes to package delivery, they built a platform to act as an intermediary between sellers and shipping companies, which has also allowed to launch free-shipping in some markets. It works by cross-docking, where products are received from suppliers on an inbound truck, and loaded directly on an outbound truck for shipping to customers.
Previously in MercadoLibre Went from Being the eBay to the Amazon of Latin America we wrote:
"Latin America has much lower internet penetration than the US, and e-commerce as a percentage of total retail sales is half that of the US. This presents untapped potential in the future. Today MercadoLibre is better positioned to dominate the market than Amazon could be. Many of the countries MercadoLibre operates in are too small for Amazon to be worth the effort, and as time goes by the infrastructure and local-specific solutions it builds will be hard for Amazon to copy. Amazon already operates in Brazil and Mexico, but in Brazil they only sell books, and they launched in Mexico just two years ago. Amazon is taking a position of watching the market unfold, and is likely to make moves in it in the future through acquisitions."
Amazon's focus right now seems to be in India, and soon Australia, Singapore, and South Korea. Latin America is left for MercadoLibre, and they seem to be doing a good job in expanding, capturing the overall growth of the e-commerce space.