For the first time since 2016 Q1, and only for the second time ever, Etsy has reported a profit in the second quarter. The marketplace for handmade, vintage, and supplies is cutting costs and reorganizing its priorities.
Etsy now has 1.834 million active sellers (number of Etsy sellers who have sold at least one product in a year). The number has grown 10.9 percent year-over-year, however this is the slowest growth ever reported. Since 2016 it has been averaging at 12 percent growth every quarter.
The number of active buyers, those who have made at least one purchase in 12 months, is now 30.584 million. But at 17.2 percent growth it has too slowed down like the number of active sellers.
At $748 million in gross merchandise volume (GMV), the growth has slowed here too.
But as growth is slowing, Etsy is figuring out ways to keep investors wishful. Seller services revenue reached $58 million, growing twice as fast as marketplace revenue. This segment now accounts for more than half of the company's revenue. Seller services growth was primarily driven by Etsy Payments.
During this quarter Etsy transitioned all sellers to the payments platform, while previously sellers could choose to for example only accept PayPal. Thus the share of GMS processed through the Etsy Payments platform was 85 percent in the quarter, up from 76 a year ago.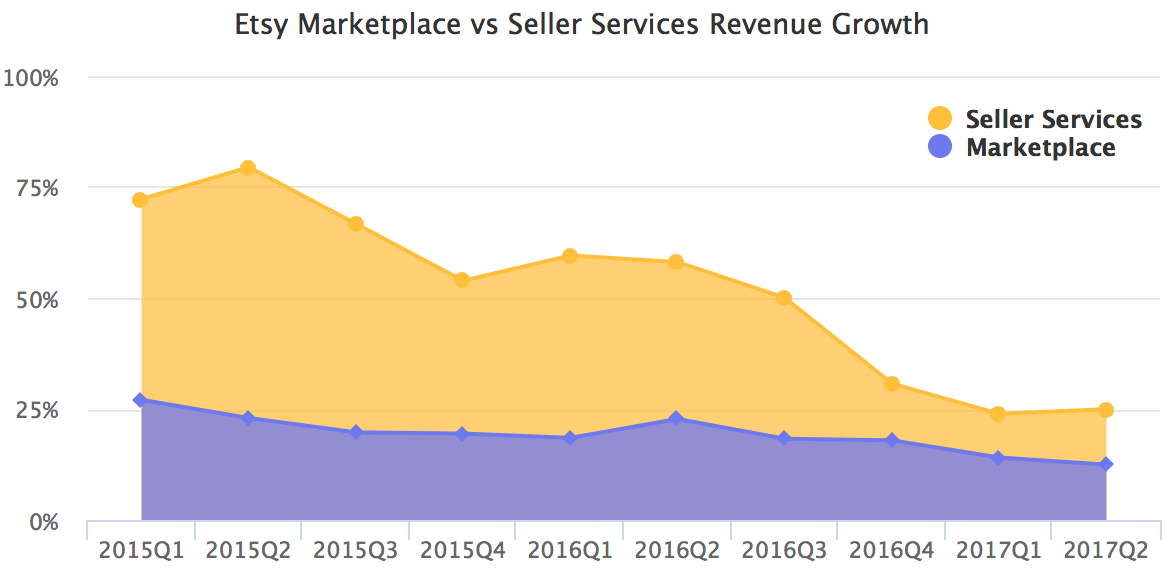 Although Black-and-White Capital LP and a group of smaller investors have issued a statement back in May that marketplace revenue should grow too, and urged Etsy to fix what they believe is a drastically under-monetized marketplace. From the chart it is clear that both revenue sources have slowed down in growth over the years, but seller services continues to grow more than the marketplace.
The key statement by Rachel Glaser, the CFO of Etsy, was:
"We prioritize investments in our core etsy.com market and growth initiatives by eliminating low priority projects and process and reducing the ratio of product managers to engineers."
This suggests that the recently launched Etsy Studio, a marketplace for supplies, is going to be receiving less attention. We were excited to see it launched, but slowing growth and pressure from investors is rightfully making Etsy reassess priorities.
The company has made promises to reduce expenses by headcount reductions, reduced third-party expenses, and programming costs. It has recently received criticism for excessive engineering spending which hasn't contributed to growth. Search and discovery though remain key areas of focus as with over 45 million items on the marketplace they play a major role.
Some say that for a network business like Etsy it is important have either 60 percent share of the market or be double the size of its next competitor. This is what Amazon and Alibaba have in retail in their core markets. But Etsy is in a much harder position since the catalog doesn't scale as easily as it does in retail. They have already upset the seller community many times over the years by implementing decisions which prioritized growth of Etsy, not the growth of sellers.
The most interesting though is this quote from the newly appointed CEO of Etsy, Josh Silverman:
"There has been much speculation about the size of the market for handmade. But handmade is not a purchase occasion nor is it representative of all of our 45 million listings. Etsy is about so much more than handmade. Buyers come to us when they want something special. And being the destination for something special is powerful because special can't be commoditized.

In a world where mass e-tailers are taking an increasing share of everyday commerce, people search for an alternative to those mass e-tailers when they want to feel that their purchase was special. That includes occasions when they are seeking self expression. When they want to signal that they put a lot of thought and care into a purchase and when they want to have fun and be inspired. Etsy is uniquely well positioned to win those occasions.

But how big is the market for special? We believe the market for special is huge. Etsy shines specifically in three types of purchase occasions. Celebrations, gifting and style. If you think about it, these types of occasions happen regularly throughout the year. These occasions drive purchases across six primary categories, clothing and accessories, home and living, jewelry, craft supplies, art and collectibles, and paper and party supplies. Not surprisingly, these are also Etsy's top six categories based on GMS.

In fact, in the past 12 months, we have sold over $0.5 billion in GMS within each of our top three categories. Clothing and accessories, home and living and jewelry."
Josh is shifting the reason of buying on Etsy from being because it has handmade and vintage products, to because it is the right marketplace when looking for special. Often the answer for special is handmade products, but it is not unlikely that Etsy is thinking beyond that for what it sells. The core is not the type of product (handmade), but why people need it (special). Interesting point of view indeed.
But owning a niche is better than chasing "special". Etsy not wanting to be synonymous with handmade is strange to hear. "Etsy is about so much more than handmade" is a risky position to take.