This week Google's e-commerce marketplace grew past 1,000 active stores. A year ago it had 39. After years of lackluster shopping experiments Google is building towards being a major player in the market by on-boarding established offline and online retailers, as well as Amazon, eBay, and Walmart merchants.
Google's marketplace is called Google Express (briefly known as Google Shopping Express), however Google Express is now part of Shopping Actions, a unifying program which surfaces merchants' products on Android phones through Google Assistant, on Google Home devices using voice, in-line in Google Search, and in the aforementioned Google Express.
While a relatively unknown shopping destination to many, Google Express attracted 23 million visitors in January. More than five times that of Jet.com. Five times.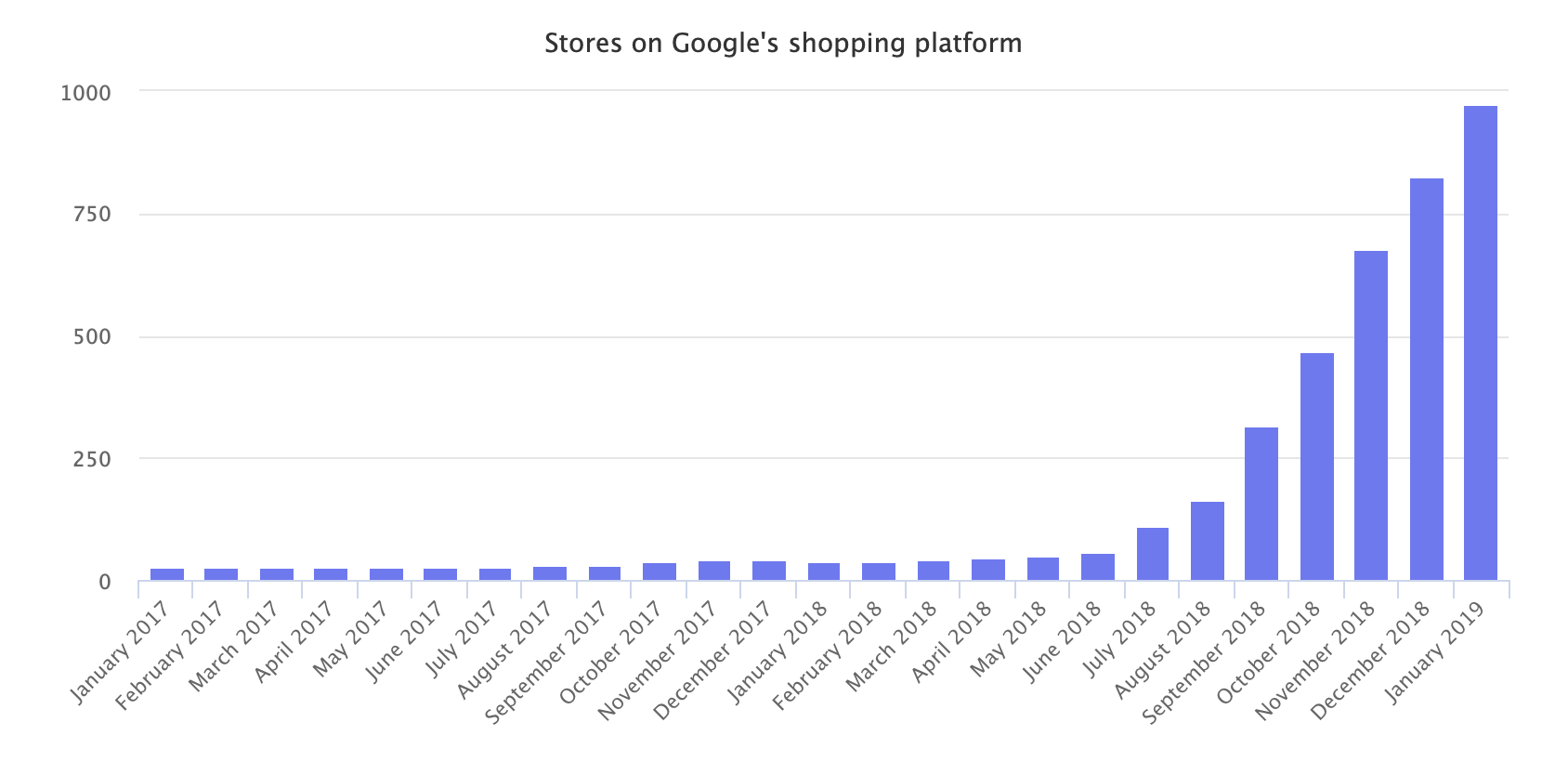 Google is adding over 30 new stores every week since July last year. More than half of the 1,000 stores currently selling on Google are also merchants on Amazon, eBay, and Walmart marketplaces. It now hosts top Amazon sellers like Fintie, etailz, Utopia Deals, VMInnovations, NetRush, and iSave.
In January Walmart withdrew from the Google's marketplace, undoing what was hailed to be Walmart and Google teaming up to challenge Amazon. Google Express originally started with a short list of big-box retailers, so the Walmart partnership announced in August 2017 fit. But Walmart has grown stronger in e-commerce since, finding itself with more important priorities to focus on.

Google Express was tested for some time in California offering same-day delivery from select retailers when it launched on September 25th, 2015. It first started as a subscription service, where Google would deliver products to consumers. It eventually launched nationwide with a $10 monthly or $95 annual program. Then in August 2017 the subscription model was scrapped, instead relying on retailers to handle their own fulfillment, not unlike other marketplaces.
Some of the big-box retailers remain on the platform, including Target, Costco and BestBuy. It remains to be seen how long those partnerships will last - Google's shopping platform is an aggregator just like other marketplaces and the bigger a business is, the less it wants to be aggregated. Those big-box retailers are in many ways helping to bootstrap their future competitor. And they are not necessary best at selling on marketplaces either.
"What's clear about selling on marketplaces is that businesses which do well on them often aren't retailers. Their business processes, capital funding, launching of new products, and inventory is built to work specifically on marketplaces. They understand keyword optimization much more than they do store layouts."
It's still unclear what shopping on Google is meant to be, but before Google figures it out it is expanding the supply side. Nearly half (46.7%) of US internet users started product searches on Amazon compared with 34.6% who went to Google first, according to a Adeptmind survey. There are also people who decide to go shopping while on YouTube, which Google owns. Google wants them to shop without having to leave YouTube, search, or anywhere else it has users.