In the Toys & Games category on Amazon.com 8 out of the Top 10 products are currently fidget spinners.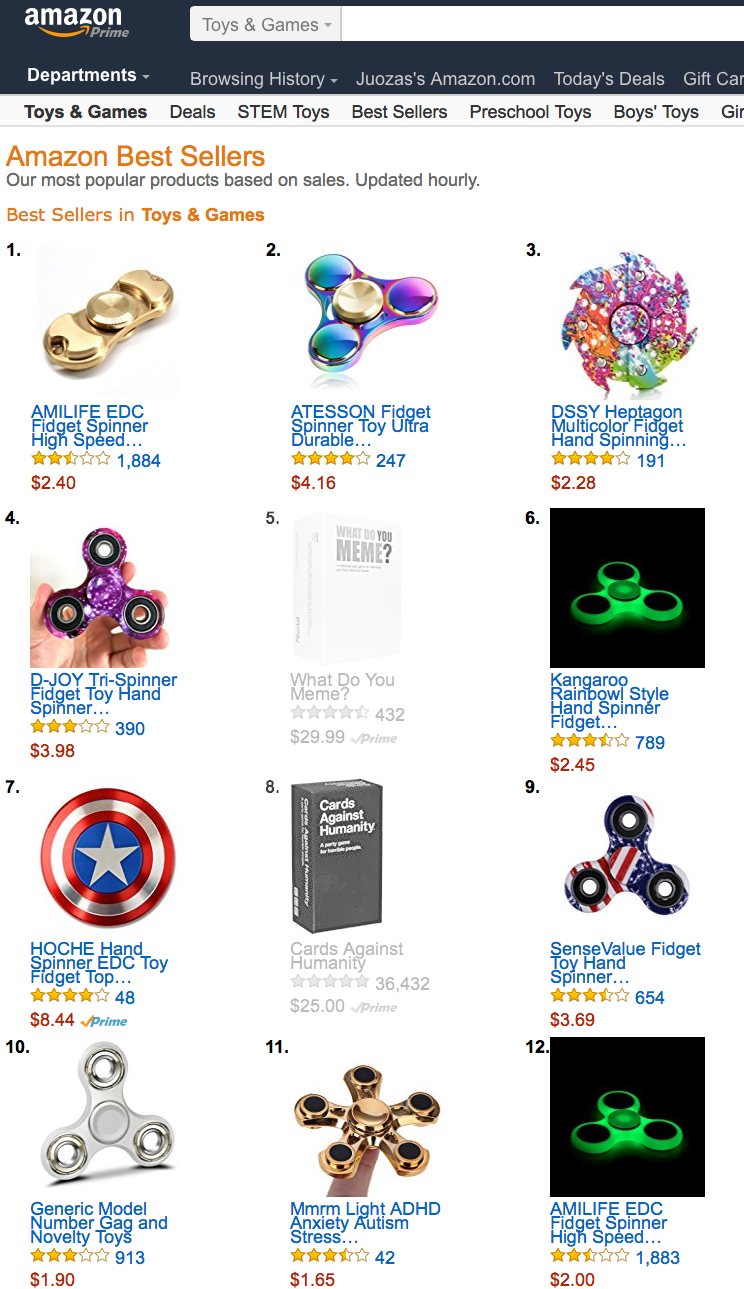 As Wikipedia describes it "A fidget spinner is a type of toy, whose marketers claim it relieves stress. A basic fidget spinner consists of a bearing in the center of a design made from any of a variety of materials including brass, stainless steel, titanium, copper and plastic."
Even down the list there are more copies of the same idea - 25 out of the Top 50, and 38 out of the Top 100 are fidget spinners. In total there are over 123,878 versions of the fidget spinner on Amazon.com. Though most of them are exact copies of the same thing, like it is often in the private labeling market.
Most of these toys have bad reviews, rated 3 or 4 stars out of 5, as often they are of bad quality. Yet it doesn't matter much, since they are so affordable that customers buy them anyway.
Furthermore, none of them are made by established brands. The top #1 fidget spinner is from a brand "AMILIFE". No customer will come back looking for what other toys AMILIFE makes, because it doesn't. For these sort of products the brand is irrelevant. Because of this the largest US toy makers Mattel and Hasbro are not getting any part of it.
Many have dismissed the fidget spinner as a fad, including the top toy makers. But they missed the point of what made this toy so successful. It was successful exactly because it was a fad. And like all fads it will fade away, but for the months it is at its peak it will sell in tens of millions.
Thus the fidget spinner as a product is showcasing what the modern retail is going to look like. The successful retailers are going to be the ones to be able to react to trends in a matter of days, ride the wave while it lasts, and then find something else. There is no sense of long-term investing in those products, because there doesn't need to be.
Even Amazon is not participating in this, most of the fidget spinners are sold by thousands of marketplace sellers. This is exactly why we think that brands should fear the sellers more than they fear Amazon. Small sellers have agility on their side, and the willingness to bet on random ideas. Through the shear volume of them trying it, success stories like the fidget spinners will continue to happen.
In the ago of social media, and YouTube, trends change at lightning speed. And very few companies have the luxury of being the brand setters, most are now in a position of listing to what customers want and reacting. Mattel and Hasbro didn't take this seriously, likely because they don't see themselves as reacting to random trends.
Practically all the fidget spinners are made in China, often sold on the Amazon marketplace directly by the manufacturers. The manufacturers there are best positioned to participate in this - once the fidget spinner became viral China's supply chain spun into gear and flooded the market. The same happened last year with the "hoverboard" products. And next year they will be making something else.
The role Chinese sellers play in this shouldn't be dismissed - we estimate that at least 25 percent of Amazon marketplace are from China. They are able to sell direct to consumer thanks to the Fulfillment by FBA (FBA) service, without involvement of domestic retailers, distributors, or even sellers branding it as their own products.
Making products like the fidget spinner requires agility in the supply chain, ability to bet on a lot of small ideas, and lack of attachment to an existing product line. Fast fashion in clothing is doing this, with H&M being one of the leading companies. We think there is going to be a lot more of this in the future.
It is important to not think about this as trends catching, but as a challenge to set up companies to be agile in product making. Likely by utilizing artificial intelligence and clever planning too.