eBay now accounts for less than 5% of U.S. e-commerce. It had a more than 10% share less than a decade ago. But as the rest of the market continued to grow, eBay did not keep up.
In 2021, eBay's total sales (GMV) in the U.S. were $40.1 billion, up just 2.8% year-over-year. That represented 4.6% of the overall $870 billion U.S. e-commerce market. The overall e-commerce market grew 14% compared to eBay's 2.8%.
eBay's global GMV was $87.3 billion, nearly flat year-over-year. In 2020, Covid-19 e-commerce acceleration reversed eBay GMV's decline. However, it is now falling back to the trend line - eBay expects $19.1-$19.5 billion in GMV in Q1 2022, which would be up just 5% from Q1 2020, a two-year-stack.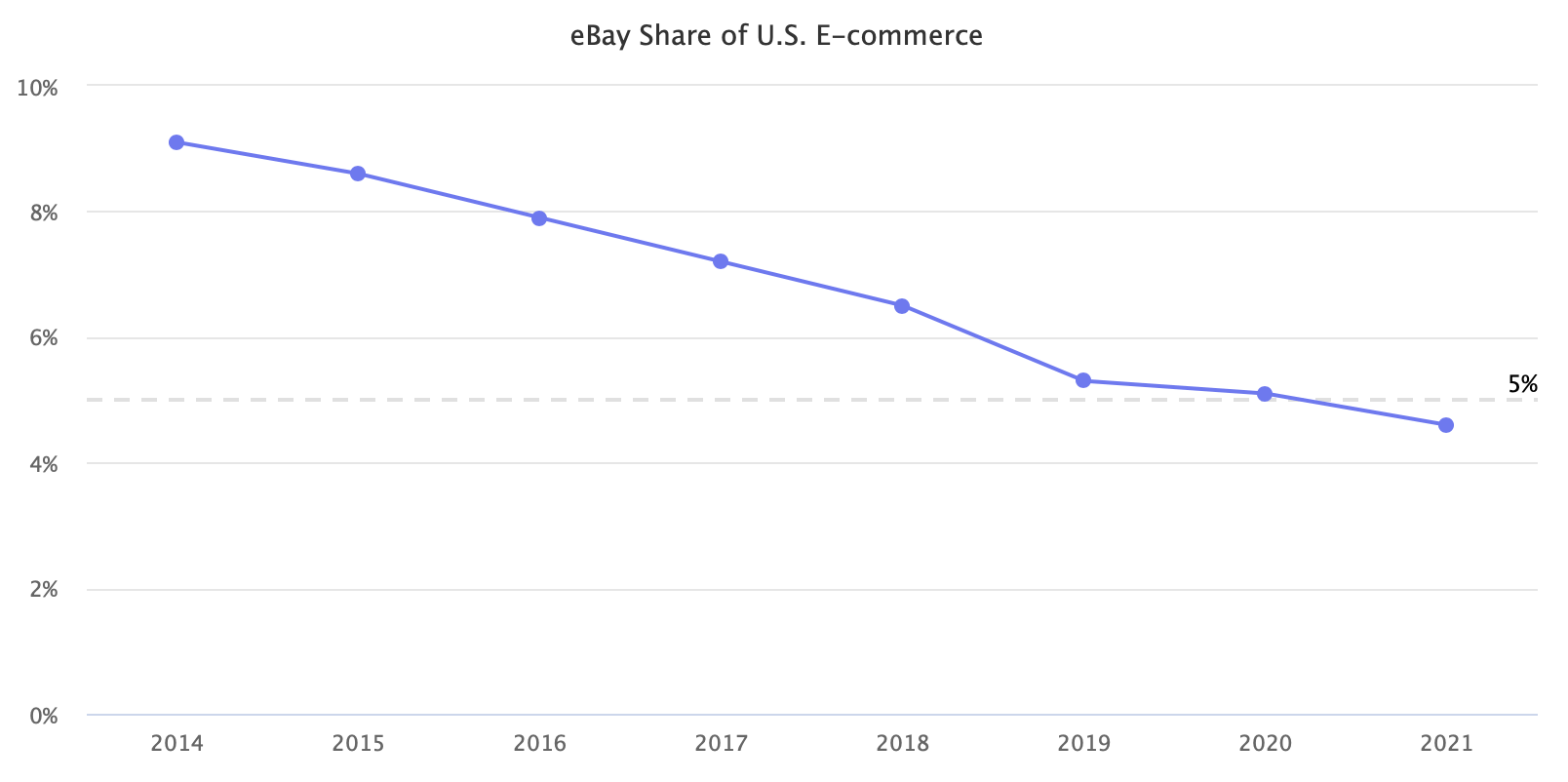 eBay is looking for growth by focusing on a few categories, like luxury watches, handbags, collectibles, sneakers, and others. While also no longer trying to expand the total number of users, focusing on high-value buyers instead. It has narrowed its focus to serving a few niches well to shoppers that value that.
"Sneakers have been declining for three years at double digits. We invested in the category. We've built critical specific marketing campaigns. We built an A+ experience that had over 90 customer satisfaction. And what you saw there is that the business really took off. We grew triple digits a year ago, still doing double digits in that business," said Jamie Iannone, CEO of eBay.
Over the years, many of eBay's categories got carved out to focused companies - Etsy, StockX and GOAT, Vinted and Depop, OfferUp and Facebook Marketplace, and many more. But eBay kept its user base and maintained some - though tiny - growth. eBay is now trying to claim back some categories, but it will likely continue to shrink until it settles into its new diminished role in e-commerce.