eBay 2017 Q2 results mostly met expectations, but at the same time provided little to be excited about. Shares fell as a result.
Gross Merchandise Volume (GMV) was $20.46 billion, up 3.4 percent from last year. 3.4 percent growth is fastest in years, as it was at around 2 percent for the last 4 quarters, and even less before. However we always have to point out that overall US e-commerce is growing at 14-15 percent so in comparison eBay is still lagging.
Number of active buyers (those who have made a purchase in the last 12 months) increased to 171 million, up 4 percent from 164 million last year. This number has grown by 2 million every quarter, and for a while has become one of the key focus areas since marketing spend attracts new buyers.
But despite the growing number of buyers, GMV is not growing as fast. We did a simple analysis by dividing GMV by active buyers number for every quarter, and the results are below.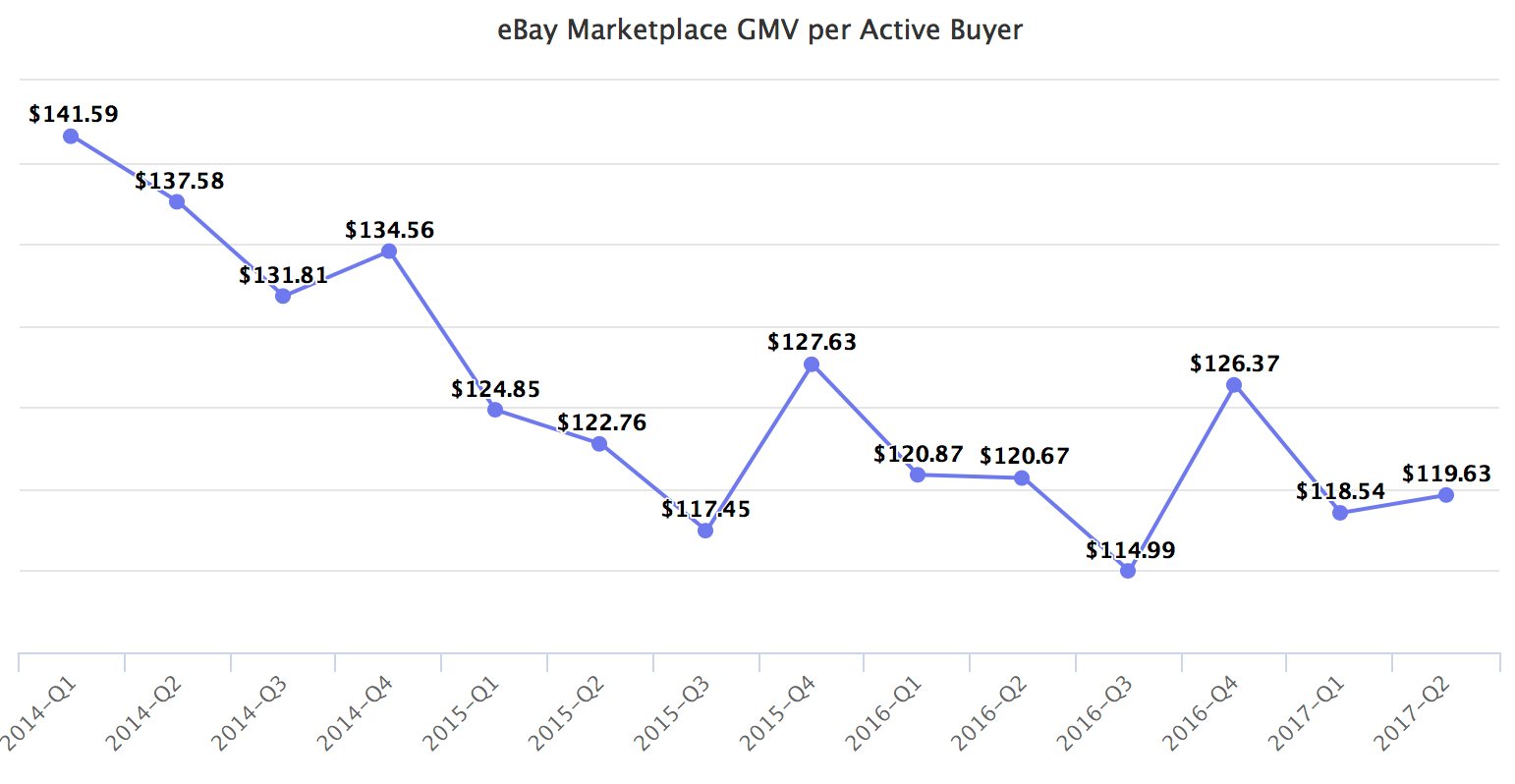 The trend suggests that eBay is successfully attracting new buyers, but those buyers buy less and/or buy only once. So while the number of people who shopped on the platform is growing, they are not resulting in GMV growth. One of the main focus areas has been developing features to make buyers buy more by suggesting relevant products, however the numbers suggests it hasn't worked yet.
Those initiatives are part of the structured data work eBay has been focusing on for years. This time Devin Wenig, CEO of eBay, said:
"I think what's interesting is over time, listings, as structured data penetrates our site and our experiences, listings will become a less important metric than products will. We're not quite there yet, but I'll just give you one example. So listings are growing, but we're working with sellers to take duplicates now. And we've been pretty aggressive about that right now because it clutters the site and it depresses conversion. So listings might not linearly or exponentially keep going up. There may be periods when it comes down but we're actually adding the number of products."
This is the first time eBay has made the distinction between listings and products. For a while they've been talking about the 1 billion listings catalog, but are starting to admit that it is mostly duplicates, and the real size of the catalog is at best a tenth of that, based on our estimates. Yet the work to transition eBay from a website of listings to one of products is a monumental task.
Last quarter we were bullish and said that eBay's Revamp is Taking Too Long. There are exciting things happening in some areas of the marketplace, but overall every quarter has been uninspiring. Investors and the market are still patiently waiting to see a meaningful impact of the structured data initiative.
During the Q1 earnings call Devin Wenig said:
"Our focus through the remainder of the year will be growing our base of active buyers and delivering a significant number of new user experiences to increase traffic and conversion, while facing into tougher lapping with StubHub and our PayPal operating agreement."
We are still unsure what this means.
Despite the criticism, trailing 4 quarters add up to over $80 billion in GMV. And recently eBay has published interesting stats about the marketplace in Europe, and in the US too. So while it stumbles to pose a risk to Amazon, it is still the 2nd largest marketplace for US sellers, and for many international sellers too.