The list of best-sellers on Amazon is different day-to-day. And it's not new trends replacing old ones. Instead, it is brands that didn't exist just recently pushing out other short-lived brands. Unrecognizable, unpronounceable, and unmemorable and only created for the sake of selling on Amazon.
In the headphones category on Amazon, 1,800 different products from 666 brands were among the top 100 best-sellers in the last twenty-four months. That's nearly three new products from almost one new brand every day replacing current items in the best-sellers list. Those brands are pseudo-brands like NUBBYO, LAFITEAR, NANMING, AIWONS, or HWCONA.
Only five brands - Apple, Samsung, Sony, Soundcore, and Tozo - had a product in the headphones best-sellers list for the entire twenty-four months. Just twenty have been in it for over 500 days (70% of the time). More than half of brands were on the list for only five days or less; hundreds of brands that gained some momentum, all to get lost among the sea of lookalikes a few days later.
Most Amazon categories exhibit this behavior. Furthermore, there doesn't appear to be a slow down in the share of the list that gets constantly replaced. Top brands across the board retain their positions, but new entrants enter the best-sellers list daily consistently over the past few years.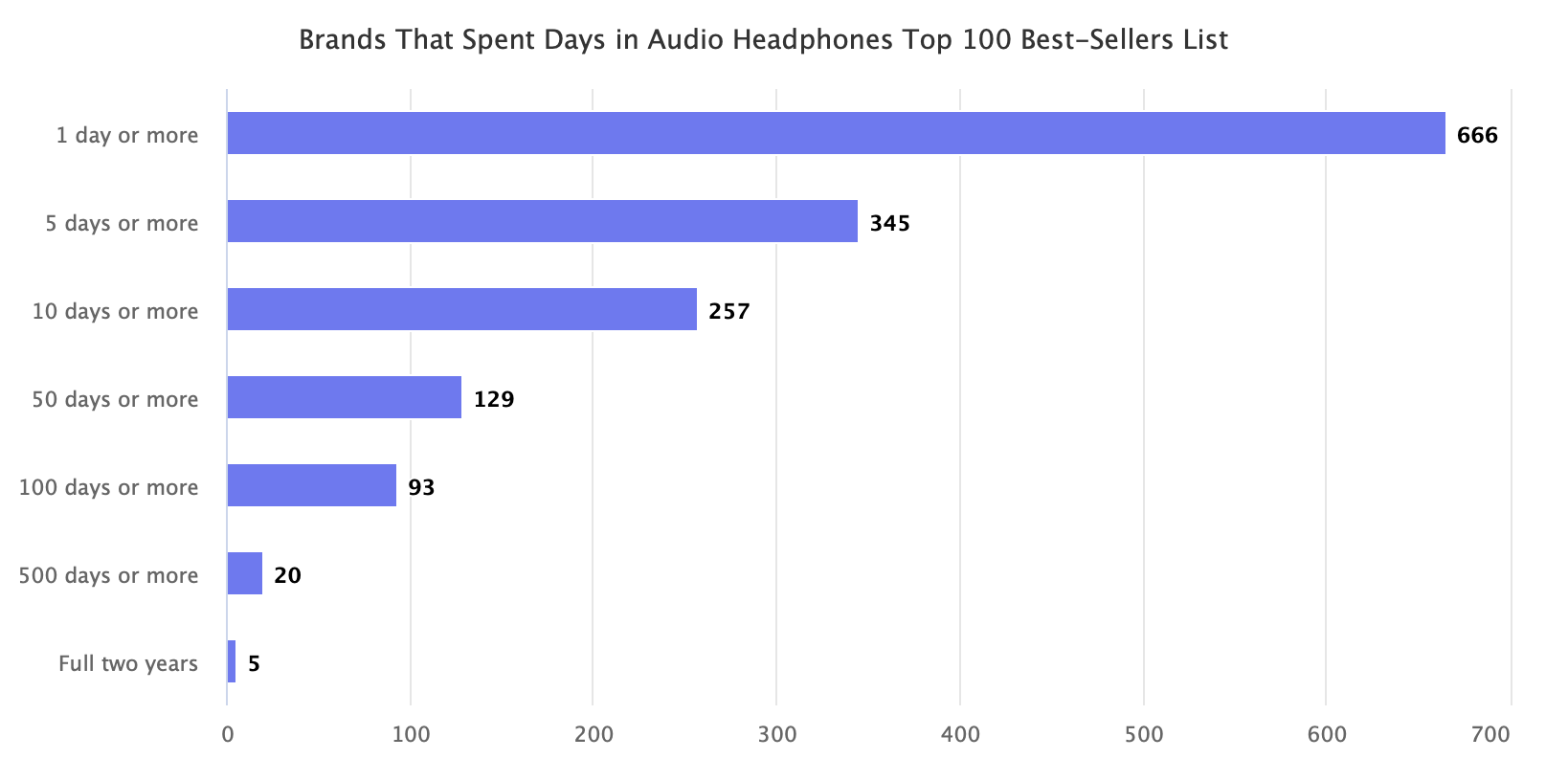 Brand moats on Amazon, then, are rare but not impossible. Unsurprisingly, Apple, Samsung, and Sony are always on the list. But there are also brands like Soundcore (owned by Anker) and Tozo that do not have the pedigree of established brands. There are hundreds more that gain some success but fail to establish market position. Thousands more try every month to replicate some of that success.
So many brands are launching on Amazon that their trademark registrations are increasingly overwhelming the U.S. Patent and Trademark Office (USPTO). "As of June 17, the increase [in trademark applications] is roughly 63% over last year, which translates to about 211,000 more applications," the office wrote in a blog post. "And in December 2020 alone, the USPTO received 92,608 trademark applications, an increase of 172% over December 2019." In July, the backlog of pending trademarks at the USPTO has surpassed 900,000 for the first time.
For those brands (many of which appear like a randomly generated string of letters), the brand name is not important. And the only reason they go through the USPTO registration is that trademarks unlock the Brand Registry service on Amazon, among other benefits. They succeed or fail on Amazon despite the brand name. Most often, they fail.
Because of this, shopping on Amazon is unlike any other retailer. And the definition of what "brand" stands for is distorted on Amazon too. Amazon's marketplace is evolving, however. Many more sellers are thinking about moats beyond the number of reviews, and aggregators buying those sellers are building portfolios of brands, hoping to turn them into recognizable brands. It is not going to curtail the chaos on Amazon, but the incentives are now different.
It's never been easier to launch a brand on Amazon like it is today. It's never been harder to launch the next Anker.