Amazon has started identifying its brands in search results, tagging them with an "Amazon brand" or "Exclusive to Amazon" badge. Previously, it was inconsistent in disclosing which products it owned.
Hundreds of brands are part of the Amazon Our Brands, a collection of "Amazon private brands and a curated selection of brands sold exclusively on Amazon." Amazon Basics and Amazon Essentials are unmistakable as brands owned by Amazon, but the portfolio includes many more brands without an obvious connection to the company. Those were previously only known to belong to Amazon by analyzing trademark ownership.
Most of the Our Brands portfolio brands are from sellers that joined the Amazon Accelerator program rather than brands owned by Amazon. Unlike Amazon Basics, Amazon is not organizing manufacturing or holding inventory for those. Sellers continue to run the brand with some benefits and help from Amazon.
Amazon private label brands are now marked as "Amazon brand" in search results. Brands sold exclusively on Amazon that are also part of the Our Brands program are marked as "Exclusive to Amazon."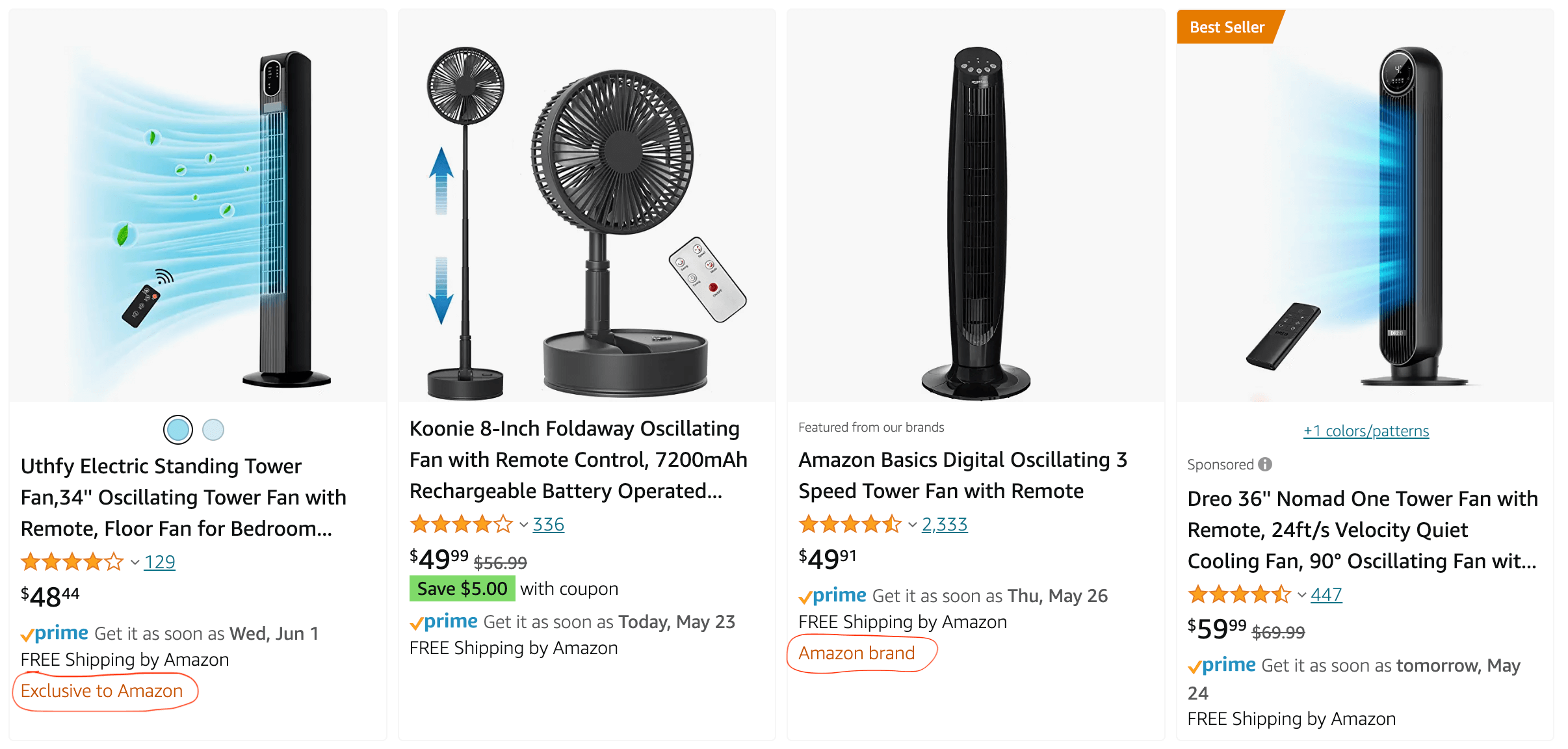 Amazon also has a "Featured from our brands" badge introduced two years ago. It marks products that take space that otherwise would show sponsored products. The new badge applies to products even if they are not featured, thus identifying Amazon's owned and exclusive products ranked in search results assumingly organically.
It's unclear why Amazon decided to increase transparency now - no other retailer has similar badging online. No regulation has passed requiring it, and it is only live in the U.S., despite Amazon also selling private label products in other markets. The new badge could be a test as it appears as black or yellow text to some shoppers and doesn't appear at all to others. Its position is easy to miss, and the product detail pages do not include it.
The new badge is likely a preemptive response by Amazon to continuing antitrust inquiries. Some of which have centered around its private label efforts. Attempts to analyze Amazon's brands in the past first involved a complicated effort to identify the list of brands. That is now significantly easier.
Amazon has repeatedly denied tweaking its search algorithm to feature its brands even if shoppers liked other products more. Additional badging makes Amazon more transparent, even if few shoppers would notice it. And even if few shoppers care.