The largest online retailer in the US is not Amazon, but the Amazon Marketplace. Made up of millions of sellers it will account for 31.3% of total e-commerce sales this year, according to estimates by eMarketer. It's close to twice as big as Amazon itself.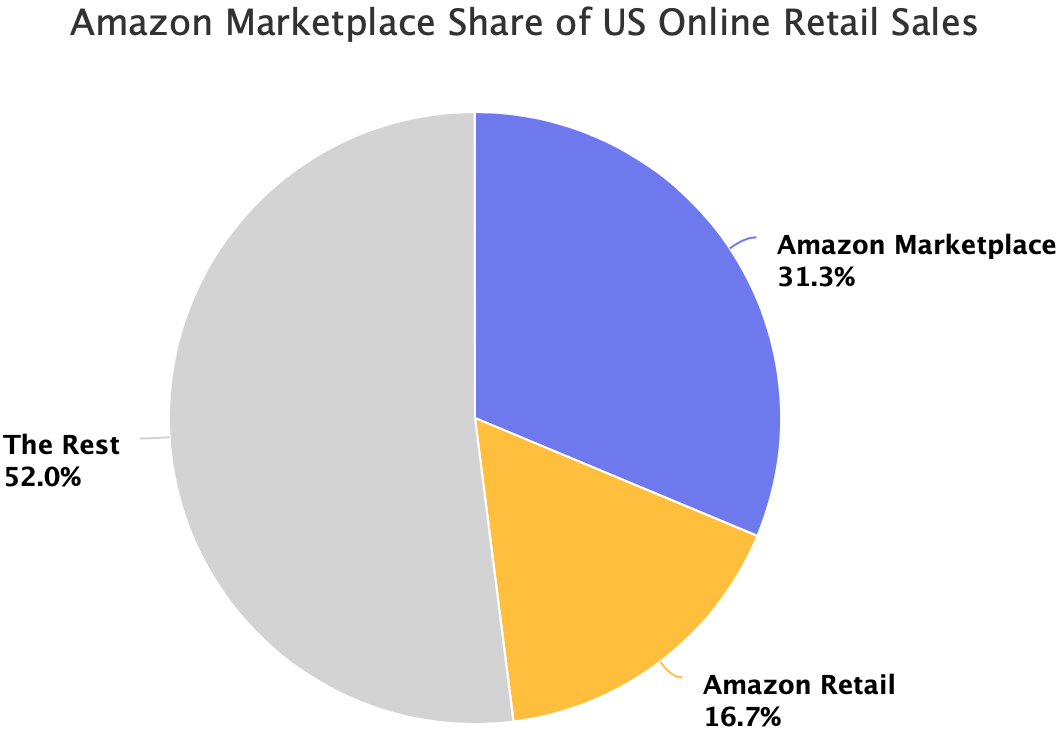 At $175 billion, Amazon marketplace sales will make up 68% of the Amazon's $258.22 billion total sales in 2018. Marketplace sales will grow 35.6% in 2018, double the rate of Amazon direct sales' 17.5% growth. Combined, Amazon is expected to grow 29% compared to 2017.
The $258.22 billion figure is Amazon's gross merchandise volume (GMV), and includes direct sales by Amazon itself (also known as first-party or 1P sales) as well as the third-party marketplace. The company doesn't disclose GMV as part of its quarterly financial report, but it can be estimated from the third-party services revenue and other available metrics.
eBay, the second largest marketplace in the US, is five times smaller at $35 billion in domestic sales. Next is Etsy and Wish with roughly $2 billion in GMV each, then followed by Walmart Marketplace.
| Retailer | Market share | 2018 Sales |
| --- | --- | --- |
| Amazon Marketplace | 31.3% | $175 billion |
| Amazon Retail | 16.7% | $83 billion |
| eBay | 7.2% | $35 billion |
| Walmart | 4.0% | $20 billion |
| Apple | 3.9% | $19 billion |
| The Home Depot | 1.6% | $8 billion |
And yet the Amazon marketplace is also the most overlooked player in the US e-commerce. Amazon doesn't mention it often, retailers and brands are focused on Amazon the retailer, and shoppers don't notice it thanks to FBA and Prime. It's impressive how much sales volume goes through it almost invisibly.
However, the marketplace is largely built on brands unwilling to sell to Amazon. The effort by the swarm of millions of sellers has allowed Amazon to expand the catalog to include most brands, even if they themselves didn't want to be apart of it. But brands' strategy towards Amazon is starting to change, as they are increasingly giving in to sell to Amazon, becoming third-party sellers, or using an Amazon agency.
The sixteen years since the marketplace launched in 2002 saw it reach $175 billion. It will be bigger still a decade later, but, without a doubt, it will look structurally different.