Two years ago, Nike stopped selling its clothes and sneakers directly to Amazon. The brand has since done exceptionally well scaling its digital sales. And yet, consumers continue to look for Nike on Amazon.
According to Marketplace Pulse research, Nike products have been among the top 10 most-searched brands on Amazon for years. The brand's popularity on Amazon didn't materially change when Nike stopped selling to Amazon. The only brands that attract more attention are Apple, Nintendo, Lego, PlayStation, Crocs, Anker, Uggs, Xbox, and Funko Pop.
Searches related to Nike products continue to be among the top 200 most-searched keywords - before and after Nike's decision. Decisions by neither Nike nor Amazon do not appear to have any influence on what customers search for. The only time Nike fell out of the top 200 was in March and April 2020, when product searches for essentials like face masks replaced it.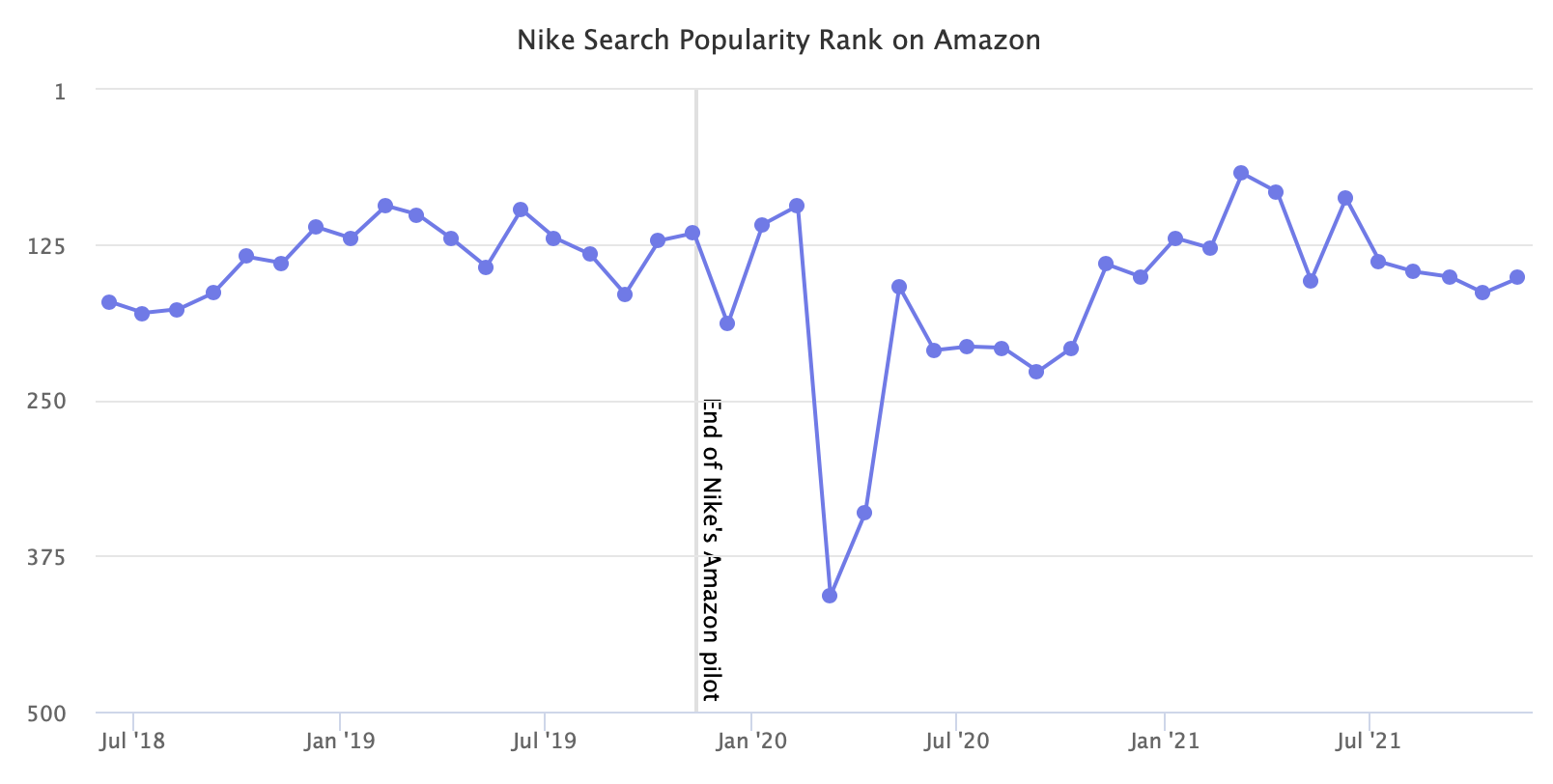 "As part of Nike's focus on elevating consumer experiences through more direct, personal relationships, we have made the decision to complete our current pilot with Amazon Retail," said the company in November 2019. Nike only agreed to the pilot in 2017 in exchange for Amazon policing counterfeit and third-party sales. The pilot didn't work, and thus the brand never brought its entire catalog to Amazon.
Nike realized that it doesn't need to fix its issues with Amazon. It could instead build a channel without those issues. Its digital sales excelled over the past few years to represent 30% of the total and are on target to reach 50% next year. Nike.com receives 100 million visitors a month, and Nike's app is in the top 5 shopping apps on the iPhone app store - it gets more downloads than Etsy, Target, and most other retailers and brands.
Meanwhile, a subset of Nike's catalog is available on Amazon, sold by third-party sellers and surrounded by advertising from competing brands like Adidas. It's a disappointing customer experience. Nike is likely okay with being presented poorly on Amazon - that makes shoppers go to Nike.com or download its app instead.
More people shop directly from Nike than search for its products on Amazon. Nike is doing great. But it is also one of the most recognized consumer brands. The point is not about Nike - it is that customers go to Amazon despite brands' best efforts to reach them directly - in all ways that matter, shopping on Nike.com is better for the customer. If some Nike customers default to Amazon, even more default for other brands.
That makes Amazon the default search engine. The number of people that first check on Amazon before looking elsewhere is perhaps its deepest moat. In the case of Nike, some notice that choices are limited and go looking elsewhere. But quite often, the products offered are what the customer was searching for.