Update: After a few quiet weeks scammers resumed and are back in full force. Read more Hackers Have Their Targets on Amazon Seller Accounts.
Back in December we wrote an article on the rise of fraudulent sellers on Amazon. We noticed that as Christmas approached, customers became less patient waiting for packages to arrive. But soon they realized those packages are never going to show up - the seller was long gone from the marketplace.
This was causing so much frustration that even Forbes picked up on our findings and wrote an article "Amazon Scams On The Rise In 2017 As Fraudulent Sellers Run Amok And Profit Big," which today has been read over 100,000 times.
According to Marketplace Pulse, thousands of new seller accounts are being opened on Amazon each day. During their research into fraudulent vendors on the platform that they conducted in August 2016, they discovered sellers with upwards of 6,000 negative reviews from angry customers who never received what they paid for.
We are happy to report that Amazon has been making some changes and have improved the situation. It's not perfect yet, but as you can see in the chart below it has improved a lot.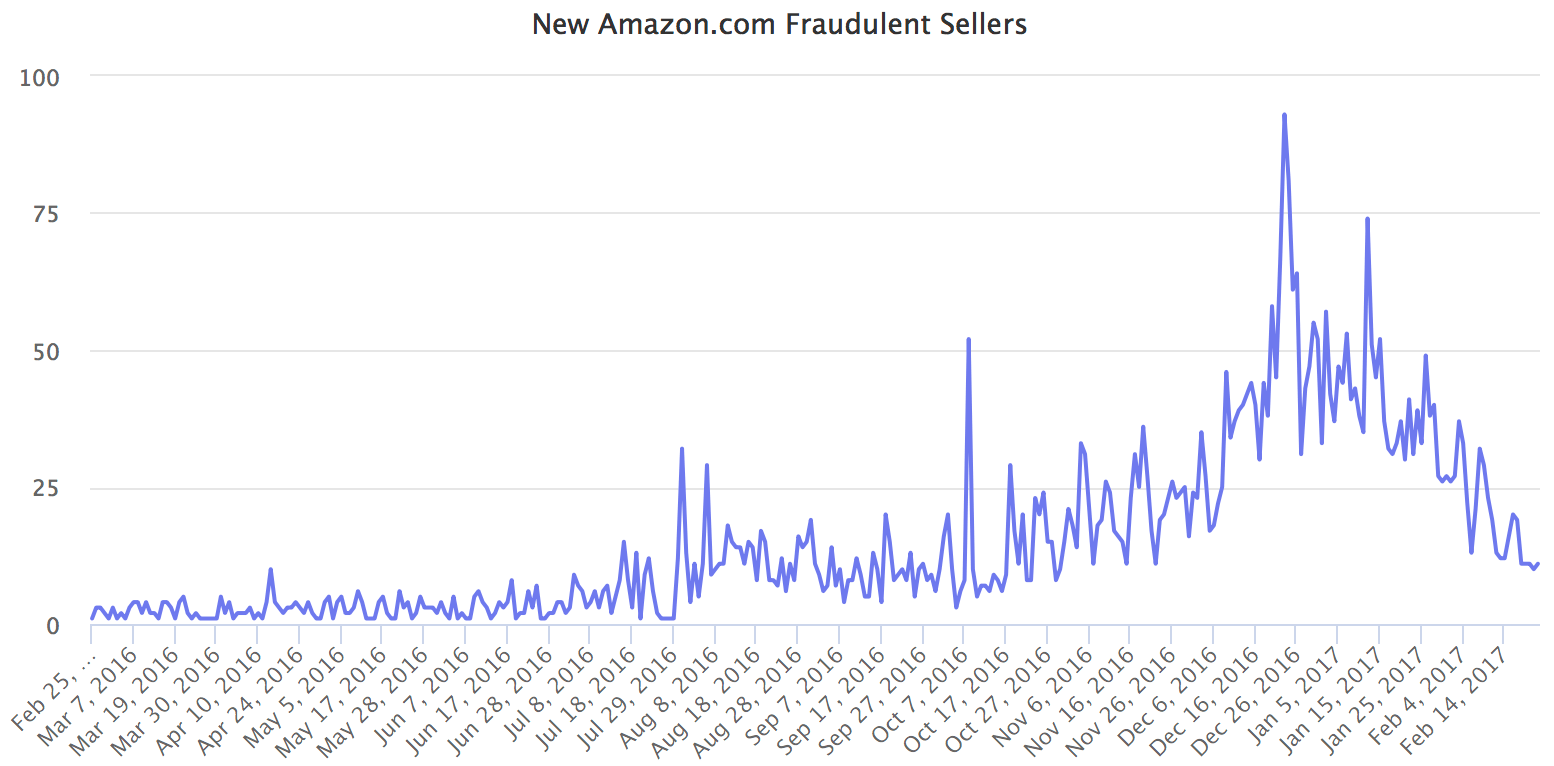 New fraudulent sellers started to drastically rise as Christmas approached, but since have been on a steady decline. That's one part thanks to Amazon doing a better job preventing this, but somewhat also impacted by lesser importance of getting products fast because it is not Christmas anymore.
Most of those sellers have followed a standard playbook - create a new account with hundreds of thousands of products, all listed at hard-to-believe prices (sometimes all products with the same price), and then hope to get as many sales with indicated 2-4 week shipping time before Amazon notices. This is an easily recognizable pattern and Amazon is making it harder to do the same thing - new sellers are going to be unable to list unlimited number of products the moment they join, and will instead have to prove themselves first.
New sellers now tend to get asked to provide: "utility bill with name and address visible, business license, If you have active listings, include copies of invoices, receipts, contracts or delivery orders from your supplier issued in the last 90 days." This additional verification process makes it harder to keep creating new seller accounts.
Another common scam is asking customers to contact the seller outside of Amazon. By having a note in the seller name, description or product condition field the sellers get customers to email them directly, opening up all sorts of phishing possibilities. Amazon is monitoring seller names more agressively, and have recently also put a stop on the product condition field:
Condition notes are no longer accepted for new products
2 Feb 2017

Effective 22 February 2017, the Condition Note attribute will be disabled for all new products. If you do have new products listed with condition notes, the condition notes will be removed from the offer listing page. You can still continue to use the Condition Note attribute for all other product conditions.
This is a very important issue to get under control because so far the best advice for customers has been - avoid new sellers. It's very unlikely a brand new seller is able to get better pricing than existing sellers, so chances are it is a scam. Yet this makes it harder for legitimate new sellers to join the platform. Furthermore, more and more customers are learning not to trust sellers not offering Prime. So sellers doing their own fulfillment are going to have a harder time getting sales, even when they offer better price.
In the Why Amazon Buy Box Is Not the Lowest Price piece we wrote that Amazon has been solving this issue by giving the buy box to a seller they trust, ignoring the absolute lowest price ones if they weren't sure about them. However many customers have been ignoring this and overriding it by picking the lowest price forget all buying advice. Thus we can foresee that there are going to be some Amazon.com website changes to better protect customers.
For Amazon this is an issue of managing customer experience, but for the marketplace as a whole it's about controlling the chaos scam sellers bring. We've been monitoring this issue for a while now, and are delighted that it has improved lately.