Amazon launched in Australia in December last year. One month later the marketplace attracted over 5,000 sellers, and has recently surpassed Amazon's Brazil marketplace which expanded in October.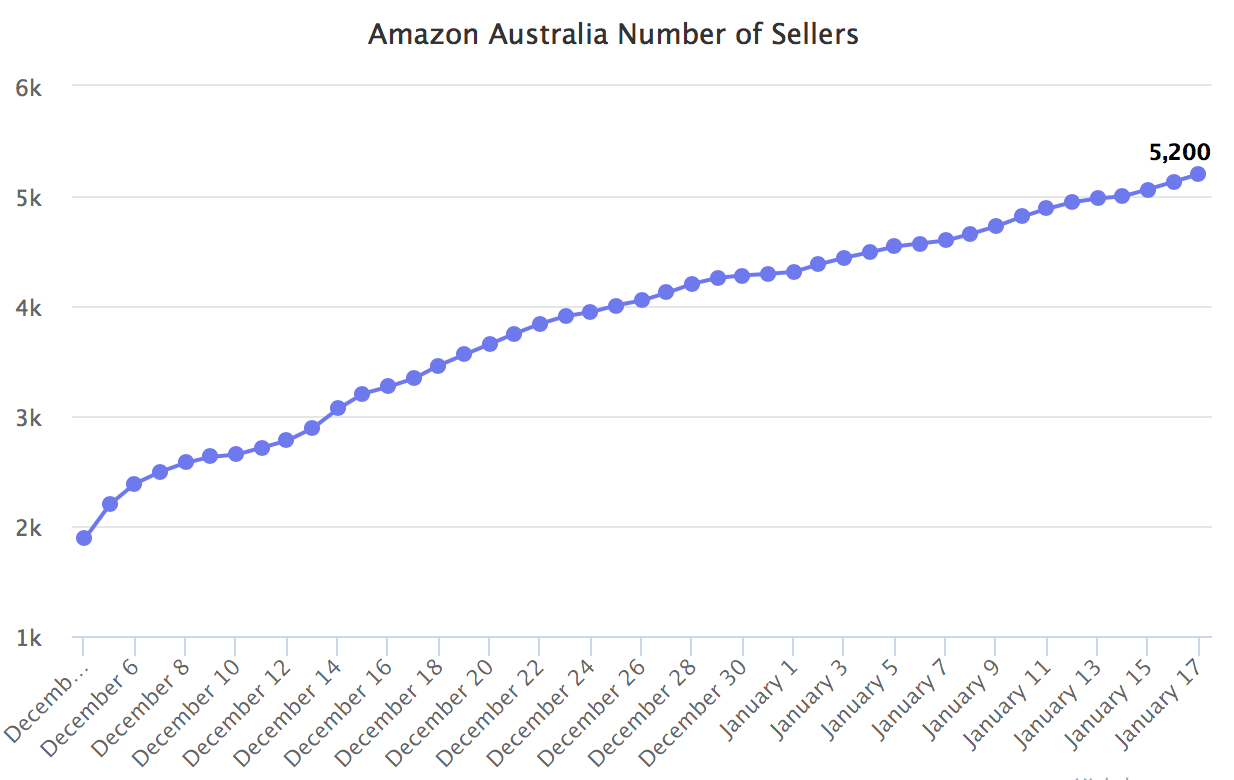 In fact, Amazon Australia is the fastest growing marketplace relative to its size. 55 new sellers join every day.
One in five sellers in Australia received a review in the last month. Based on the number of sellers with a review it has already passed Brazil, China, and Mexico marketplaces. Mexico marketplace is however 10x larger.
Close to half of sellers indicate that they are shipping products from China. Those are both a mix of China based sellers, and Australian sellers with warehouses in China. There is no Fulfillment by Amazon (FBA) service yet, and thus there are no Prime memberships, which means shipping times are unreliable.
12% of seller reviews are negative, highest of all Amazon marketplaces except for Brazil, and India. Most of customers are upset about late shipments, and orders which never arrived.
"This item was shown as shipped on jan 4th. Still not arrived on Jan 16th. How can it possibly take so long?"
"Ordered 6 December 2017. There is no reason whatsoever that an item should take more than a month for delivery. Expected only 22 Jan 2018 now and going by current track record of items ordered on Amazon Aus this will likely be moved. What a joke."
"No product received. I ordered it December 10. I thought I would try Amazon Australia, got to be faster as it is in the my home city. I wished I had gone to the Boxing Day sales in the shops."
"Ordered 9th Dec goods still not arrived I would not have ordered if i had realized they were imported from China."
"Item never delivered. Tracking info shows it never left China despite lies from seller. Unreliable."
The disappointing shipping times highlight the importance of Prime to Amazon's success. Amazon has over time become less about lowest prices, and instead focused on consistent customer experience enabled by their own fulfillment network, and other services. Consistency is the key word.
When Amazon launched in Australia customers and the press were expecting to get Amazon.com on day one. But without Prime to deliver consistent shipping, and without a populated marketplace to self-control prices it felt flat.
It is Day 1 in Australia; Jeff Bezos last year wrote a letter to shareholders describing why it's always day 1 at Amazon. Despite the excitement Amazon is missing key building blocks in Australia. While technically Amazon has launched in Australia, they merely rolled out the minimal infrastructure to have customers ready when they get other things in place.
Despite this amazon.com.au attracted 14.3 million visitors in December, up by 90% from November according to SimilarWeb. That's one sixth of ebay.com.au traffic.