Despite third-party merchants on Amazon seeing double-digit year-over-year growth of worldwide unit sales, surpassing a billion items sold on Amazon, a record 6.4% of customers had a negative experience this holiday season when buying from a third-party merchant.
8.5 million feedback reviews were left by Amazon customers worldwide during the holiday season, and 6.4% of those - more than half a million - were negative. Sellers on the Amazon marketplace receive feedback reviews from customers after a purchase. Providing feedback is optional for customers, and the percentage of customers who leave a seller review is anywhere in the range of 1–5%, depending on the product pricing and the category.
The US, UK, Germany, and Japan were below the 6.4% worldwide figure, while other international marketplaces like Brazil, Spain, and India were more than double. 5.6% of reviews were negative in the US, compared to 14.3% in India. And while in India, the negative reviews rate is constant throughout the year, in the US, it was 3.75% most of the year.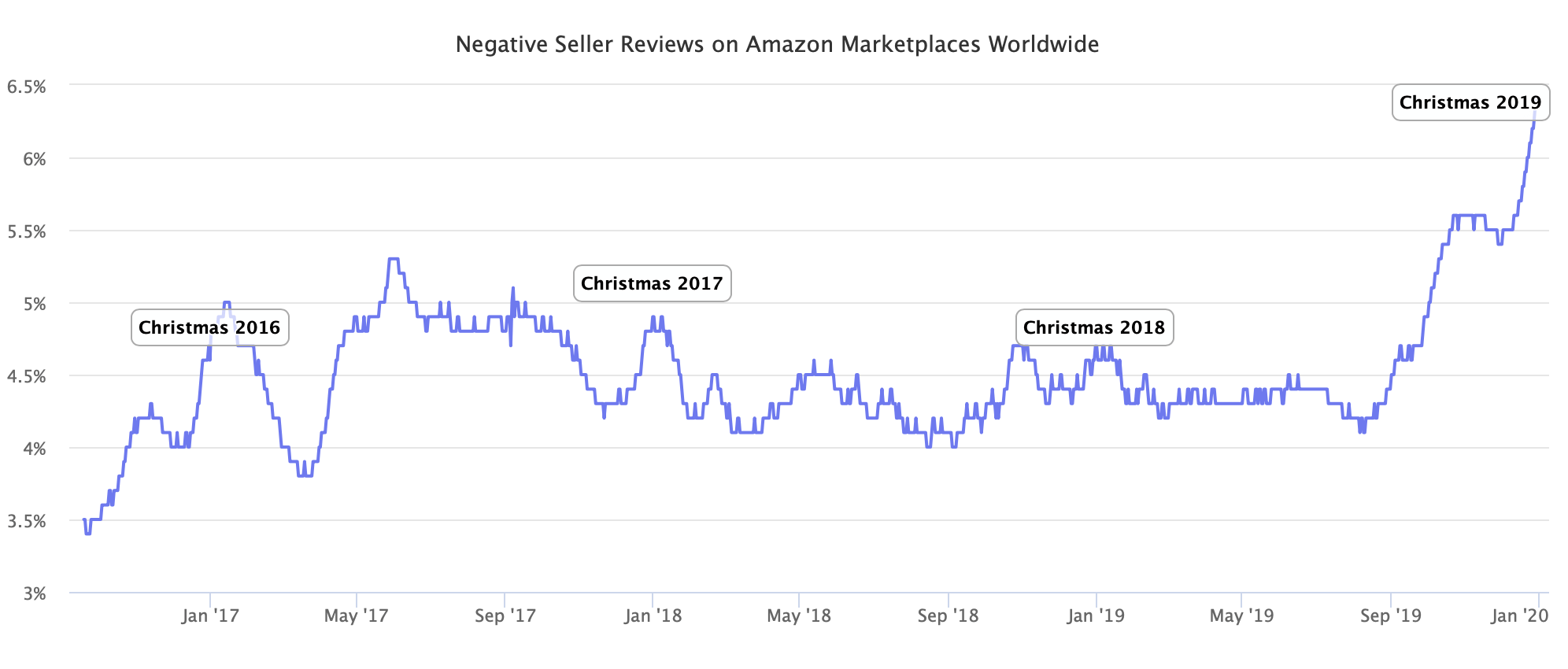 Most of the negative reviews complained about receiving the order late or never receiving it at all. Other customers complained about receiving the wrong size or color of the item, sometimes an incorrect item altogether, and few complained about receiving a fake item. Reviews read like "Disappointed grandson!!! The toy's expected delivery was form the Dec. 18-26. We were told on the 20th that the package had shipped, on the 26th we were told that the package would arrive by 8pm. It never arrived!!! Since the seller did not provide a tracking number, I sat on hold with the freight company for ever! I want to thank Amazon for the refund, however buyer beware with this seller!"
Every Christmas, negative reviews increase across all shopping platforms as the day gets closer when customers realize the order they placed won't get to them on time. Amazon manages expectations by setting deadlines when the last orders can be placed for them to be guaranteed to arrive before Christmas. However, the company can't effectively do this for merchants fulfilling their orders and not using the Fulfillment by Amazon (FBA) service.
In previous years, Amazon used to remove negative feedback if it was related to Fulfillment by Amazon (FBA) since those issues were out of control by a seller. Those negative reviews would instead say, "This item was fulfilled by Amazon, and we take responsibility for this fulfillment experience." However, in 2019, the company has reduced this practice, which explains part of the increase in negative reviews.
Regardless of the success of the Amazon marketplace so far, it still can't always meet customer expectations.