The largest online retailer in the US is not Amazon, but the Amazon Marketplace. Made up of millions of sellers it will account for 31.3% of total e-commerce sales this year, according to market share estimates by eMarketer. It's close to twice as big as Amazon itself.
At $175 billion, Amazon marketplace sales will make up 68% of Amazon's $258 billion gross merchandise volume (GMV) in the US. Marketplace sales will grow 35.6% in 2018, double the rate of Amazon direct sales' 17.5% growth. eBay, the second largest marketplace in the US, is five times smaller at $35 billion in domestic sales. Next is Etsy and Wish with roughly $2 billion in GMV each, then followed by Walmart Marketplace.
Despite their size and growth rate, marketplaces are the most overlooked player in the US e-commerce. Amazon doesn't mention theirs often, retailers and brands are focused on Amazon the retailer, and shoppers don't notice it thanks to FBA and Prime.
The Year in Review looks at the state of marketplaces and their challenges, and makes predictions on what's to come next year. Unless otherwise noted all metrics mentioned in this report are calculated by our technology platform. Our software parses unstructured and semi-structured data sources and programmatically extracts the key pieces of structured data we care about. We collect more data on e-commerce marketplaces than any organization in the world.
In short, the industry continues to spin around Amazon. Amazon is growing both in the US and internationally, as the company struggles to make up its mind between being a retailer, a product creator, and a platform. Amazon's flywheel is enabled by the marketplace, FBA, and Prime. A lot of the goods sold on Amazon are sold directly from China. Competition is trying to match Amazon's two-day shipping, but it's just one of the services they fail to offer to their marketplaces. eBay is struggling to reinvent itself, Walmart is doing ok, and Jet.com is forgotten. Two newcomers in the form of Google and Facebook are making moves. There is also Wish and Etsy, both finding their own niche and growing. Overall the power of services built around Amazon cannot be matched by the competition, and the rise of advertising is sparking the creation of a whole new industry - Amazon brand agencies.
Contents
Amazon Sellers Funnel
The Amazon marketplace size is most often described as "there are currently more than 2 million sellers on Amazon worldwide." The 2 million figure has become common speech. But not only is the marketplace bigger in terms of the number of sellers, it also has better metrics to benchmark its performance.
20,000
Sellers with $1 million in sales
Number of sellers worldwide with more than $1 million in sales a year.
140,000
Sellers with $100,000 in sales
Number of sellers worldwide with more than $100,000 in sales a year.
2,500,000
Sellers with products for sale
Number of active sellers worldwide with products listed for sale.
This is the Amazon marketplace funnel. Millions of sellers at the top, only tens of thousands at the bottom. There are millions of sellers with products listed for sale, there are more than 6 million sellers in total to have ever sold on Amazon, but the top 20,000 sellers with $1 million or more in sales represent the most important cohort.
Analyzing the current top sellers on Amazon, approximately 67% of them were also in the top one year ago; 53% of them were also in the top two years ago; and 41% of the them were also top sellers three years ago. This highlights the apparent long-term sustainability of businesses relying on the Amazon marketplace and the relatively low churn rate. Churn rate, also known as the rate of attrition, is the percentage of sellers on a marketplace who stop selling within a given time period. Retention of top sellers is the opposite of churn.
More than one million US-based small and medium-sized businesses are selling on Amazon. US sellers are mostly located in California, representing 18% of all sellers. Other common locations include New York, Florida, and Texas. These four biggest states make up 40% of US sellers.
This breakdown showcases Amazon's economic impact across the US. Amazon estimates that the Amazon Marketplace has created more than 900,000 jobs.
Sellers are a unique type of business. Their business processes, capital funding, launching of new products, and inventory is built to work specifically on marketplaces. They understand keyword optimization much more than they do store layouts. They are not going around their brick-and-mortar store picking products off the shelves to fulfill an online order either.
Amazon China Sellers
On Amazon, 39% of the top sellers are based in China. This is based on a combined average of the 5 European marketplaces (Spain, Italy, France, UK, and Germany). Retailers in Europe are required to disclose their business location as part of European Union law, this thus also apply to sellers on European marketplaces. The business information is analyzed in this report to determine what country is the seller located in. Unfortunately this is only possible for the European marketplaces, and the same analysis is not possible for Amazon.com.
Nonetheless China sellers share of Amazon.com marketplace is at least that of Europe at 39% or even higher. The US marketplace generates the most sales overall, thus the interest from sellers is highest there. In a study from 2016, Payoneer interviewed 900 Chinese sellers and found that 62% of respondents are selling on Amazon marketplaces. Of the 62% figure, 91% sell on Amazon.com in the US.
In two years the number of successful sellers from China on the Amazon marketplace has doubled. 39% of the top sellers are now based in China, up from 15% two years ago.
"Why buy a $40 bikini made in America when you can buy a $4 bikini directly from China? For that matter, why buy a $20 bikini made in China but imported by a U.S. company like the Gap when you can buy a $4 bikini directly from China?"

– Alana Semuels, The Atlantic
More than ten thousand Chinese sellers attended the 4th annual Amazon Global Store Seller Summit (年亚马逊全球开店卖家峰会). The event was held in Ningbo, Zhejiang province on December 6-7th. Twice as many participated in the live online broadcast. In comparison, Amazon's only event in the US, titled Boost with FBA and held in New Orleans, LA this year, attracted less than three thousand sellers. But comparing the size of the events is not as important as the difference in the topics discussed. The US' Boost with FBA focused largely on inventory management and starting-out advice, while the China's Global Store Seller Summit - as the name suggests - is about international expansion, product innovation, and brand building.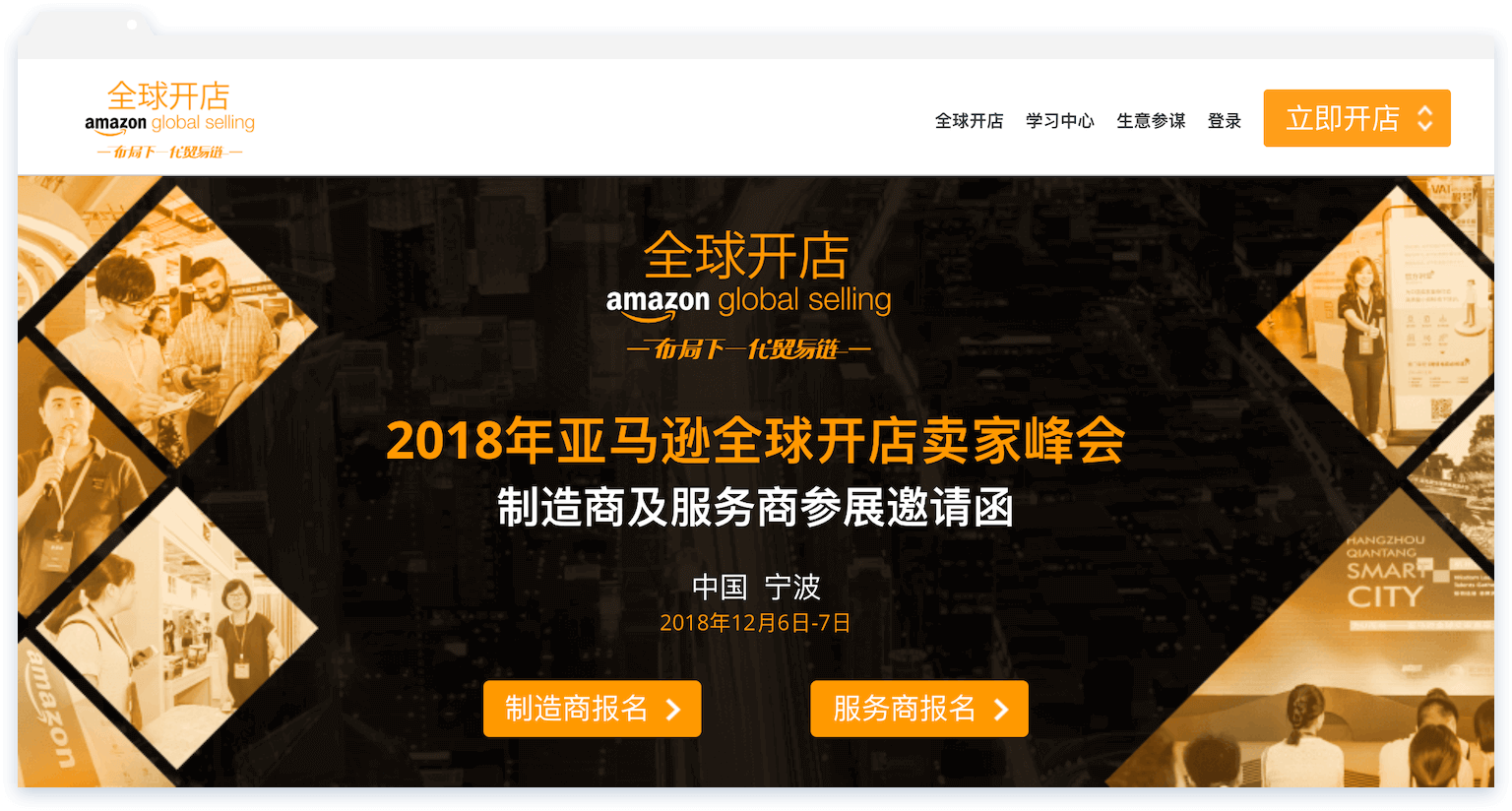 Amazon's message in China is simple: innovate on great products, expand worldwide, and build brands. And it's working.
Amazon Marketplace Growth
This year more than 1.2 million sellers joined all Amazon marketplaces. This equals to 3,459 new sellers every day, or 144 every hour, or more than 2 every minute.
This is adding to the millions of marketplace sellers, and was mostly contributed by Amazon.com in the US, Amazon.in in India, and Amazon.de in Germany. Although few of them will ever become active - many sellers end up never listing even a single product.
In India it took four years for Amazon to grow the marketplace from zero to 200,000 sellers, but just over a year to double from 200,000 to 400,000 sellers. Amazon launched in India in June 2013 and it took the company 37 months to reach the first milestone, 100,000 sellers, in July 2016. It then took 11 months to double to 200,000 sellers in June 2017. Since then the marketplace growth has accelerated reaching 300,000 sellers in 8 months in February this year. Only 7 months later it reached 400,000 in September 2018.
"While Amazon and Flipkart (ex-Myntra and Jabong) were neck-and-neck in terms of GMV in FY17, Amazon has taken the clear lead in FY18 with GMV of $7.5 billion as compared to $6.2 billion for Flipkart on a standalone basis," according to a report from Barclays. Walmart acquired 77% in Flipkart earlier this year paying $16 billion, valuing it at $22 billion.
In Australia Amazon launch 12 months ago may not have lived up to the hype, but the company is on track to put the building blocks in place for years to come. "It's been a big year and we're only getting started," said Amazon Australia's country manager Rocco Braeuniger. Amazon managed to grow the assortment from 7.5 million products at launch to close to 100 million twelve months later. 20 million of which are from Amazon US available through the Global Store. The biggest driver of the growing catalog is the marketplace, which has grown from 2,000 to 25,000 sellers in a year. 40% of sellers, or 10,000 to be exact, are based in Australia, while the rest are international sellers, mostly from China.
The marketplace, FBA, and Prime are starting to spin the flywheel in Australia. As a result, in November it saw the most visitors yet at 16.3 million, according to SimilarWeb. That's more than in December last year, and thus this December is going to be even bigger still. Before Amazon launched in Australia the website was attracting 4 to 5 million visitors a month, but has steadily grown since - Amazon.com.au has doubled website traffic so far this year.
Fulfillment by Amazon (FBA)
Amazon's Prime program now includes more than 100 million members worldwide. That makes it one of the largest loyalty programs in the world, and as a result Prime members as a group are influencing retail as a whole. Not only are other retailers waking up to having to offer "free" two-day shipping, other marketplaces are finding their own ways to enable unifying shipping experience.
The number of sellers offering products through Prime is steadily increasing. More than 90% of the top sellers now offer Prime for at least one product, up from 70% three years ago in 2015. Furthermore, 73% of the top sellers offer Prime for more than half of their assortment, up from 40% three years ago. Sellers choose to store inventory in FBA not because it is more convenient or cheaper than the alternatives. They do so because it unlocks access to more shoppers on Amazon. And thus over the years those who do got more successful than those who don't. It's all about that Prime checkmark.
The growing Prime catalog is enabled by FBA. Launched twelve years ago on September 19th, 2006 Fulfillment by Amazon (FBA) has become a cornerstone service enabling the Amazon flywheel. FBA is an Amazon program which allows sellers to offload most of their warehouse operations to Amazon for a fee. Customers buying from FBA sellers get the same two-day Prime shipping and thus sellers get preferential treatment in buy-box rotation.
"We created Fulfillment by Amazon because it is good for Amazon.com customers, and therefore, great for our third-party sellers. With membership in Amazon Prime growing every day, more and more Amazon.com customers want a great deal on shipping and to receive their orders quickly. Fulfillment by Amazon makes it possible for sellers to offer Amazon.com customers this convenience."

– Joe Walowski, Product Manager, Fulfillment by Amazon
Joe Walowski said this during the announcement in 2006. At that time it was already clear that Prime memberships will be one of the key pillars in the future, even though less than a million customers had signed up for one. Prime combined with FBA has made the marketplace almost invisible to most shoppers. A decade ago Amazon made three long-term bets: Prime memberships, fulfillment consistency, and third-party sellers are going to be key. By most estimates half of the US households have a Prime membership. The convenience of two-day shipping, and even same-day delivery has become the norm. And the third-party marketplace has grown faster than Amazon itself because it deeply integrated into all of this. They were the right bets to make.
Across all Amazon marketplaces the number of sellers offering Prime shipping is increasing. On February 26th Amazon launched Fulfillment by Amazon (FBA) in Australia. Ten months later 33% of sellers had already committed to using FBA for most of their catalog.
Those who use FBA on average have less products listed than those who don't use FBA (referred in the table below as Fulfillment by Merchant (FBM)). This is because listing products when using FBA requires sending those items to Amazon. For example, many of the books sellers have hundreds of thousands of products listed, but are rarely using FBA because of high storage fees.
| Marketplace | FBA Seller Median Products | FBM Seller Median Products |
| --- | --- | --- |
| Amazon.com | 57 | 818 |
| Amazon.in | 37 | 102 |
| Amazon.co.jp | 36 | 472 |
| Amazon.de | 32 | 763 |
| Amazon.co.uk | 29 | 593 |
| Amazon.fr | 27 | 608 |
| Amazon.it | 25 | 508 |
| Amazon.es | 24 | 373 |
| Amazon.ca | 11 | 245 |
| Amazon.com.au | 5 | 19 |
Free Two-Day Shipping
Free two-day shipping is an inalienable right, as Christopher Mims of The Wall Street Journal put it, "alongside life, liberty and the pursuit of happiness." This is mostly thanks to Amazon. Amazon launched Prime in 2005 and in thirteen years since has created a perception that two-day shipping is the standard every other retailer needs to meet too. The company offers free two-day shipping for Prime members for 100 million products.
The truth is that achieving nationwide free two-day shipping is hard and expensive. It requires inventory planning and mirroring, a warehouse network, and sophisticated technology to manage it. And all of that complexity needs to happen at a price point which still allows it to be marked as "free". Scale is essential too. None of this can be done by mom-and-pop shops or small retailers without the help of someone who has aggregated many of them.
"In today's world of e-commerce, two-day free shipping is table stakes."

– Marc Lore, president and CEO of Walmart U.S. eCommerce
Walmart, the largest retailer in the country with close to 5,000 stores locations and close to ten e-commerce fulfillment centers, can't do it perfectly. Customers on the east cost have access to 2 million products with two-day shipping, but on the west coast the availability is 20% smaller at 1.6 million products. In some states like Montana or Wyoming only 1.5 million products are available with two-day shipping.
Walmart Two-Day Shipping launched with two million products in 2017 and so far has failed to grow. Two years later it is still hovering at two million products. Prime is Amazon's golden ticket and there is no point discussing Amazon vs Walmart without Walmart being able to match it. Two million items is no match for one hundred million. This is where the marketplace will play a crucial role in the future. It has allowed Walmart to expand the catalog, but hasn't always integrated into the shopping experience well since fulfillment was up to the seller. Walmart doesn't offer an FBA equivalent, and without it the growing catalog by the marketplace doesn't contribute to the two-day shipping selection.
In September 2017 eBay launched a new program called Guaranteed Delivery, allowing shoppers to filter search results to show only items that offer guaranteed delivery within 3 days or less. eBay automatically guarantees the delivery dates on listings from stores with 100 or more transactions per year, a late shipment rate of 5% or less, and same-day or 1-day handling time.
Of the 800 million items on eBay in the US, 18 million are available with 3-day guaranteed delivery, 8 million are available with 2-day guaranteed delivery, and close to 2 million are available with next day 1-day guaranteed delivery.
eBay's Guaranteed Delivery is an attempt to offer Amazon Prime-like convenience without a membership and without eBay owning any warehouses. "In today's world of e-commerce, two-day free shipping is table stakes," said Marc Lore, president and CEO of Walmart eCommerce for the U.S. market. eBay wants to offer the same, but unlike Amazon or Walmart, it wants to achieve that without investing into physical infrastructure.
"The one thing I don't think we need to do is deploy large amounts of capital to build the warehouse strategy. I've never thought that. I don't believe that and I think that we use data and we use the diversity of our inventory to close the gap."

– Devin Wenig, CEO of eBay
eBay is probably right. eBay is too late to join the game of building an Amazon FBA competitor, and even if tried to it would take years. However the relatively small percent of eBay's catalog available with guaranteed fast shipping is showing that sellers often don't have the capability to do it themselves either. Most of the tens of millions of sellers on eBay are small operations, often one-person side-businesses. They can't offer nationwide fast shipping without the use of a third-party logistics infrastructure. eBay has built the website functionality to showcase fast shipping, but not partnerships and services to help, educate, and enable sellers to offer it.
The Evolution of Walmart.com
Walmart Marketplace surpassed 21,000 sellers. This year close to 5,000 new sellers joined the marketplace. The company expects to finish 2018 with $16 billion in US e-commerce sales, up 40% from last year. On top of that there is also sales from the marketplace, but it is not clear how much GMV the marketplace contributes.
Walmart.com assortment has over 42 million products, but only 3.5 million products are sold by Walmart. The rest is sold by marketplace sellers. Starting three years ago Walmart has used the marketplace to grow the overall catalog ten times: from less than 4.5 million products in January 2015 to 42 million products in December 2018.
Walmart first-party inventory has grown from 1.1 million at the start of 2015, to 2.6 million by January 2017, and is now at 3.6 million. At the same time the marketplace inventory has grown from 3.5 million at the start of 2015 to close to 39 million. Walmart's first-party merchandising strategy remains focused on the top-million SKUs, leaving the marketplace to provide the long tail.
Home, Books, Electronics, and Auto & Tires are four biggest departments on Walmart.com in terms of products listed. Home, the largest department, has close to 12 million products. 8% of those products are first-party inventory, inline with the overall catalog. However the first-party inventory share varies considerably across departments.
Only 3% of Electronics listed for sale on Walmart.com are by Walmart itself. In Jewelry & Watches just 2% of the department is first-party - 60,000 of the 2.7 million total products. And yet some departments like Sports & outdoors and Toys are much stronger in first-party inventory.
However Walmart still has two different experiences sharing one website. The marketplace allowed Walmart to grow the catalog, but it was never integrated into the Walmart ecosystem. When buying online from Walmart itself customers could return items to any of the stores, but not when buying from the marketplace. When not happy with the item or price customers could call Walmart, but not when buying from the marketplace - they would have to email the seller instead. Recently Walmart launched kiosks in their stores allowing to browse all products on Walmart.com, except for the marketplace items. This happens when marketplaces are added as afterthoughts to existing retail websites. In theory any retailer could launch a marketplace, but in practice they rarely work since the customer experience ends up being very different.

The marketplace customers want is one which blurs the complexity of it. Customers don't want to have to deal with the sellers individually; as far as customers are concerned the marketplace is simply a regular retail website. Some marketplaces like Etsy don't need to follow this because there a seller is distinct and many buyers want a relationship with them. On Walmart, eBay, or Amazon none of that matters. They just want to buy their products and get them like they usually do.

Walmart has now came to realize this and said "Our customers expect a consistent and easy experience regardless of whether an item is sold by Walmart or a marketplace seller." The changing returns experience is the first step. The company even went as far as to say "We have a big opportunity to use our 4,700 stores across the country to make marketplace returns even easier." Both customers and marketplace sellers have been asking for this for years.
What Happened to Jet.com?
Traffic to Jet.com rose every month leading up to the acquisition by Walmart in August 2016, peaking during the holidays that year. Since then it has been gradually declining.
Doug McMillon, President & CEO of Walmart, said that the marketing spend on Jet.com is being reduced "We've been investing more in Walmart.com on a national basis and reducing marketing investment in Jet, except in certain urban markets." The drop in website traffic is a direct result of the marketing reduction, as it appears that Jet.com hasn't yet built a large organic following.
Jet.com was probably not worth the $3 billion it cost to acquire, but it was worth $3 billion to Walmart. It brought the talent it desperately needed to rejuvenate its otherwise stalling e-commerce sales. Also, when talking with CB Insights last year, Liza Landsman, President of Jet.com, said that before the acquisition Jet.com had a 3 node system for fulfillment, which is now fully integrated with Walmart's e-commerce, bringing it to 9 nodes. Walmart is all-in on Walmart.com.
"Jet will go through a period of adjustment and then it'll start to grow again in the future but focused on specific markets and opportunities, whereas Walmart will be the broad-based, big part of the business, and growing it will be a priority."

– Doug McMillon, President & CEO of Walmart
eBay…
89% of products sold on eBay are from fixed-price listings, meaning they do not use an auction. But while eBay has transitioned from being an auctions platform to a retail platform, it remains seen by many as the original site. In "Nobody Thinks About eBay" Chavie Lieber of Racked quoted Suzy Deering, eBay's chief marketing officer, "Younger customers don't have misperceptions of eBay - they don't have any perceptions. We're not even in their awareness at all."
The misperceptions have hurt eBay. Its gross merchandise volume (GMV) is struggling to grow, underperforming compared to the overall US online retail growth. One of the reasons why eBay is often forgotten is that few brands see it as a channel. Most items sold on the site are coming from the tens of millions of third-party sellers. Which by itself is not a problem, but has meant that few brands have a relationship with eBay in the same way they do with other online retailers, especially Amazon. Over the last few years the conversation around marketplaces has started to get increasingly about brands. Of course brands were always sold on marketplaces, but the conversation shifted to brands managing their presence on marketplaces, often selling themselves, and using marketplaces as a direct-to-consumer channel. eBay was left out.
eBay has spent years on restructuring the website through its structured data initiative (allowing eBay to group similar listings to product pages, not unlike Amazon's Buy Box), introduced Guaranteed Delivery options, and marketing services for sellers. But while it remains second largest to Amazon, it hasn't brought anything new to the table this year.
Google Wakes up to Shopping
Unbeknownst to many, Google is building an e-commerce marketplace. After two decades of lackluster shopping experiments the company is making its boldest move yet by inviting top sellers on Amazon, eBay, and Walmart marketplaces to sell on Google. Google's shopping platform surpassed 500 stores in early November. Most of which it added in the last four months. In fact, it is now adding more than 30 merchants every week. That's after more than four years of only having 30 merchants in total.
Compared to other marketplaces Google's shopping platform is the most neutral. Google doesn't offer fulfillment services like Amazon's FBA, stores don't have reviews like they do on eBay, and even products' reviews are aggregated from other websites. Google's marketplace model highlights stores more prominently than the others, however.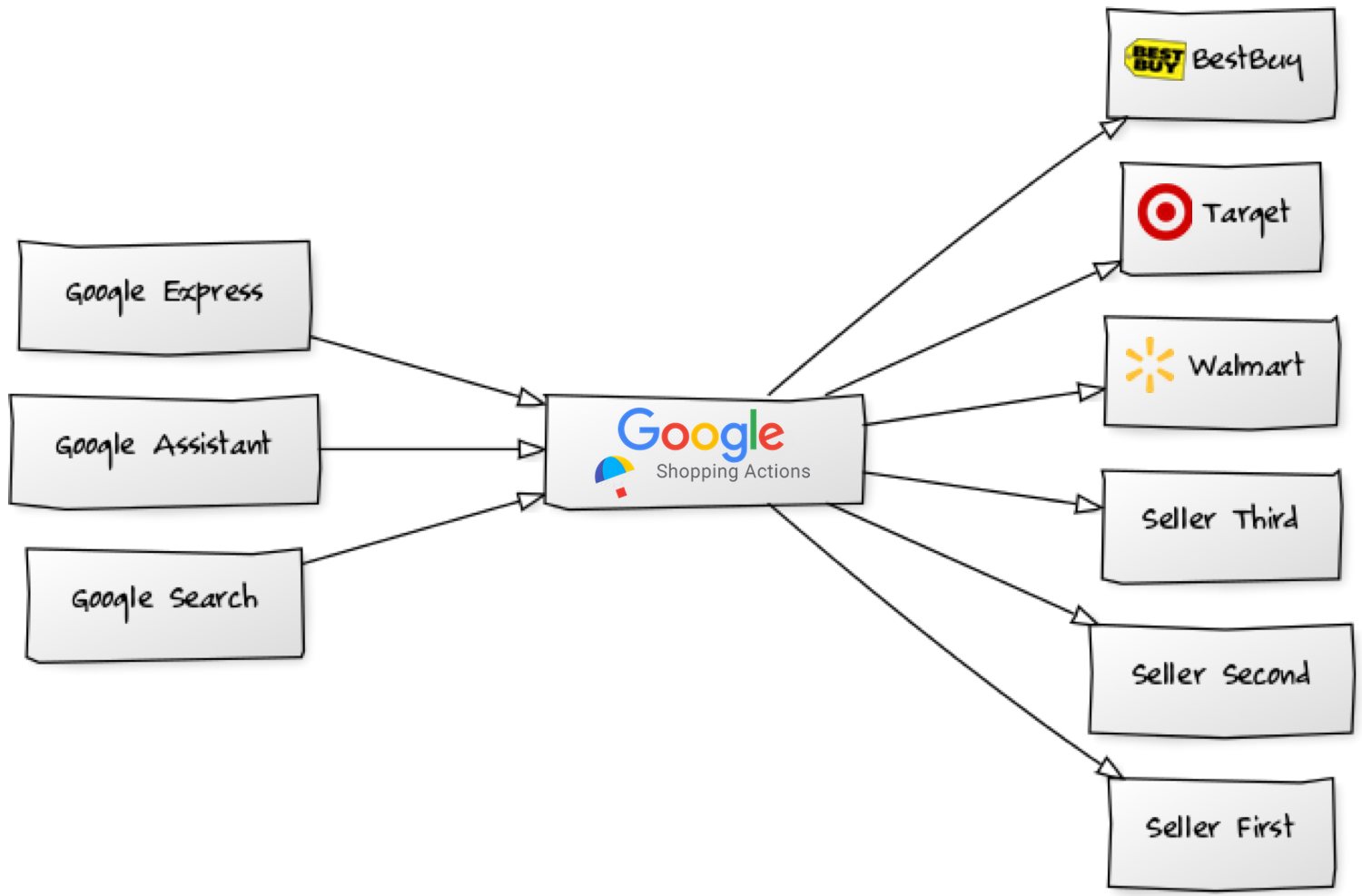 The shoppable website is called Google Express (briefly known as Google Shopping Express), but Google Express is now part of Shopping Actions, a unifying program which surfaces merchants' products on Android phones through Google Assistant, on Google Home devices using voice, in-line in Google Search, and the aforementioned Google Express.
Nearly half (46.7%) of US internet users started product searches on Amazon compared with 34.6% who went to Google first, according to an Adeptmind survey. Most of those who went to Google first quickly left for Amazon, Walmart and other retailers. Google wants them to never leave… Google. JD.com, China's second-largest online retailer, will launch a flagship online store on Google's shopping platform soon, according to Bloomberg.
Facebook's E-Commerce Dream
Facebook has been trying to figure out e-commerce for the last decade, but its prior retail initiatives have mostly been a string of stumbles. However for the past two years - since October 2016 - Facebook has been building a classifieds marketplace. The marketplace reminds the most of Craigslist and eBay, if not for the close integration with the overall Facebook social ecosystem. Starting this summer Facebook has started to quietly expand the Facebook Marketplace to include businesses selling retail products. It has already surpassed the first 150 sellers.
Facebook Marketplace allows shoppers to purchase items without leaving facebook.com or the Facebook app, and mostly has the same functionality as other e-commerce marketplaces. Products have ratings and reviews, browsing by category, and some resemblance of suggested products. Each seller is attached to a Facebook Page, allowing that page to have a Shop section listing their products. But it all feels clumsy and unpolished. The browsing experience on Facebook Marketplace is limited to search, and there is no curation or reliable recommendations. On the website version at facebook.com, for example, the only filter available is price range, otherwise leaving all the marketplace items to be browsed as an endless list. The core functionality of performing a transaction is there, but not much else.
Etsy Remains Immune From Amazon Disruption
Launched three years ago in October 2015, Amazon Handmade was hailed as the "Etsy killer" and many predicted the beginning of Etsy's end. As a category of unique, handcrafted products it directly competes with Etsy. And yet while it continues to grow it hasn't measurably impacted Etsy. Etsy today has more than 55 million items from 1.2 million sellers for sale. Amazon Handmade has over a million from 16,500 sellers. In a year the number of sellers with products listed has increased by 200,000 on Etsy and only 3,000 on Amazon. Only 1.3% of Etsy sellers sell on Amazon Handmade.
While the catalog size and the number of sellers are not directly related to overall marketplace growth, Etsy has been growing that too. The company reported gross merchandise sales (GMS) of $901.7 million in Q2, up 20.4% year-over-year. In fact, GMS growth accelerated for the fourth consecutive quarter. Amazon doesn't report sales or growth of the Handmade category.
For some sellers Amazon Handmade has become a meaningful sales contributor. For a few it even overtook Etsy. But despite Amazon having orders of magnitude more web traffic and the army of Prime members, it shows that not everything Amazon goes after is destined for success. Etsy is not only a catalog of handmade and vintage goods, it is also a community of people. That's a moat Amazon will struggle to copy. So while Amazon will inevitably go after all retail categories, some of them have particularities Amazon can't capture well. "If Amazon wants to shake Etsy from its perch, it needs to listen a whole lot more closely to the crafters it's trying to lure." wrote Roni Jacobson for Wired.
In 2017 Etsy CEO Chad Dickerson departed. Josh Silverman, the former Skype and Evite CEO who joined Etsy's board in November 2016, took over as CEO. At the time the company reported 2017 Q1 results with lowest ever Gross Merchandise Volume (GMV) growth. Some investors were calling for a change highlighting decelerating growth, rising expenses, and poor corporate governance. "The company's historical pattern of ill-advised spending has completely obfuscated the extremely attractive underlying marketplace business model," wrote Black-and-White Capital. It's been a year now and Etsy is starting to show signs of health. After the C-suite shakeup in 2017 Q1 GMV growth decelerated to new lows of 11.7% in Q2, but since then the company has been able to reignite growth.
In the first conference call as a public company, the CEO said this about the international growth: "Over time, we think our global-local strategy will drive international GMS to 50% of our total GMS." He repeated the same statement in the Q2 and Q3 conference calls. International GMS is where either the billing address for the Etsy seller or the shipping address for the Etsy buyer at the time of sale is outside of the United States. This year Etsy made progress into growing beyond the US.
Wish is a Portal to China
Wish is a mobile shopping app for customers whose first priority is low prices. The app sells a few billion dollars worth of products a year (the company does not disclose GMV) by enabling merchants to sell directly to consumers. 94% of the growing list of merchants are based in China.
Wish has amassed a marketplace of hundreds of thousands of sellers, but since so much of its focus is on low prices, instead of convenience and quality, almost all of them come from China at 94%. US-based sellers make up 4%, followed by the UK at 0.3%, Canada at 0.2%, India at 0.1%, and Australia at 0.1%. The rest is spread all over the world. Although even among the international sellers many are selling goods made in China.
Launched in 2011 Wish shopping app is popular both in the US and in Europe. While relatively unknown to non-users, the app is one of the most downloaded shopping applications for both iPhone and Android phones, consistently in the top 5 for both platforms. The app has invested heavily into marketing and user acquisition, and into automating various calls to buy more. Wish users receive multiple notifications a day offering free items (users have to pay for shipping), for example.
"We have the world's best 3D printer right now - and it's called China," said Scott Galloway of Gartner L2. The way most shoppers in the US and Europe control that printer is through Wish.

Wish is probably the only retail marketplace in the US not trying to be Amazon. This is what makes it interesting. Walmart, eBay, and most recently Google are trying to copy Amazon's best parts: free two-day shipping, vast catalog, and convenience. Wish, on the other hand, is focusing on a completely different set of customers and expectations. "I think people misunderstand the demographics of this country and places like Europe," said Peter Szulczewski, CEO of Wish. Peter was implying that not all consumers want the same, and, even more important, can afford the same service when shopping.
Amazon Sellers Moat
When Walmart or Google launch their new marketplaces the idea is that sellers will flock to them. But the reality is that most of them have a well-oiled process with Amazon and doing anything else is distracting. The repeatability of selling on Amazon, combined with expertise in launching products, reviews building, advertising, and other skills is not easily transferable.
The notion of multichannel, selling on dozens or even hundreds of marketplaces, is often a pipe dream. As Amazon gets bigger and as more shoppers join Prime, more sellers buy-in into FBA. And thus as a result for those sellers multi-channel becomes something they do to appear diversified, and not an actual business strategy. Multichannel inventory storage is an unsolved problem, at least competitively compared to FBA prices.
"It doesn't seem appealing to me to add an enormous burden of having another inventory somewhere other than Amazon just to be able to sell 10% more than we currently sell on Amazon."

– Amazon Seller
From 30,000ft above the Amazon ecosystem does look like the castle protected by an unbreachable moat, as Warren Buffet, American business magnate and philanthropist, described: "In business, I look for economic castles protected by unbreachable moats." Other castles - to continue the analogy - in the form of Walmart and eBay don't have a moat because they don't have what built Amazon's: Prime and FBA. Even if Amazon continues to upset some number of sellers, change rules, or increase fees, the moat only gets deeper as more sellers join and as more shoppers subscribe to Prime.

Amazon provides growth as a service. All of its services - warehousing, fulfillment, international expansion, lending, advertising, etc. - combine into a marketplace built on services. It continues to work on sellers because as long as they have cash flow to support it, the marketplace provides avenues for growth. Competing marketplaces are lacking, for example none offer warehousing and fulfillment, and thus cannot achieve the same.
A great marketplace is a combination of reach and services. Amazon is not only the biggest shopping website, but has 100 million Prime members. That, combined with the infrastructure it has built around itself, makes it great. Competing marketplaces like Walmart and eBay have reach, but are weak in services.
One of the services offered by Amazon is lending. This year Amazon has loaned more than $1 billion to sellers worldwide. Loan sums range from $1,000 to $750,000, and are invite-only - Amazon's systems decide which sellers are worthy by analyzing their sales data. It's a win-win for both parties - Amazon gets to fund overall marketplace growth with relatively small risk, while sellers get to expand through extra capital which is often not available otherwise.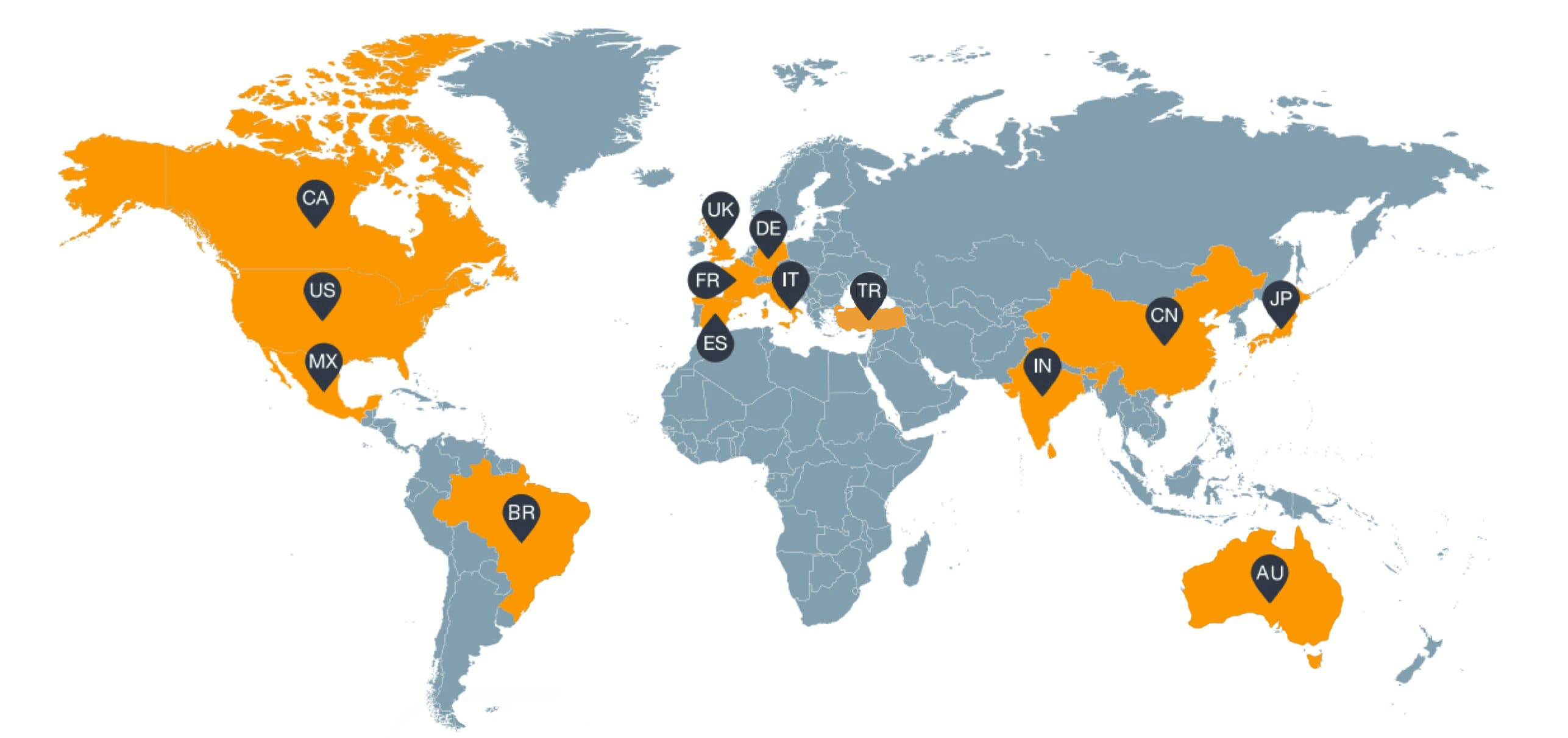 Amazon runs 14 marketplaces around the world which includes USA, UK, Germany, France, Canada, Japan, India, Italy, Spain, Mexico, Australia, Turkey, Brazil, and China. An increasing number of sellers are expanding internationally, for example, US sellers add the European marketplaces and Japan to reach more customers. Amazon and the industry around it offers various services to help with international expansion. Taking what used to be a challenging business, and making it more accessible through the infrastructure of services built around the marketplace.
In May this year Amazon launched the Marketplace Appstore, which includes software tools to handle pricing, inventory, advertising and other needs for pro sellers. The software industry has long existed around Amazon, but the appstore makes it easier for sellers to discover new tools. It is also another layer of the services infrastructure around Amazon.
Amazon Advertising
Amazon is the third largest advertising platform, behind Facebook and Google. Facebook and Google together account for more than half of the overall online advertising market in the US, but Amazon advertising is growing six times faster than the incumbents.
| Advertising platform revenue in millions | 2017 Q3 | 2018 Q3 | Growth |
| --- | --- | --- | --- |
| Google | $24,065 | $28,954 | 20% |
| Facebook | $10,142 | $13,539 | 33% |
| Amazon | $1,123 | $2,495 | 122% |
| Twitter | $503 | $650 | 29% |
| Snapchat | $208 | $298 | 43% |
Amazon advertising is the one to watch because the company is building towards a full-journey, attributable marketing experience. Amazon has historically shared very little data with sellers and brands, but recently it is starting to run experiments with advertising agencies and brands to change that. The consensus among some is that eventually this will lead to a data service provided to brands and agencies.
Amazon is becoming a pay-to-play platform because it's better to pay Amazon to show up on top of the sort order - even more on top of other fees - than not to be found. The internet makes it possible for any product from anywhere in the world to be on Amazon. But how do shoppers find your brand? Advertising.
The struggles of brands on Amazon, and many more standing by the sidelines trying to decide what to do, has over the past few years created a new industry - Amazon brand agencies.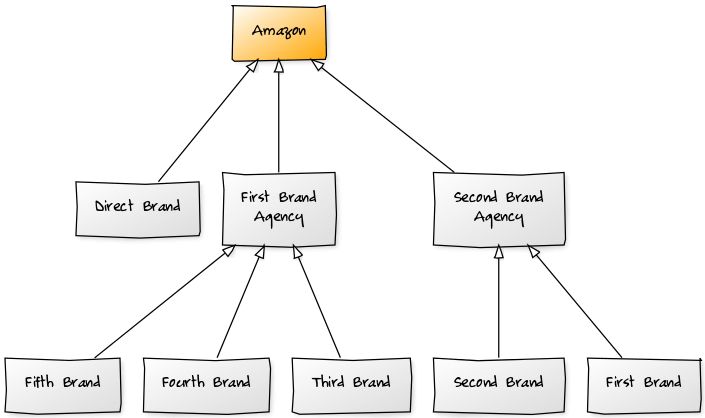 Amazon brand agencies are also known as Amazon digital marketing consultants, marketing agencies, strategy consultancies, etc. They are primarily in the business of "we'll hold your hand." They manage listing creation, optimize brand content and keywords, run advertising campaigns, etc. They do the things Amazon first-party vendors used to get, but have over time lost to Amazon's own automation. For many brands they solve the problem of being on Amazon in a way which retains control.
Big driver for this is advertising on Amazon. WPP is the largest advertising company in the world measured by billings and revenue. Last year its clients spent a combined $7 billion on advertising on Facebook and Google alone through WPP. In theory both Facebook and Google ad platforms are self-service, but in reality most businesses get better returns having experienced agencies manage these services for them. The same is happening with product advertising on Amazon. Brands are flocking to agencies to manage their ads on Amazon.
Amazon brand agencies are in many ways similar to distributors of the past. But instead they only have one place they distribute to - Amazon. This reshuffles the relationships of retail in a peculiar way and almost adds a new layer of middlemen Amazon was set out to remove. These brands are sellers on the marketplace, sometimes with a mix of also selling some inventory directly to Amazon, but all managed by a third-party.
Amazon Own Brands
This year ago Amazon began selling a $130 AmazonBasics foam mattress. Prices range from $129.99 for the 8-inch twin to $349.99 for the 12-inch king size. Right in line with some of the least expensive foam mattresses currently available. There are three reasons why Amazon got into the bed-in-a-box business:
"mattress" is the 42nd most searched term on Amazon.com
Best selling mattresses on Amazon.com are brandless
Mattress as a product is hard to differentiate on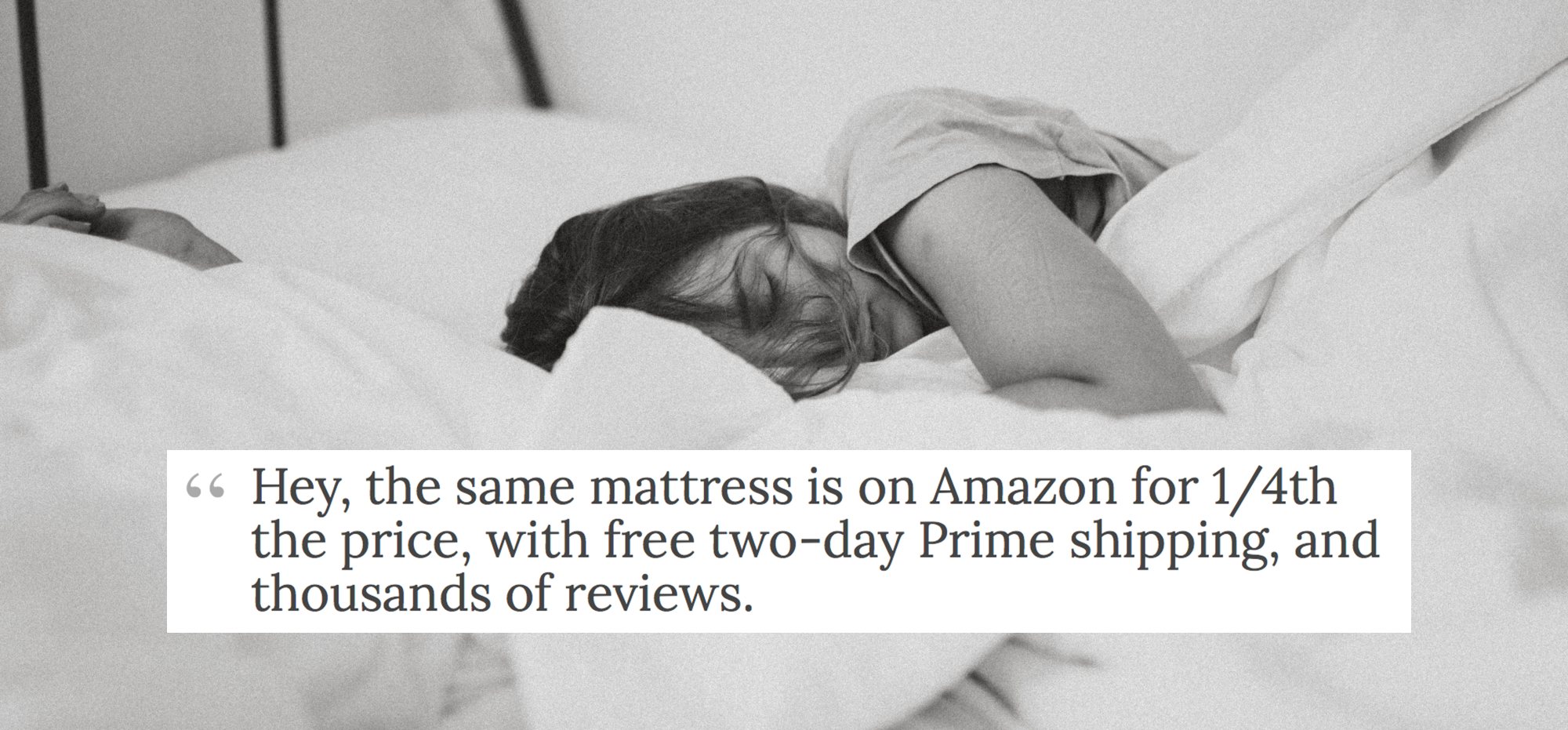 First, it might be surprising that people shop for mattresses on Amazon, but data shows that they often do - "mattress" is the 42nd most searched term on Amazon.com. It's a more popular term than "iphone charger", "paper towels", or even "baby wipes". Terms like "twin mattress", "queen mattress", "memory foam mattress", and "full size mattress" are in the top 1,000 search terms too.
"About 70 percent of the word searches done on Amazon's search browser are for generic goods."

– Julie Creswell, The New York Times
Searches for mattresses are a great example of this. Shoppers are not looking for a particular brand. Maybe because few mattress brands outside of Casper are common speak. This means search volume (and thus demand) is big, but no particular brand owns it.
Second, when customers search for a mattress most of the time they end up buying one of the brandless affordable options. Products from Zinus, Signature Sleep, Linenspa and Night Therapy are most popular. They are all in a similar price range and mostly compete on reviews and ratings. The top selling mattress from Zinus, for example, has more than 22,000 reviews and is rated 4-out-of-5. Any new product can launch in such environment and start amassing market share if its reviews are better, price is lower, advertising is more aggressive, or if Amazon pushes it. They of course do.
Third, most mattresses are made by a few manufacturers in China. For example the one Amazon just launched is by WAI KIN HOME FASHION (HUIZHOU) CO., LTD. Some premium brands have unique features to offer, but most of the market is comparable products sold under different names. www.sleeplikethedead.com, one of the most trusted websites for unbiased ratings of sleep products, rates Casper at 79% customer satisfaction. But Zinus and Signature Sleep are not far off with 76% each. At similar price points the winner is whichever ranks first. Few customers can objectively decide based on quality of a mattress. As a result no one knows which is the "best" mattress.
So it's not about Amazon having more data on customers than anyone else. Nor it is about them pushing their own brands. It's about understanding the environment that is Amazon shopping. Most customers search by generic keywords and they have no problem buying brandless goods if reviews are great. All Amazon, or anyone else making private label products, has to do is find niches which have the same behavior. Sleeping mattress is one.
Sellers Representing Brands on Amazon
For over a decade the Amazon marketplace worked as a trick to get brands unwilling to sell directly to Amazon onto the platform. Most brands would refuse to sell to Amazon, but their products would still end up on Amazon because a few small retailers would list them there. It wasn't uncommon for those retailers to hide the fact that they sell on Amazon as the brands wouldn't sell to them if they knew. Some Amazon sellers even had fake brick-and-mortar stores set up, all so they could tell to brands their products will be sold in stores
Brands woke up to Amazon. This happened in the last few years. First, brands tried to control distribution on Amazon through only allowing a set list of sellers. Second, they tried to become sellers themselves. And most recently they started hiring Amazon agencies to manage their presence on the platform. For most brands - especially for big brands like Apple - it is often damaging to ignore Amazon. Shoppers search for Apple products on Amazon and there is nothing Apple can do to stop that. Neglecting Amazon means a disappointing shopping experience, and with Amazon capturing more than half of all shopping searches that's too much to ignore.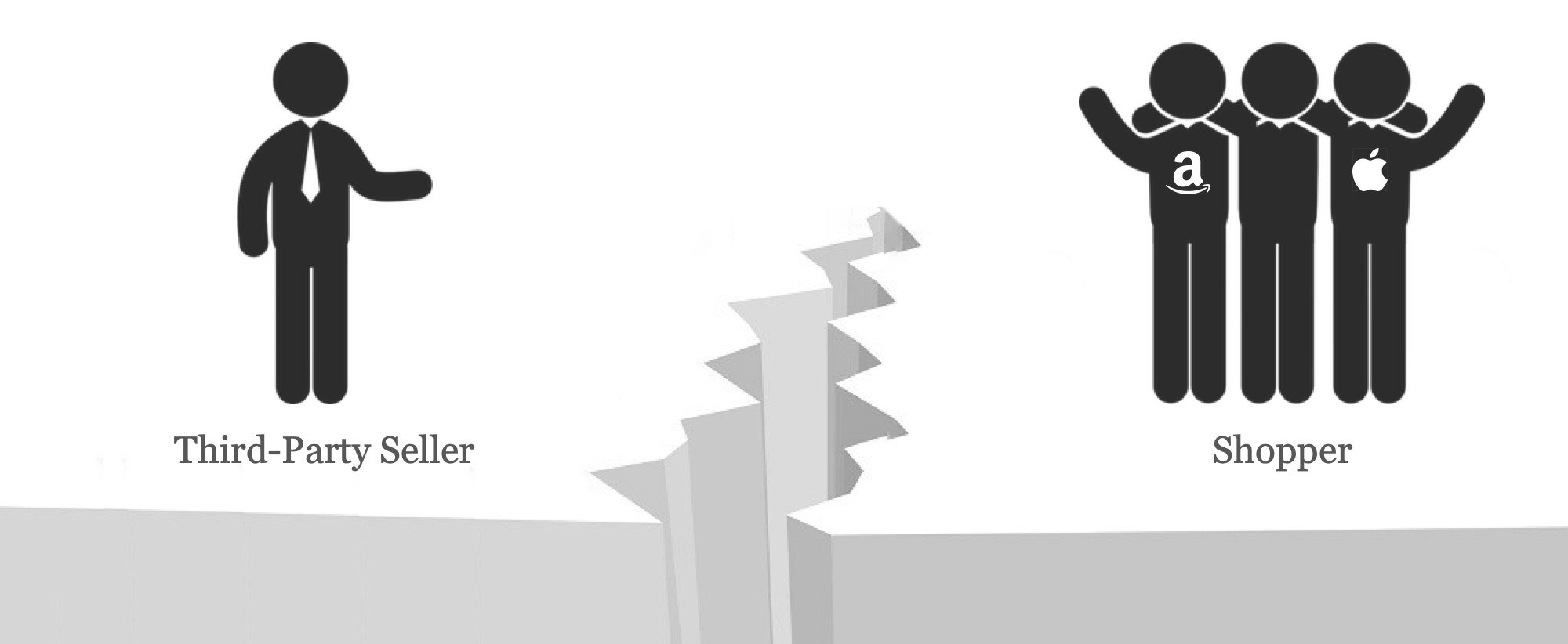 Last year Amazon made a deal announcing that Nike will start selling on the website. It made the same deal with Apple this year. Not unlike Apple, Nike was trying to weed out counterfeits and improve their presence on the platform. One seller described the impact of this deal to their business the best - their opportunity is brands which don't work with Amazon. If they do, the opportunity closes.
"That's how I make my money. Amazon is the No. 1 marketplace. Nike is the No. 1 brand. If they're not in bed together, that's my opportunity."

– Amazon seller talking with The Wall Street Journal
The future of Amazon is brands represented by Amazon, an Amazon agency, or by the brand itself. The opportunity for sellers to represent brands is shrinking. Sellers aware of this shifting dynamic are building their own brands, experimenting with private labeling, and diversifying internationally. The opportunity is still great, but the way Amazon sees brands, and the way brands sees Amazon is not the same.
Looking Forward to 2019
Unanswered questions:
Marketplace Sales Tax
Antitrust investigating Amazon's dual role in the market
China Import Tariffs
Counterfeits and knockoffs
Black-hat techniques on Amazon
Areas to watch:
Advertising on Amazon
Amazon brand agencies
Google shopping
Fulfillment infrastructure
Brand building
Winners:
Amazon Marketplace
Amazon in India
Etsy
Amazon Prime
Direct-to-consumer brands
Sellers from China
Losers:
eBay
Jet.com
Voice shopping
Blockchain for e-commerce
US cities competing for Amazon HQ2
---