In two years the number of successful sellers from China on the Amazon marketplace has doubled. 36% of the top sellers are now based in China, up from 15% two years ago.
Online retailers in Europe are required to disclose detailed business information by law, this also applies to sellers on marketplaces. This research is based on grouping the top 10,000 sellers in each Amazon marketplace in Europe by their business address. Each month represents the top sellers at the time.
Sellers' from China market share increased from 16% to 27% on Amazon.co.uk in the UK, from 11% to 25% on Amazon.de in Germany, from 16% to 41% on Amazon.fr in France, from 15% to 41% on Amazon.it in Italy, and from 18% to 48% on Amazon.es in Spain. The combined average increased from 15% to 36%.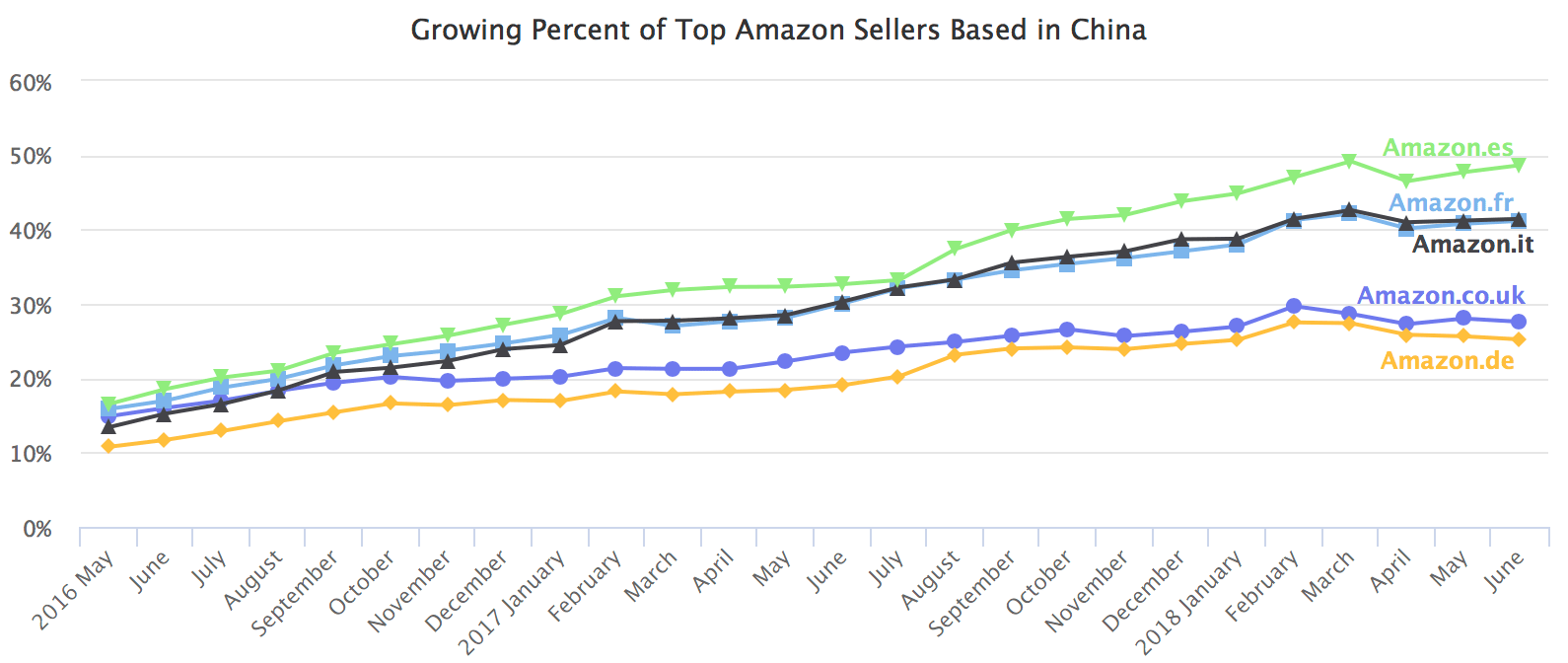 The focus on the top sellers is not accidental. Each European marketplace has hundreds of thousands of sellers, but in the UK for example the top 10,000 sellers account for 80% of feedback reviews volume (each seller receives seller feedback reviews from customers after a purchase.). By proxy those sellers are responsible for at least half of all sales on the marketplace.
Unfortunately Amazon.com marketplace is anonymous, thus the same analysis is not possible in the US. Despite that, the number of sellers from China selling on Amazon.com is at least that of the European marketplaces. Amazon.com is the largest marketplace and hence the highest priority for all international sellers. It is not unreasonable to expect that the first marketplace international sellers launch in is Amazon.com.
"For Chinese businesses, the American consumer is prized quarry, seen as less price-conscious and freer-spending than Chinese shoppers. Chinese sellers have flocked to Amazon, which holds regular conferences in China to promote its platform, explaining the logistics and support services it offers."

– Te-Ping Chen, The Wall Street Journal
Two thirds of the top sellers from China on Amazon.co.uk are using Fulfillment by Amazon (FBA). Twice the average of 38% for all top sellers on the marketplace. FBA is the key service allowing those sellers to be successful - without it customers would have to wait for weeks to get their package. FBA allows customers to be oblivious to the business address of the seller.
More than 90,000 sellers joined the Amazon.co.uk marketplace in the past twelve months. A third of those are based in China. But a much more interesting story is how many of those sellers have since become successful. As the data shows not only are there more sellers from China joining Amazon every year, but as a group they are also getting better. Every year more of the top sellers are based in China.
This is mostly driven by network effects. As more sellers in China become successful on Amazon, they build tools, services, and knowledge to help others. While five years ago relatively few Chinese businesses have even heard of Amazon, now it's becoming one of the top destinations to sell. Nothing else fundamentally changed - the biggest contributor is the amount of sellers trying.
Dozens of conferences in the US attract audiences eager to learn about the art of private labeling. But just as many conferences are happening in China, where those private label products are sourced in the first place. The sellers there have an advantage - one less middleman. Thus one less profit margin added to the price.
"Why buy a $40 bikini made in America when you can buy a $4 bikini directly from China? For that matter, why buy a $20 bikini made in China but imported by a U.S. company like the Gap when you can buy a $4 bikini directly from China?"

– Alana Semuels, The Atlantic
Some of those sellers are also responsible for the chaos on the marketplace. China after all is the largest producer of counterfeit and fake products. And yet it is also the largest producer of everything and that's what the increasing number of sellers are selling.