Private Label Pulse was our first-ever event, held in New York City on August 21st. The event hosted four talks on the future of private label, advertising, international expansion, inventory performance & health, and - of course - Amazon. It was attended exclusively by sellers already having built a business selling on Amazon.
Amazon has grown the private label business beyond the infamous AmazonBasics brand - they now sell close to 100 of their own private label brands. According to estimates by SunTrust Robinson Humphrey the sales of Amazon's own private label brands will reach $25 billion in revenue by 2022.
But Amazon is not alone in disrupting national brands. Many of the marketplace sellers on Amazon are pursuing the same prize. While they don't have vast amounts of data Amazon has and the virtually unlimited access to cheap capital to try, they are finding their own ways to grow. Some, through the combination of private labeling and brand building, are redefining what it means to be a private label brand and are aiming to reach $1 billion in sales themselves.
While private label products have historically been cheaper alternatives to established brands, many of the successful private label brands are no longer focused on the price alone. The AmazonBasics brand owned by Amazon - and many more - are often better alternatives while also being more affordable. They are also building brand equity through Amazon reviews instead of the traditional methods. Which all means that the definition of what it means to be a private label brand is evolving.

Juozas Kaziukėnas, Founder, Marketplace Pulse
"Private label market is driven by six key market forces: 1. Brand equity in the digital age much lower than in the past, 2. Growth of Amazon and search by generic terms, 3. Customers caring less about brands, 4. Increasing overall quality of most products, 5. Reviews are a better indicator than perceived trust, 6. Power of Amazon advertising."

– Juozas "Joe" Kaziukėnas
As the host of the event Joe opened with a question - why private label? He shared his view on the changing buying habits of consumers, the opportunities left in the market by national brands refusing to be on Amazon, and the successful private label brands which turned themselves into owned brands. Joe discussed how private brands are redefining what it means to be a brand by building their equity on Amazon reviews and low prices. But he wasn't convinced what this will look like long-term as Amazon gets increasingly saturated.
Daniel Knijnik, Co-Founder and CEO, Quartile
"Don't answer 'How much you want to be selling?' with "As much as possible.' You have to plan ad spending and sales goals, as well as inventory needs."

– Daniel Knijnik
Daniel is the co-founder and CEO of Quartile, an agency belonging to the new breed of advertising agencies focused on Amazon advertising. He talked about the approach they use in managing advertising on Amazon and how to effectively manage campaigns to learn which keywords lead to increased sales. Daniel focused a lot on how conversion rates, share of organic sales, ACOS target, and CPC and BID amounts all impact the performance of an ad. He finished with what he believes is the future of the marketplace - a "pay-to-play" market where advertising will increasingly be required to get any sales. Sellers shouldn't expect to cheat this and instead should invest into tools and knowledge to understand the algorithms behind search ranking and advertising.
Brandon Fuhrmann, Owner, Kitchenware Brand
"Customers in Germany love quality – if you have bad products they probably won't sell well there. If you have great products, you can sometimes charge a premium."

– Brandon Fuhrmann
Brandon spent the last four years building and managing a multi-million dollar kitchenware brand on Amazon. His talk focused on international expansion, as he has already expanded into selling in Canada and all European marketplaces (Germany, UK, France, Spain and Italy). Brandon discussed the legal and tax challenges he had to solve to begin selling and gave advice how to best approach them. He then talked about the unique aspects of each international marketplace, how he manages inventory across multiple continents, and how he deals with different languages in those markets.
Cyrus Giroir, Co-Founder, Avalanche Brands
"Amazon is continuously reinventing itself. What used to work for us in the past is no longer viable. We are readjusting every time Amazon changes the rules."

– Cyrus Giroir
Cyrus is a co-founder of Avalanche Brands, one of the biggest sellers on Amazon with sales exceeding $100 million. They have worked with Amazon for over 10 years and went all-in with FBA when it launched. He closed the event with the story of his business on Amazon, the changes over the years which made them reevaluate their operations, and the approach they use for running the reseller-type Amazon business. Probably the biggest lesson in his talk was the fact that in 2010-2012 they were taking part in the market which was perfect for reselling - brands didn't want to deal or even talk about Amazon. But things changed and they had to adjust their business model, increasingly focusing on exclusive deals with suppliers and offering brand management. What looks to be like the perfect market for private label brands today won't last forever either.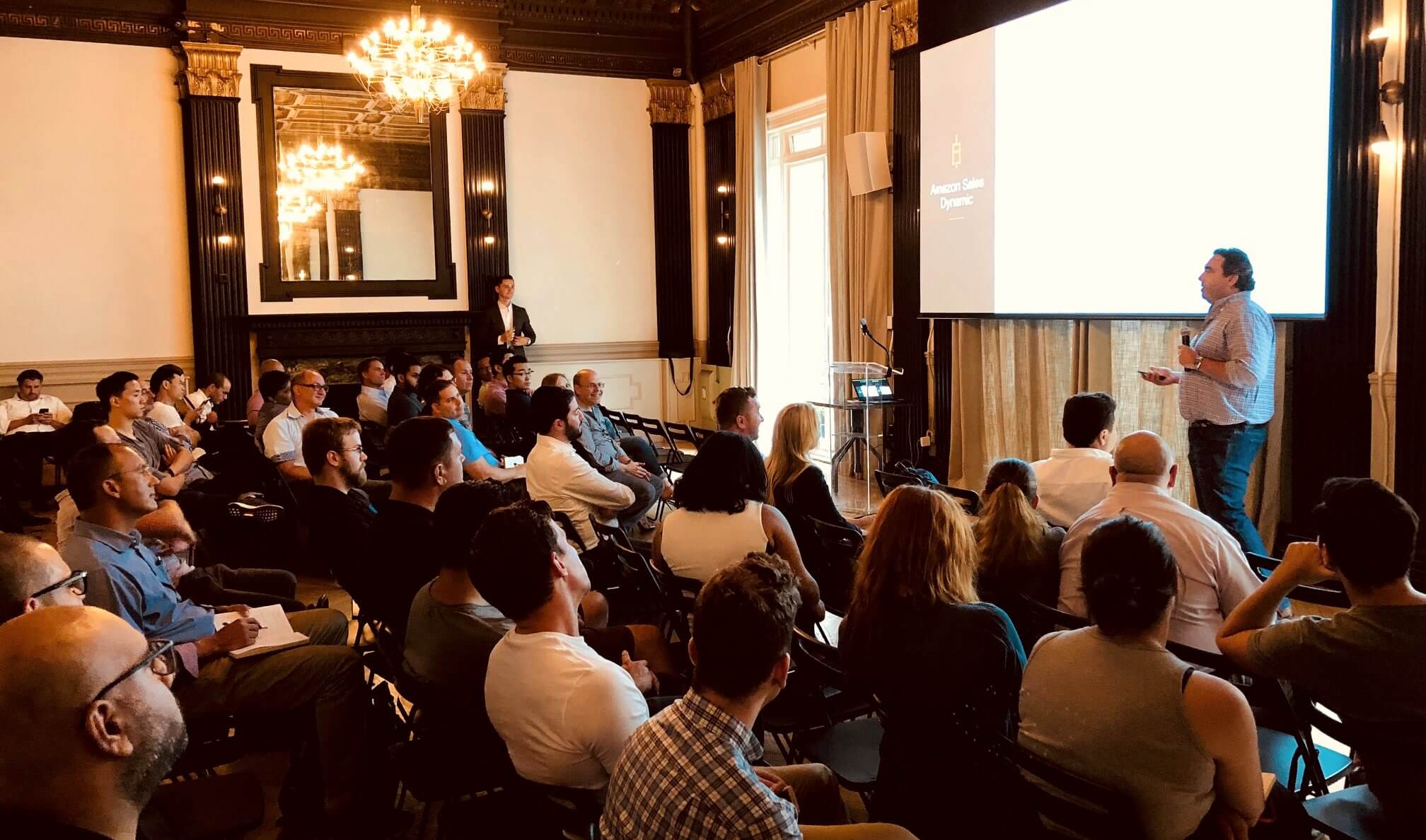 In the end, the chance for sellers to network with other sellers and exchange ideas was perhaps the most valuable. Our goal was to cover the topics we find the most important, but at the same time spark conversations. The conversations continued way past the official end time at 8pm.