Launched three years ago in October 2015, Amazon Handmade was hailed as the "Etsy killer" and many predicted the beginning of Etsy's end. As a category of unique, handcrafted products it directly competes with Etsy. And yet while it continues to grow it hasn't measurably impacted Etsy.
According to our research Etsy today has more than 55 million items from 1.2 million sellers for sale. Amazon Handmade has over a million from 16,500 sellers. In a year the number of sellers with products listed has increased by 200,000 on Etsy and only 3,000 on Amazon.
Only 1.3% of Etsy sellers sell on Amazon Handmade.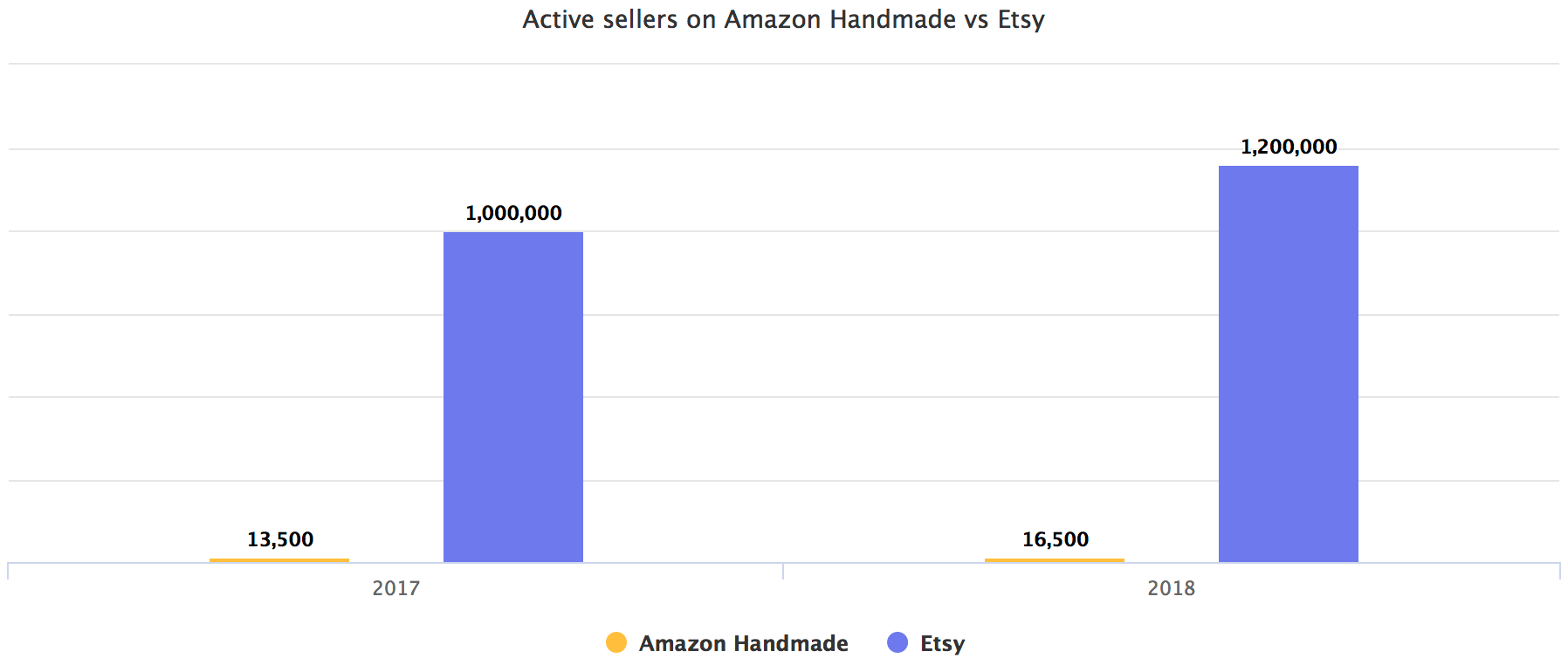 While the catalog size and the number of sellers are not directly related to overall marketplace growth, Etsy has been growing that too. The company reported gross merchandise sales (GMS) of $901.7 million in Q2, up 20.4% year-over-year. In fact, GMS growth accelerated for the fourth consecutive quarter. Amazon doesn't report sales or growth of the Handmade category.
As a result Etsy is trading at all-time highs, up staggering 180% in a year. A turnaround from when Etsy went public in April 2015 and Amazon Handmade launched only a few months later - at the time doubts about Etsy's future were at their peak. The months following Amazon Handmade launch saw Etsy's stock reach all-time lows.
For some sellers Amazon Handmade has become a meaningful sales contributor. For a few it even overtook Etsy. But despite amazon.com having orders of magnitude more web traffic and the army of Prime members it shows that not everything Amazon goes after is destined for success. Etsy is not only a catalog of handmade and vintage goods, it is also a community of people. That's a moat Amazon will struggle to copy. So while Amazon will inevitably go after all retail categories, some of them have particularities Amazon can't capture well.
"If Amazon wants to shake Etsy from its perch, it needs to listen a whole lot more closely to the crafters it's trying to lure." wrote Roni Jacobson for Wired. Handmade sellers after all are not the same as the millions of sellers on Amazon.