The fundamental value Etsy marketplace brought to sellers when it launched in 2005 was discoverability. At the time, being an artisan meant having very limited reach to the sea of customers. Etsy solved this by providing a market to be discovered in. Instead of customers having to discover artisans, Etsy was the one to be discovered, and then allowed artisans to be found.
But the online world has seen massive changes since then. Specifically in two areas - ease of creating a web shop and accepting payments, and the rise of social networks. First one made it easier than ever to have an accessible and state-of-the-art website for even the smallest of sellers, second - social networks - is making marketing easier than ever too. The original features brought by Etsy have been somewhat incorporated into other websites and networks.
To fight this, Etsy has been increasing spending on marketing. Both to acquire new sellers, and to find new customers. This is one area where Etsy continues to look good - the number of active buyers growth outpaces the sellers growth.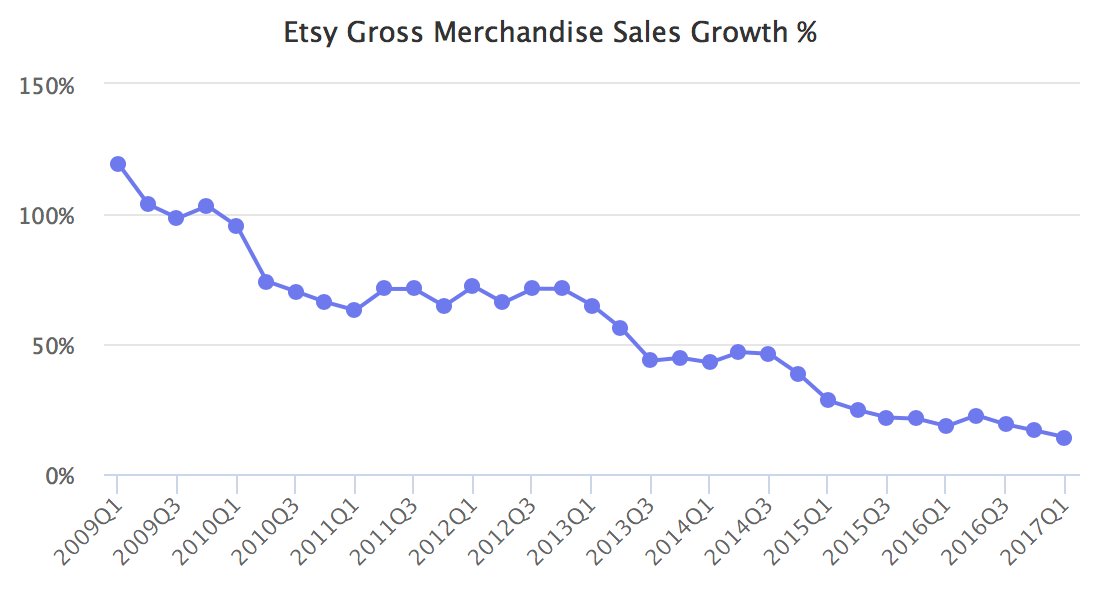 But the most troubling number is the slowdown in Gross Merchandise Sales (GMS, many often call this GMV) growth. While sales continue to grow, they are doing so at a increasingly slower rate as shown in the chart.
It is worth pointing out that the active sellers growth is going to face challenges in the future. When marketplaces grow they allow more sellers to join without affecting existing sellers - this is largely why Amazon has been so successful. Amazon itself is growing strong so the marketplace grows too, new sellers have opportunities. But on Etsy the slowing down GMV growth means that new sellers are likely taking away sales from existing ones.
The previously mentioned discoverability, which is by far the most important value a marketplace brings, doesn't work well when the catalog grows faster than total sales.
Thus Etsy found itself in a tough position - it has clearly already maximized opportunities in the handmade and vintage market, and now it needs to find something else. Last month Etsy launched Etsy Studio which we thought was a great move. Over time it has also redefined what it means to be "handmade", often causing mixed emotions from existing sellers.
We think the rise in marketing spending is hiding the true issue - the marketplace doesn't want to grow organically anymore. For example Etsy has made promises to grow international sales, with the now-gone CEO saying that "Over time, we think our global-local strategy will drive international GMS to 50% of our total GMS.". For the last 3 years the international sales share has remained at roughly 30 percent, though. To grow internationally Etsy will need to continue spending on marketing.
Etsy set expectations for sales growth it is now struggling to meet. The challenge is should Etsy sacrifice some its values and explore opportunities beyond the strict definition of handmade. We hope they can figure this out.