One year ago Etsy CEO Chad Dickerson departed. Josh Silverman, the former Skype and Evite CEO who joined Etsy's board in November 2016, took over as CEO. At the time the company reported 2017 Q1 results with lowest ever Gross Merchandise Volume (GMV) growth. Some investors were calling for a change highlighting decelerating growth, rising expenses, and poor corporate governance.
"The company's historical pattern of ill-advised spending has completely obfuscated the extremely attractive underlying marketplace business model."

– Black-and-White Capital
It's been a year now and Etsy is starting to show signs of health. After the C-suite shakeup in Q1 GMV growth decelerated to new lows of 11.7% in Q2, but since then the company has been able to ignite growth. In the most recent quarter Etsy reported 19.8% GMV growth, accelerating for the third consecutive quarter.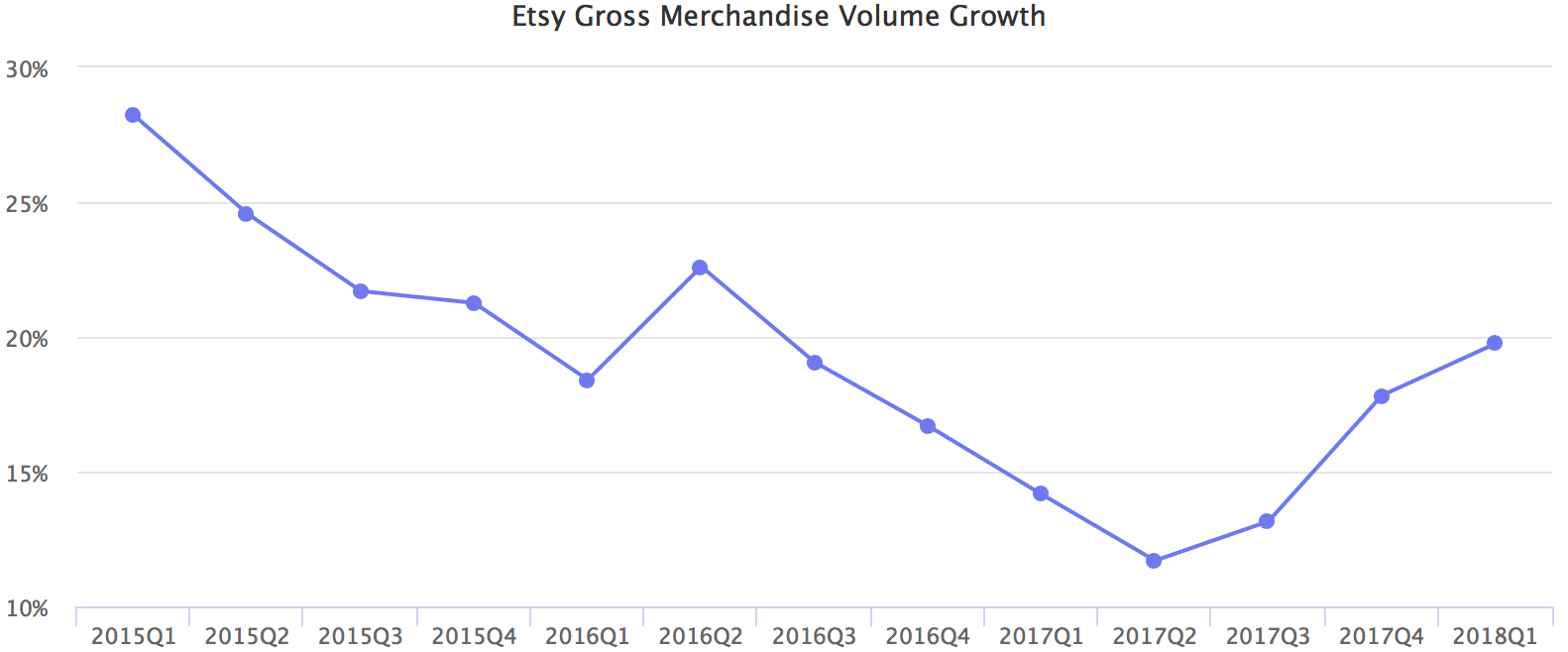 "I observed that [gross merchandise sales] is the one metric that matters," said Josh Silverman last year. At the time the company was measuring more than 15 metrics, which justified a lot of projects that may or may not have been worthwhile. Silverman asked for all product initiatives in Etsy's pipeline to be ranked by impact to GMV growth and then reshuffled priorities to focus on those at the top.
Amazon Handmade was often mentioned as the reason for Etsy's struggles. Launched in October 2015 it is a category inside of Amazon offering handmade products, with some unique design changes to better fit the special nature of those products. However Etsy has proven itself to be defensible against the retail mammoth. Despite Amazon's success in other categories, handmade products require a different set of skills.
When talking with CNBC on Wednesday Josh Silverman addressed this by saying that "It's just not obvious that their advantages transfer directly into our space," speaking of retailers like Amazon. "If you're going to one place over and over again every day to buy all of the commodities of life, when you want something special, you want the antidote to that. You want something that feels different. And Etsy is all about special."
Special is the favorite word at Etsy. Special cannot be commoditized and thus has become the target for the marketplace. Etsy's aspirations is not to own the handmade and vintage categories, but the reason why customers would own for products in those categories.
Etsy has almost 2 million active sellers, which altogether have more than 50 million items listed. The marketplace has enough saturation that the role personalization and advertising play is ever-increasing. Driven by this Etsy's seller services revenue is outgrowing marketplace fees as more sellers spend on advertising.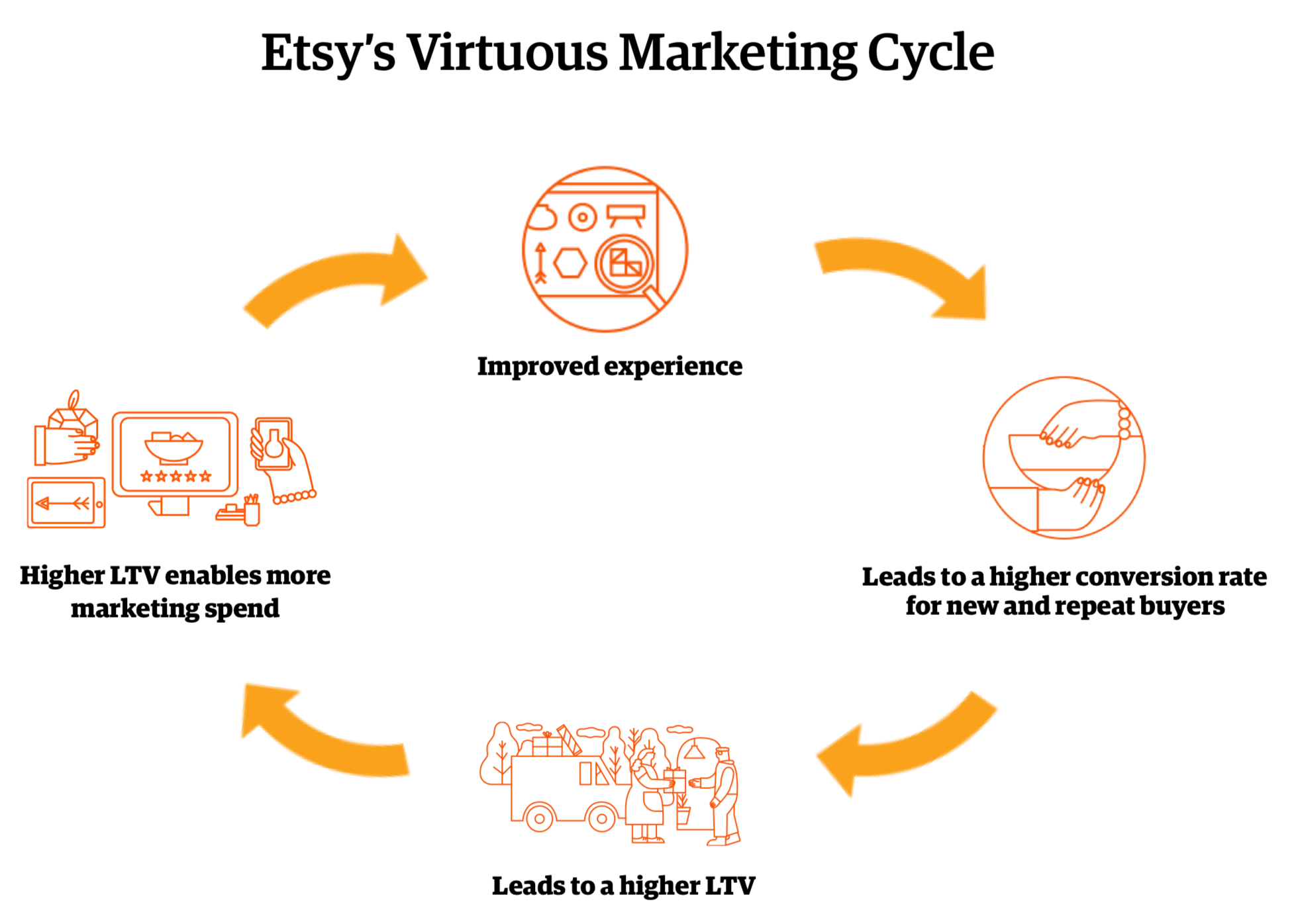 Search and discovery was one of the areas critiqued by investors Black-and-White Capital. Etsy doesn't disclose much in terms of metrics, but for the first time talked about the marketing cycle. Improved website experience leads to a higher conversion rate for new and repeat buyers. As visitors convert and have a successful shopping experience, those transactions lead to a higher lifetime value, or LTV. Higher LTV enables Etsy to spend more in marketing to drive more buyers to etsy.com. Etsy is focusing on each customer spending more over lifetime to drive GMV growth.
One year ago Etsy stock price was $11.26. The site's stock plummeted by more than 15% when Etsy announced the new CEO last year, at the time the company has also laid off 80 employees - around 8% of its workforce. At the time of writing it is $29.28, close to all-time high of $31.81 earlier this week. The company has crafted a turnaround.