eBay GMV was down by $1 billion, and the sold items growth has turned negative for the first time in the company's history. The company reported $20.4 billion in GMV in Q3, down -5% year-over-year from $21.4 billion on an as-reported basis and -2% on a foreign exchange (FX) neutral basis. Sold items growth was -3%; it hasn't grown since 2018 Q1.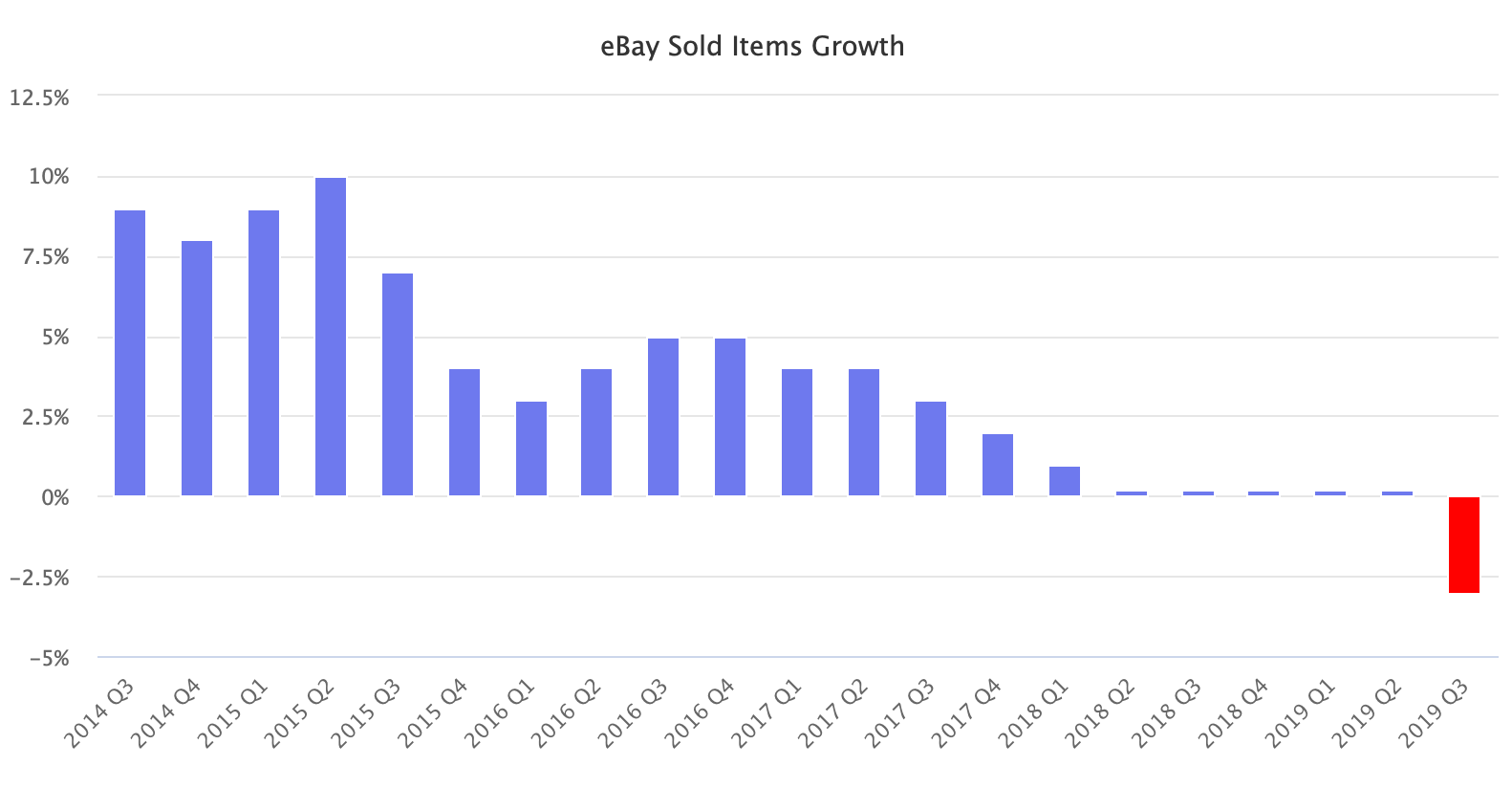 US GMV was down -6% in the last quarter, after being down -6% in Q1 and -5% in Q2. Appalling numbers in the market growing 15%. Scott Schenkel, the interim CEO at eBay, blamed the decline on internet sales tax and sees it accelerating into the fourth quarter and further into 2020.
"Government officials have chosen to tax small out-of-state businesses with the low no local nexus, and are requiring marketplaces to collect. Buyers are seeing higher prices at checkout and are purchasing less, particularly large dollar items. In Q3, the impact of US GMV was more than three points, and we expect that headwind to grow in Q4 as new laws in California, Texas, and nine other states take effect. While this impact is not unique to sellers on our platform, it is disproportionately affecting small businesses, many of whom sell on eBay."

– Scott Schenkel, Interim CEO at eBay
However, the company continues to increase the transaction take rate, which was at 8.9% in the quarter. Because of that, despite shrinking GMV, revenue is growing. As eBay continues to scale advertising and payments initiatives, transaction revenue growth will continue to outpace GMV. In Q3, Promoted Listings drove $103 million of revenue, up over 120% from a year ago.
eBay is both a success approaching $90 billion in merchandise sold each year and is mostly excluded from the conversation about the future of the retail industry. In the US, eBay's market share of online shopping is second only to Amazon, but while the rest of the market is growing, eBay is shrinking.
As the company looks to increase revenue and make other stock-boosting moves, the fundamentals are not working. Buyers are buying less on eBay than they did a year ago, and the trend doesn't appear to be improving. The company announced in September that Devin Wenig, the CEO since 2015, had stepped down. The new CEO will inherit a tough challenge no one has solutions for - plenty of shoppers love using eBay, but many more never think about eBay at all. "Younger customers don't have misperceptions of eBay - they don't have any perceptions. We're not even in their awareness at all," said Suzy Deering, eBay's chief marketing officer in an interview with Racked.