The number of top Amazon.com sellers based in China has surpassed US sellers. 49% of the top Amazon.com sellers are based in China, and only 47% are US-based, according to Marketplace Pulse analysis of the top sellers whose business addresses can be reliably determined. In a year, China-based sellers have grown their share of top Amazon.com sellers from 38% to 49%.
Top 10,000 sellers on Amazon.com were considered because each seller in the group has yearly sales exceeding $1 million, and, as a group, they represent a significant portion of the overall marketplace GMV. The Amazon.com marketplace has over a million active sellers; however, many of them only sell a few products a month.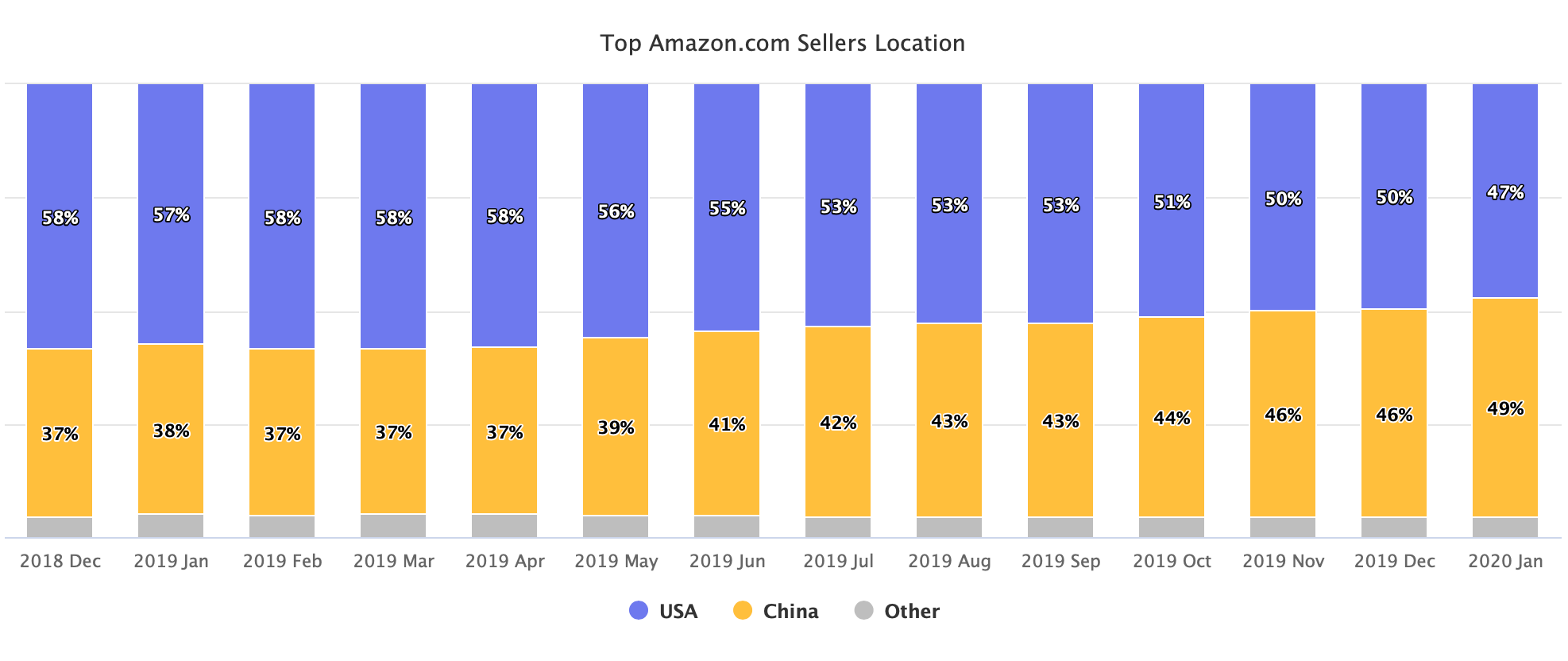 The growing share of China-based sellers is not limited to the top sellers, however. US-based sellers are outnumbered even when the range is expanded. It's only when considering all active sellers - sellers with at least one product for sale - that US-based sellers reclaim the first spot.
| Amazon.com Sellers | China | US |
| --- | --- | --- |
| Top 10,000 | 49% | 47% |
| Top 50,000 | 58% | 37% |
| Top 100,000 | 58% | 36% |
| Active sellers (1 million+) | 37% | 50% |
Amazon's other marketplaces exhibit a comparable growth of China-based sellers. Amazon's European marketplaces, for example, have a similarly high percentage of sellers from China. Compared to 49% of top sellers on Amazon.com, 58% of Amazon.es, 55% of Amazon.fr, and 53% of Amazon.it top sellers are China-based.
For Chinese retailers and manufacturers, Amazon is the most efficient direct-to-consumer platform to reach the US and European shoppers. The success of businesses from China is enabled by both allowing international sellers to use Fulfillment by Amazon (FBA), virtually eliminating otherwise slow shipping, and by local-specific efforts in China. For example, in December last year, Amazon hosted the 5th annual Amazon Global Store Cross-Border Summit in Shanghai.