The number of sellers on Amazon didn't accelerate, despite the sales boom during the pandemic - the pie has gotten bigger, but the competition remained practically the same. This mismatch between supply and demand is a gap that existing sellers are filling.
Over the past few years, the overall marketplace GMV growth has been relatively consistent with the increase in supply - the number of third-party sellers. As a result, the marketplace never became saturated because new sellers were competing for a growing market. However, as Amazon's sales accelerated starting early in the second quarter, they didn't result in third-party sellers' growth spurt.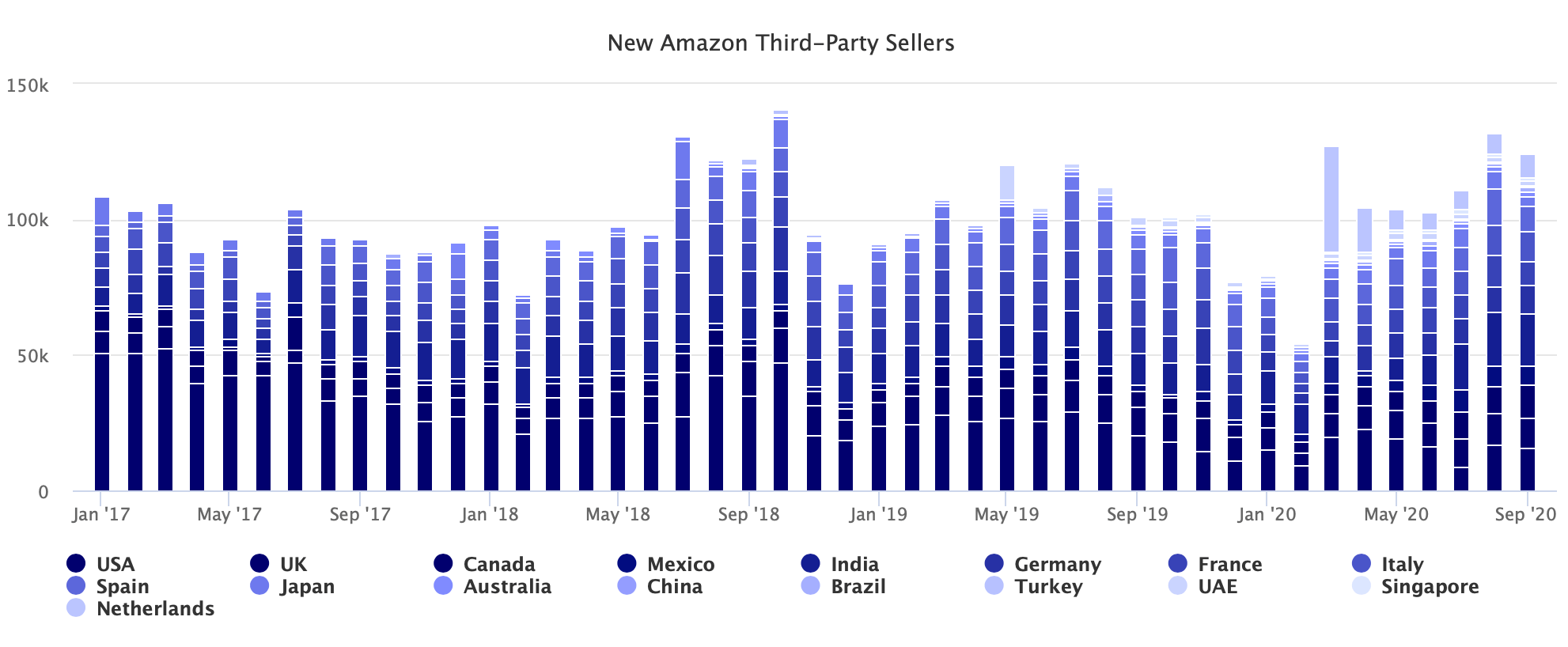 Since that start of 2017, more than 4.5 million new sellers globally have joined Amazon. Amazon has already added over a million new sellers in 2020, according to Marketplace Pulse research. And it continues to add 3,400 new sellers every day, or 142 every hour, or even two every minute. Yet those numbers look identical to the past three years.
Additionally, most sales on the Amazon marketplace are by longtime sellers - more than half of sales come from sellers that have been active for years. Thus not only are new seller registrations not accelerating, but the new sellers that do join also are not replacing existing sellers. Therefore as overall marketplace sales increase, the established sellers benefit the most.
The creation of businesses doesn't have the same elasticity as the growth of sales existing businesses can fulfill. However, on Etsy, for example, 50% more sellers have joined this year so far than in 2019 with more than two months left in the year. Therefore some marketplaces did see growth in supply that matched the demand. Retail marketplaces, on the other hand, are slower to attract new supply.

On Amazon in the U.S., the number of new sellers joining has instead decelerated. Improved new seller verification policies appear to have slowed down its growth. Also, retailers forced to shut stores and brands looking for additional channels didn't pick Amazon. Thus per-seller sales in 2020 are going to be considerably higher than in the previous years.
This environment is perhaps the most favorable sellers have seen in years. Third-party sales are growing 40%+ year-over-year since the second quarter, yet the competition of sellers cannot match that pace. After growing by estimated $40 billion in 2019, third-party sales will add as much as $80 billion in 2020.