In 2019, Amazon's online sales accounted for only 50% of the company's total revenue. For the first time, Amazon generated as much revenue from AWS cloud hosting, Prime memberships, the third-party marketplace, and advertising, as it did from selling products online.
Amazon sold $141.2 billion worth of products, 50.4% of the $280.5 billion total revenue. Four years ago, in 2015, online sales accounted for 71.6% of the total revenue. In 2016 it decreased to 67.2% and further in 2017 to 60.9%. In 2018 it was 52.8%. Despite Amazon's online sales continuing to grow, all other sources of revenue are growing faster.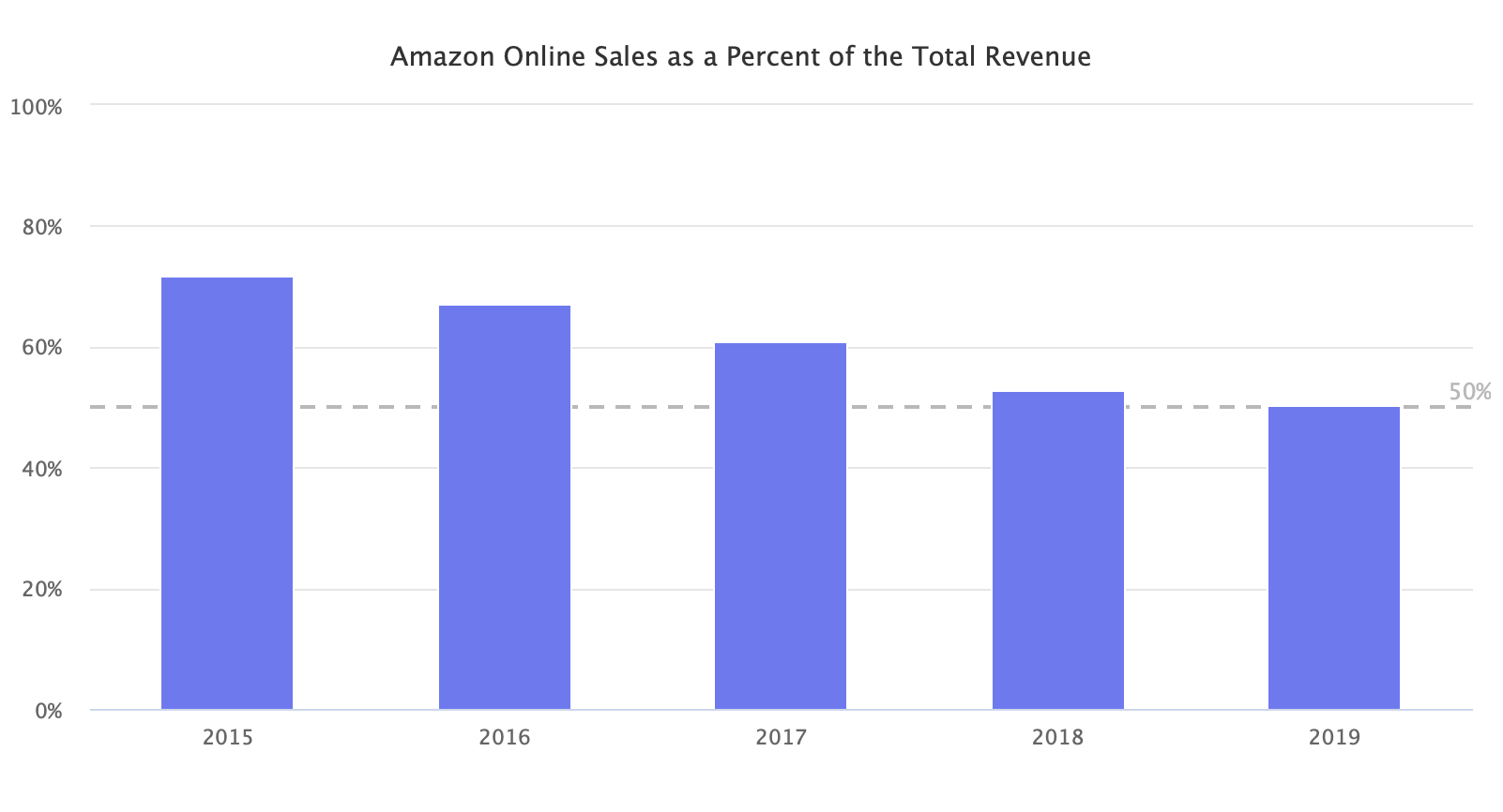 During the same five years, revenue from the marketplace increased from 14.9% to 19.2%. The third-party seller services revenue has been growing faster than Amazon's retail operations, and thus as they shrunk in revenue contribution, the marketplace grew. Sellers paid $53.7 billion in fees in 2019, up from $42.7 in 2018.
Marketplace revenue includes fulfillment and shipping fees. "What you're seeing is more and more participation of third-party sellers in our one-day delivery program as we move through the year. That was particularly strong in Q4, and I think you'll see that more as we move into 2020," said Brian Olsavsky, CFO at Amazon.
Further, the company doesn't break out the profitability of the marketplace, but it is one of its core profit growth drivers. "People don't understand that third-party seller services is [Amazon's] largest driver of profit growth," said Michael Pachter, a financial analyst who covers the company for Wedbush.
Advertising is another vital part of Amazon's shift from a retailer to a retail services company. 5.0% of its revenue came from advertising in 2019, up from 1.6% in 2015. Combined with third-party seller services, close to a quarter of the company's revenue comes from seller services.
Amazon is expected to grow by about $50 billion in 2020 to over $330 billion in revenue. The marketplace and advertising are going to be a significant part of that.