Amazon India has halted most of its operations as well as deactivated all of the nearly 600,000 marketplace sellers as much of the country is under lockdown to prevent the spread of coronavirus. The country's 1.3 billion people are in a three-week lockdown.
In India, Amazon doesn't operate as a direct retailer. Instead, all products on Amazon.in are provided by the sprawling marketplace. The marketplace had grown to over 200,000 active sellers - sellers with products listed for sale - out of the nearly 600,000 sellers in total. However, on March 26th, there were less than one thousand active sellers left, according to Marketplace Pulse research.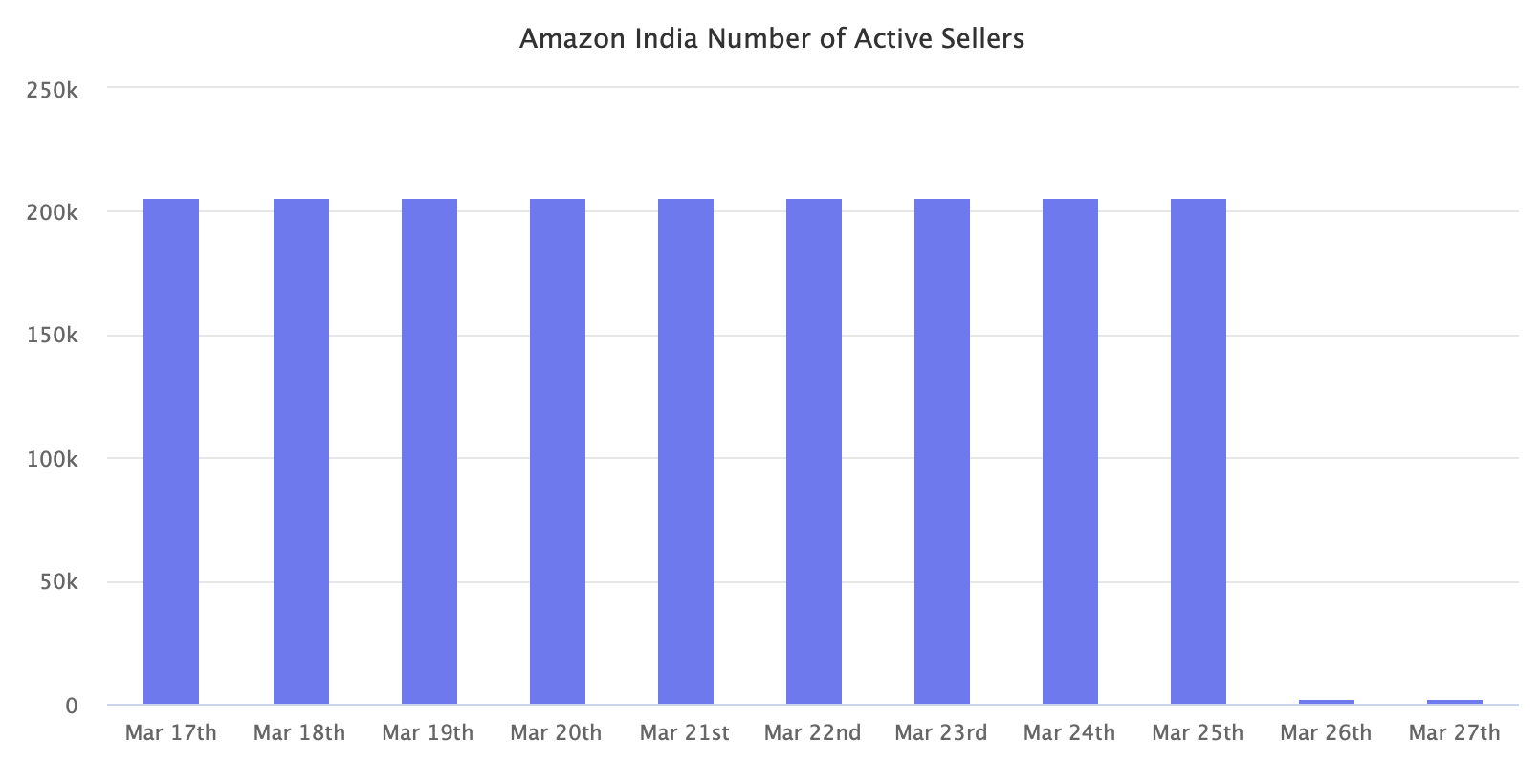 Amazon's India unit on March 24th said it would halt orders for non-essential products to prioritize customers' critical needs. Those include household staples, packaged food, health care, hygiene, personal safety, and other high priority products. The company has taken similar moves in other regions as well.
However, initial plans to deliver essential products appear to have been unsuccessful, as the government has disrupted much of the supply chain, including deliveries and warehouses. "Most of Amazon's 60 plus fulfillment centers in India were shut, with the company still in talks with state authorities to swiftly reopen warehouses, three sources familiar with the situation said," reported Aditya Kalra and Sankalp Phartiyal for Reuters.
Amazon Pantry, a grocery delivery service, is also down. A note on Amazon India's Pantry page reads, "Dear customers, due to local restrictions, we are not able to deliver. We are working with the government authorities to enable us to deliver essential items."
Walmart-owned Flipkart halted all shopping on its website and mobile app on March 25th too. The company said it is working on resuming grocery and essential delivery after receiving federal and state government assurances on the "safe and smooth passage of our supply chain and delivery executives."
Since launching in India in 2013, the country has become Amazon's fastest-growing marketplace. Yet, India is not necessarily welcoming of Amazon. In January, India ordered an antitrust investigation into Flipkart and Amazon India, on the grounds of them indulging in anti-competitive practices to gain a foothold in the country by providing deep discounts and preferential treatment to a select few preferred sellers. Amazon owns a 24% stake in two of its biggest sellers - Cloudtail, and Appario - after being forced to reduce its ownership stake in February 2019.