An increasing percentage of sales on the Amazon marketplace comes from sellers that have been on it for years. More than half, from those who joined in 2017 or earlier. At the same time, new sellers are finding opportunities and bring incremental marketplace growth.
New sellers are adding additive volume to the existing base. Meanwhile, some of the old sellers churn (because they stopped selling, got suspended, or dozens of other reasons). The data shows that sellers are churning slower than new sellers are joining. The expanding overall marketplace GMV allows new sellers to grow without taking away sales from the existing sellers.
Amazon marketplace is, thus, not saturated. Saturation is one of the most common concerns - in a saturated marketplace, a seller can only achieve growth through taking market share from competitors. Because Amazon continues to grow and seller moats are relatively limited, new and existing sellers are competing for a growing pie of GMV.
Additionally, 33% of the current volume is by sellers that joined more than five years ago. A year ago it was 23% and the year before that 16%. Not only are new sellers spotting niches, but long-established sellers continue to succeed for years. As years go by, the share of volume by sellers older than five years is increasing because once established, they rarely fail.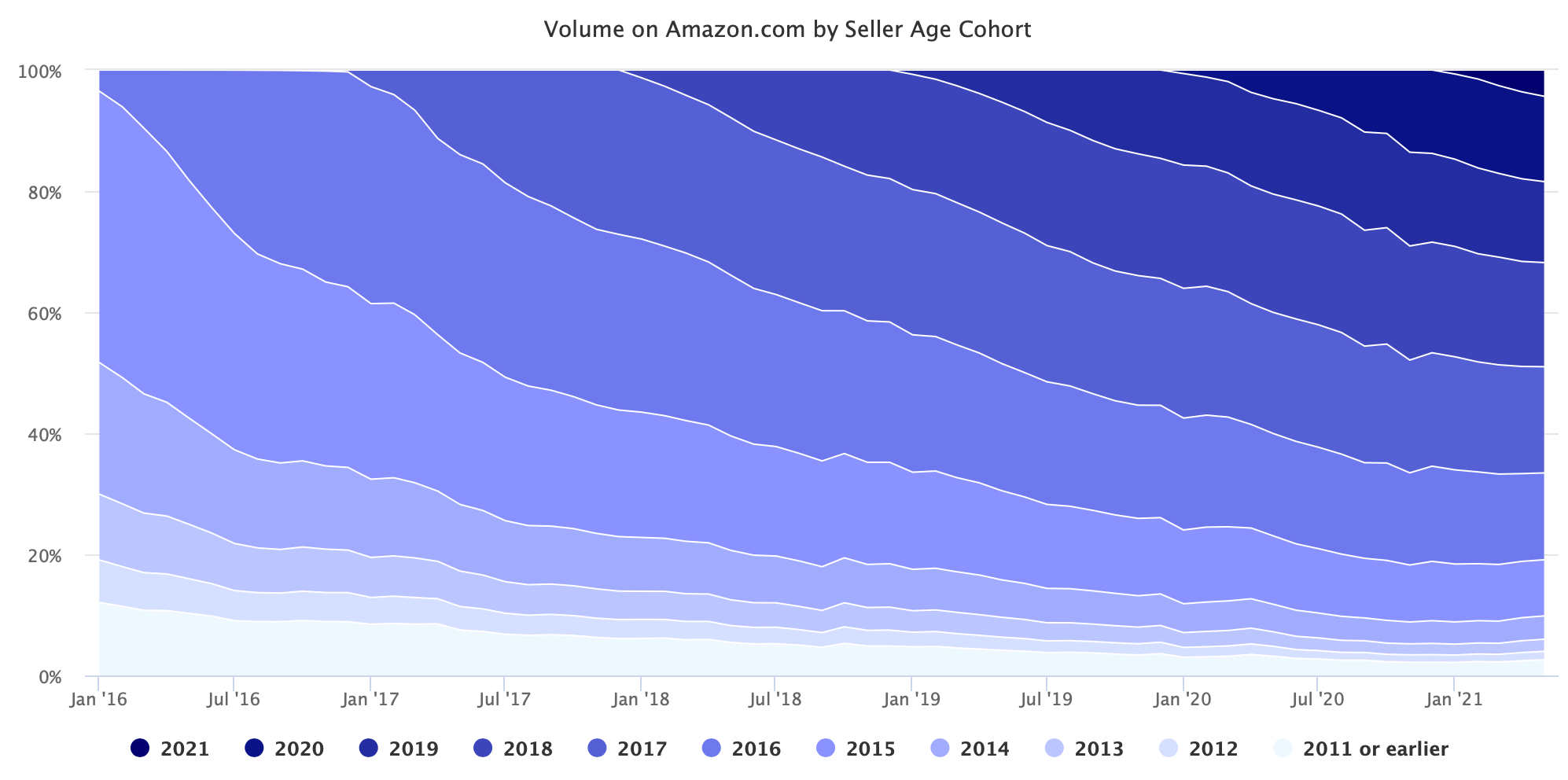 Cohort analysis informs on four significant marketplace metrics: acquisition, churn, longevity, and saturation. Amazon marketplace's cohort data shows that the marketplace is not saturated, many sellers are successful for more than five years, churn is controlled, and new sellers find opportunities. Amazon's cohort analysis is total volume, month by month, according to Marketplace Pulse research, broken down by seller's first year on the marketplace and represented as a share of the total.
If the top right-most layer in the chart (representing newest sellers) were to look significantly different, it would indicate marketplace health issues. It visually represents the balance of sustainability and competition. The marketplace would be saturated if the layer was drastically smaller than during previous years at the same time. Established sellers would be churning faster if it was bigger than in earlier years.