After Cash Conversion Cycle, another important metric in Amazon's business is the net shipping costs. Net shipping costs is the difference between shipping revenue (fees charged to customers) and shipping costs (fees charged by shipping service providers).
Last year Amazon collected $8.9 billion in shipping revenue, but spent $16.2 billion on shipping costs. Thus the net shipping costs is $7.2 billion.
Amazon lost over $7 billion by providing free shipping.
Shipping costs include a portion of amounts earned from Amazon Prime memberships, and amounts earned from Fulfillment by Amazon programs related to shipping services. Even with those fees included, it's not enough to offset the costs of doing shipping. Amazon is subsidizing shipping to achieve market dominance.
Because of the growth in Amazon Prime memberships and the current $25 minimum to get free shipping, fewer people are paying for shipping. This has resulted in shipping costs growing faster than shipping revenue. As shown in the chart below, during the busy Christmas periods the difference is very large.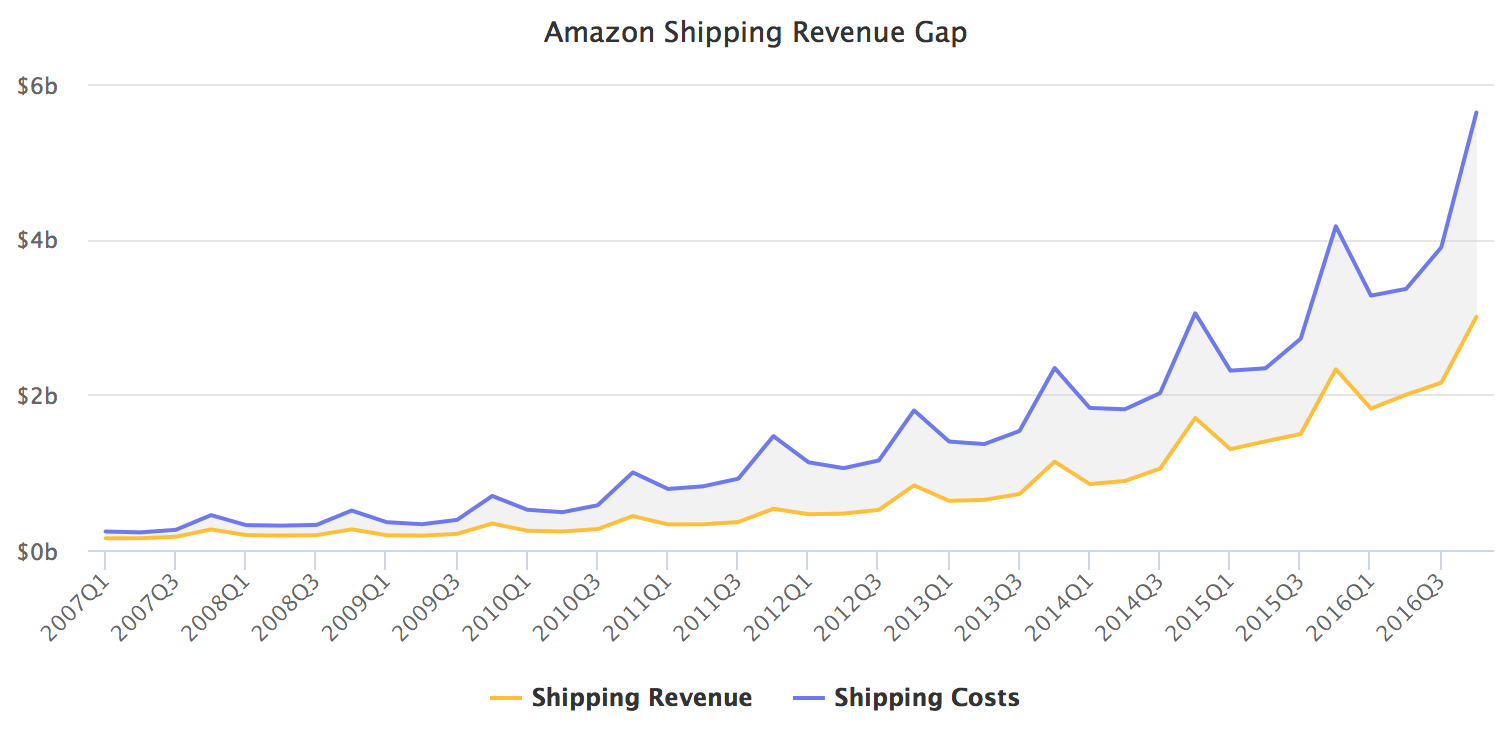 The growth of net shipping costs is something to keep an eye out, because some experts consider it as being a likely Achilles' Heel. If Amazon cannot get this cost under control, then expecting profits even in the future is unlikely. At the same time, some look at it as a cost of doing business, thus unavoidable when offering the services Amazon does and the growth it tries to achieve.
Amazon's willingness to accept shipping costs as a loss, and educate customers to expect free shipping has made it hard for competitors to offer the same.
Amazon has been mostly investing into building out a network of warehouses, but has also started experimenting with a fleet of cargo planes, cargo ships, last-mile delivery trucks, etc. There is a lot to be gained if Amazon can reduce the ever-growing shipping costs by doing more in-house.
In latest Amazon's SEC filings they picked below as one of the major risks for their business:
"We rely on a limited number of shipping companies to deliver inventory to us and completed orders to our customers. If we are not able to negotiate acceptable terms with these companies or they experience performance problems or other difficulties, it could negatively impact our operating results and customer experience."
Amazon would like to not to have to depend on negotiating the key part of their service with external vendors. Amazon finishes with "We believe that offering low prices to our customers is fundamental to our future success, and one way we offer lower prices is through shipping offers.". Expect many developments in this area.
In the meantime, FedFex has launched FedEx Fulfillment, which got picked up by most media as a threat to Amazon's shipping business. In the article "FedEx just launched a new service that takes on Amazon's super popular fulfillment program" Business Insider wrote:
"FedEx Fulfillment looks almost exactly the same as Amazon's own fulfillment program, called Fulfillment by Amazon (FBA). The biggest difference is that Amazon's program gives the added benefit of making the sellers' products Prime-eligible, giving more exposure to Amazon's most prolific spenders. At the same time, FedEx's solution serves as a good alternative to Amazon's, as some sellers might be wary of exposing their sales numbers to Amazon when they sell through FBA."
FedEx Fulfillment is in no way a competitor for Amazon's FBA. It does look like a potentially great service for small-to-medium e-commerce websites to offload their shipping to though. But so far FedEx has not revealed their pricing so it is hard to tell how well it would fit. Yet even ignoring pricing, we would be surprised to hear any seller replace FBA with the FedEx offering.
FedEx and others in the shipping industry have waited for too long, and allowed Amazon to grow their infrastructure. Their attempts today are rather unimpressive.