Type in "wireless headphones" into the Amazon.com search bar and the top results look more like what you'd find on a corner in Chinatown than a legitimate electronics store. Canal Street in New York City's Chinatown is a major destination for finding fake designer brand handbags, wallets, and other accessories. In many ways Amazon is that too.
Instead of brands like Apple, with their latest AirPods, Sony, Bose, Bang & Olufsen, Beats by Dr. Dre, Samsung, LG, and Jaybird, brands like Mpow, Otium, KUPPET, Senso, and Aonlink dominate the list. Some of these look surprisingly similar to those made by established brands, but of course much cheaper and of questionable quality. Many more are private label products too, blurring the line between blatant copies and cheaper basic alternatives.
When a consumer searches for an iPhone cable and the results are knockoff white cables the consumer is probably ok with that. They more often than not still work. But when a consumer searches for wireless headphones and suggested results are unknown brands they are definitely lost. This is not what they were looking for.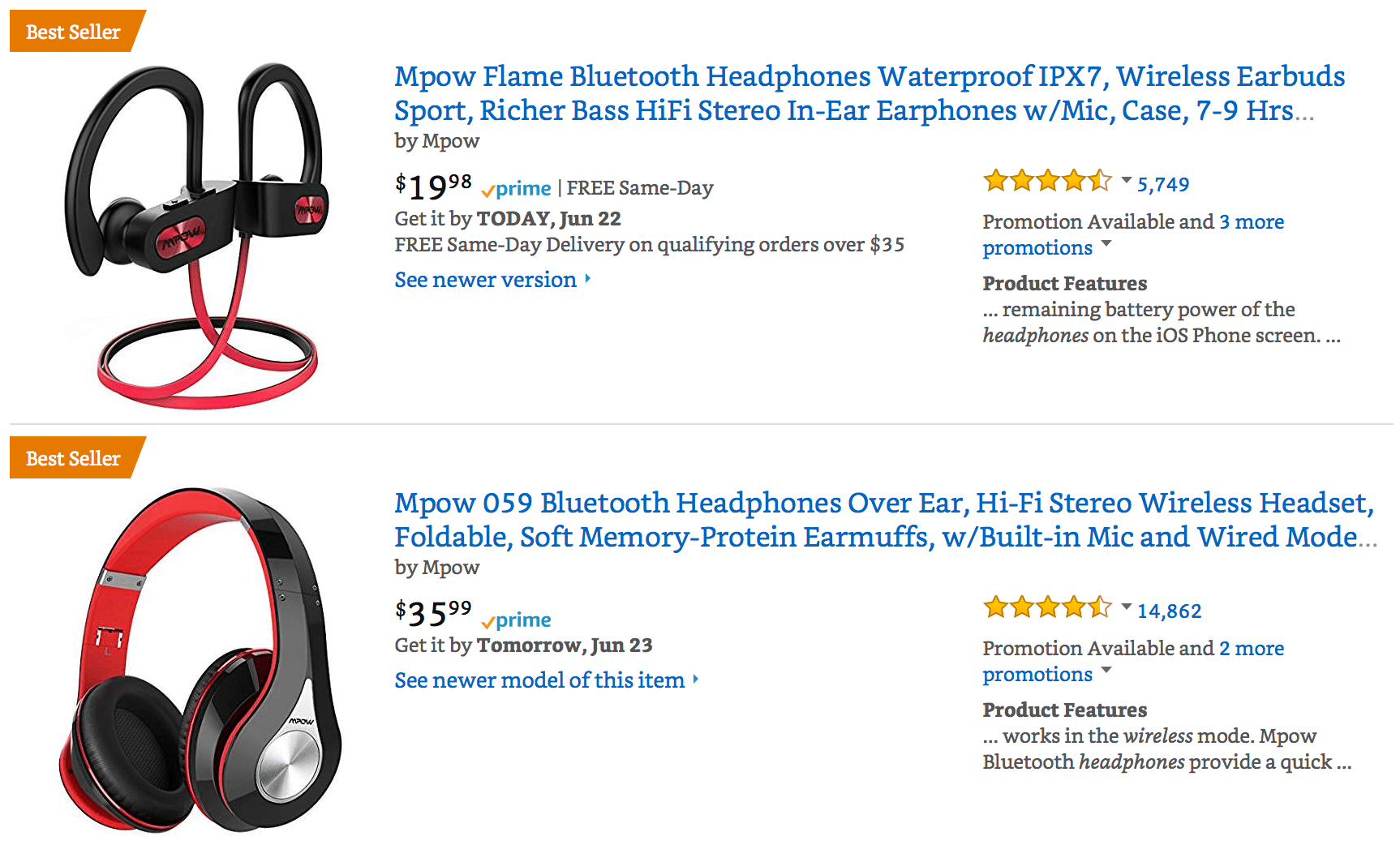 Or maybe it was. The number one search result when searching for "wireless headphones" is a pair of $19.98 in-ear headphones by Mpow, followed by a pair over-ear headphones for $35.99 from the same brand. The first one has 5,749 reviews, while the over-ear headphones have impressive 14,862 reviews. They are each rated 4.5 out of 5 stars. And while their design looks very familiar, they are not counterfeit. Amazon is full of Amazon-native brands.
Amazon has become a very efficient distribution channel for physical goods. It is one of the most visited websites in the US attracting over two billion visitors every month. All looking to buy something. There is no hiding how big and concentrated the demand is. Which means winning on the supply side is very lucrative. Some of that supply side is controlled by Amazon retail, which itself sources products from established brands. But increasingly so the marketplace is the major supplier.
The marketplace too has historically focused on sourcing products from established brands, with sellers acting as retailers on the platform. But especially over the last few years those sellers transformed to brands themselves. Many are creating private label brands. Which, in almost all cases, are generic products with a small change to it, sometimes as small as a logo printed.
Thus Amazon is constantly getting flooded with new products. Some counterfeits (there are dozens of Apple AirPod lookalikes on Amazon) and some generic designs with a logo attached. But unlike the Canal Street where locals and tourists walking by are fully aware that they are buying a fake handbag (after all the price is too good to be true), on Amazon the consumer is lost.
When a consumer buys Samsung headphones on Amazon they will realize that they bought a counterfeit once they open the box. But if they bought an Apple iPhone cable to charge their smartphone they probably won't notice if they received a fake. Unless it caught on fire - which is common for fake cables - there is no difference. The problem of counterfeits on Amazon is going to be one of the biggest headaches for years to come. It already is.
Consumer electronics is the third most counterfeited category. Handbags and Wallets are first, followed by Watches and Jewelry, according to estimates from the Organization for Economic Co-operation and Development (OECD). But Amazon itself is yet to be found responsible: "Courts have yet to find Amazon liable for selling counterfeit products on its site, because the company has been able to argue that it is a platform for sellers, rather than a seller itself." Alana Semuels wrote in The Atlantic.
"The Amazon marketplace, which operates as an 'open market,' creates an environment where we experience unacceptable business practices which we believe jeopardize our brand. Policing this activity internally and in partnership with Amazon.com has proven impossible."

– David Kahan, CEO of Birkenstock
Comfort-focused footwear company Birkenstock quit selling on Amazon after years of fighting counterfeits on the platform. "The truth is that Amazon makes money with these fakes. As far we're concerned, Amazon is an accomplice." Birkenstock chief executive Oliver Reichert told Spiegel.
Counterfeits make Amazon untrustworthy. Not only can branded products end up being fakes because of FBA commingling and other flaws, but also counterfeit imitations acting like small brands. This makes brands hate Amazon as they cannot reasonably compete with them and makes consumers question buying on Amazon. There are no winners. Outside of Amazon that is, at least in short-term, as they do collect a fee even for a counterfeit sale.