Amazon is not abandoning the private label business. While it slashed some slow-moving items, all of Amazon Basics and its other private label brands' best-sellers are still available.
Recent reporting suggested that Amazon is killing off its private label brands. "Amazon has started drastically reducing the number of items it sells under its own brands … Over the past six months, Amazon leadership instructed its private-label team to slash the list of items and not to reorder many of them, the people said," wrote Dana Mattioli for The Wall Street Journal.
According to Marketplace Pulse research, Amazon hasn't gotten rid of any successful private label brands or products.
Amazon has the same number of best-sellers as it did for the past two years. Amazon Basics has 1,350 best-sellers today, and it had nearly as many in 2021 and 2020. A best-seller product is one to have made it into the top 100 in any category or sub-category on Amazon. Across its top brands like Amazon Basics, Amazon Essentials, Simple Joys by Carter's, Amazon Commercial, Amazon Basic Care, Goodthreads, Amazon Elements, Pinzon, and others, none of the best-sellers are gone.
Amazon only trimmed failed products from its portfolio. Yet that's inconsequential since they were not contributing meaningful sales. "Under Mr. Clark, private-label teams did a profitability review of each private-label item, determining which ones didn't sell enough to hit their profit threshold and targeting them to be phased out," wrote Dana Mattioli. This practice is typical for retailers.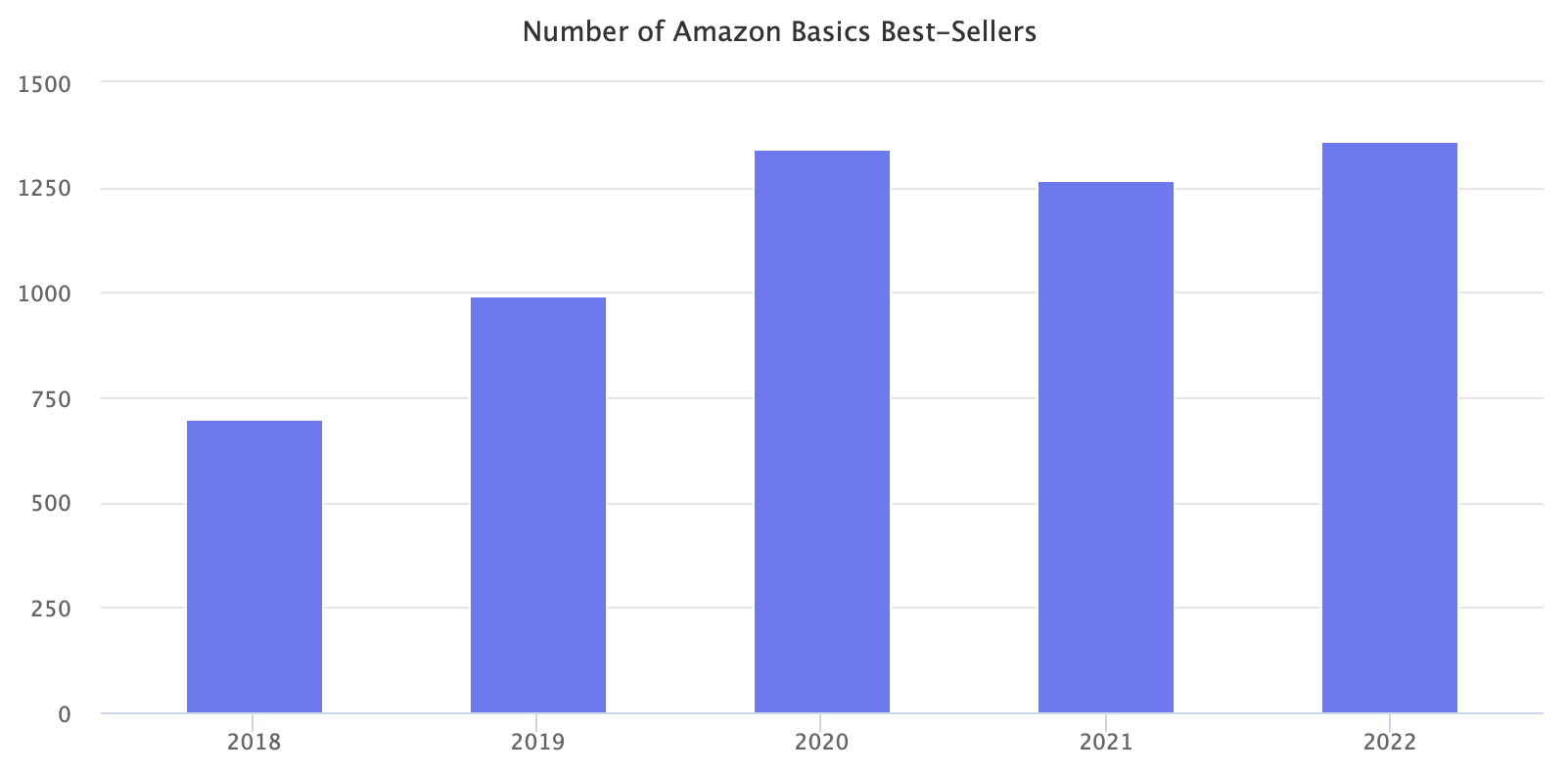 The number of best-sellers has remained flat for over two years. That indicates Amazon didn't get more aggressive to overtake more niches. Many of the slashed unsuccessful products were perhaps intended to become best-sellers but, for various reasons, failed to stick.
Amazon has, however, considered exiting the private label business to appease regulators. "Top Amazon leaders have also internally discussed making a more drastic move to ward off regulators: abandoning its private-label business altogether. At least as recently as last year, several top Amazon executives, including its current worldwide retail CEO Doug Herrington and its general counsel David Zapolsky, expressed a willingness to make this different but significant change if it meant avoiding potentially harsh remedies resulting from government investigations in the US or abroad," wrote Jason Del Rey for Vox.
Amazon hasn't made that decision yet. Its recent moves to reduce the portfolio are unrelated to antitrust concerns.
While Amazon's private label brands span tens of thousands of products, most of its sales come from a few dozen top products. For example, the infamous Amazon Basics batteries. Amazon hasn't stopped selling those, nor did it any other best-sellers. Thus the impact of trimming some slow-moving products from the long-tail is tiny. And in no way does that indicate Amazon is abandoning the private label business. Not until Amazon stops selling the batteries.