Amazon will begin displaying the business name and address of sellers in the U.S. marketplace starting September 1st, putting the U.S. marketplace in line with the European, Japan, and Mexico marketplaces, where this information was always available because of local laws.
"Beginning on September 1st, 2020, we will display a seller's business name and address on their Amazon.com Seller Profile page. For individuals, we will display the individual name and address. This is consistent with Seller Profile pages across Amazon stores in Europe, Japan, and Mexico."

– Amazon's announcement to sellers
Amazon's U.S. marketplace is its oldest and largest in terms of the number of sellers and processed GMV. However, because local laws do not require it, Amazon has shielded the identity of sellers from consumers and other businesses. Sellers choose a storefront name, and Amazon keeps the business details private.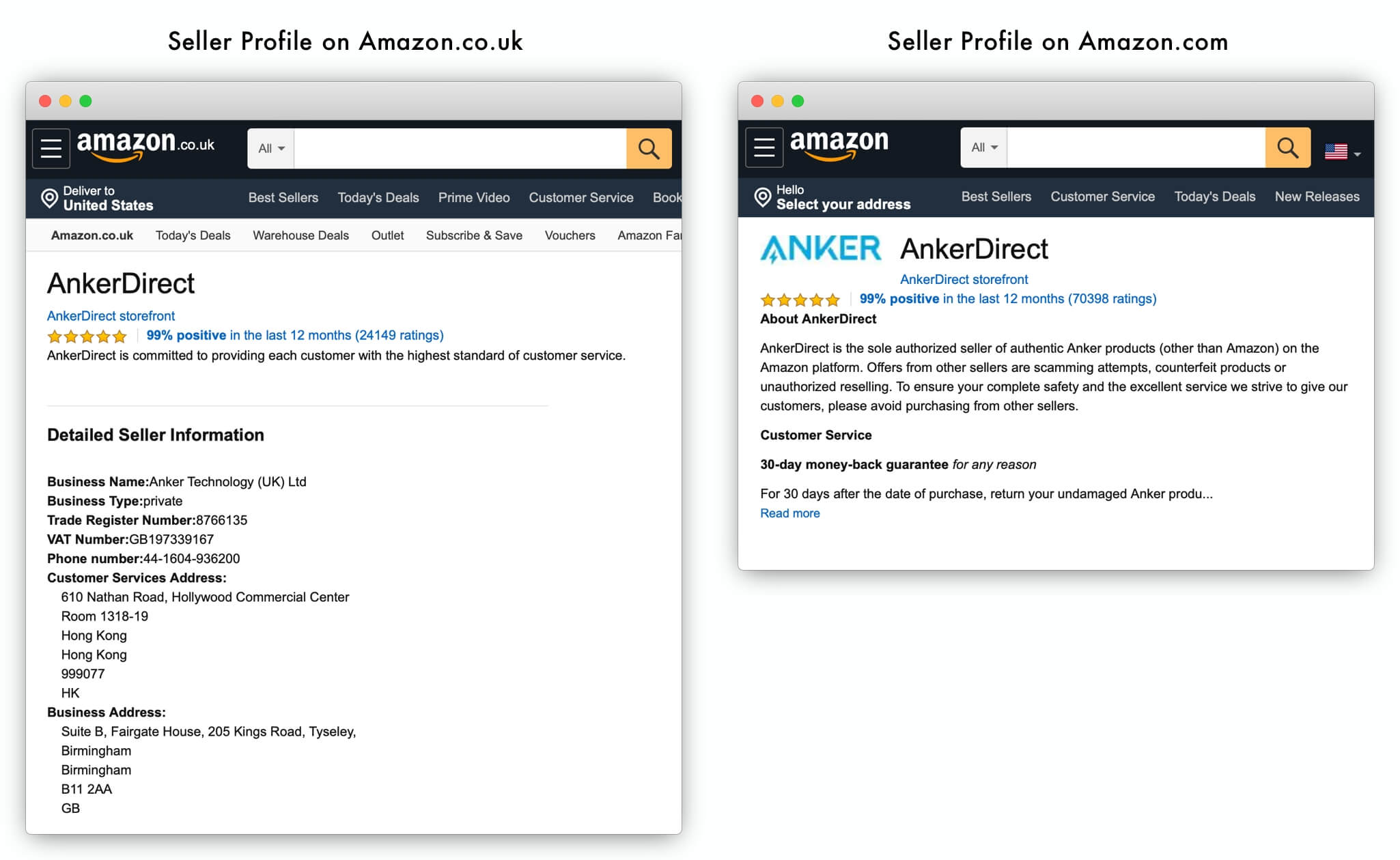 Removed sellers' anonymity benefits consumers by allowing them to directly seek legal action with the seller, in case, for example, the product they purchased caused harm. Other businesses, most often brands, benefit from knowing the seller's true identity for managing approved retailers and directly pursuing counterfeits.
The U.S. Department of Homeland Security (DHS) released a document in January titled "Combating Trafficking in Counterfeit and Pirated Goods." One of the suggested actions is "Platforms should implement additional measures to inform consumers, prior to the completion of a transaction, of the identity of storefront owners and/or those responsible for fulfilling a transaction."
Amazon's announcement adds, "We are making this change to ensure there is a consistent baseline of seller information to help customers make informed shopping decisions." However, most consumers won't notice the change as Amazon has made the marketplace invisible to them. As a result, consumers rarely check the seller they are buying from, and thus won't notice the business details.
Instead, it is the industry that will most benefit from this, in ways that are invisible to consumers.
The change doesn't prevent sellers from faking business details or establishing new business entities when they want to appear unrelated to a previously suspended or just another seller account. A common practice among international sellers because Amazon's vetting of business details is imperfect. But additional transparency will perhaps enable third-party companies to analyze those business entities better than Amazon.
Commerce shouldn't be anonymous. Making sellers' business identities public is the right step, and further tightening rules around business identities used for selling on Amazon would be a welcome change too.