We looked at the top eBay US stores to see where they are located. There are many more sellers on eBay's platform, but we estimate that more than 80 percent of eBay sales are from business sellers (B2C), while less than 20 percent are from people selling to others (C2C).
We found that roughly 30 percent of the top 10,000 sellers are based in China.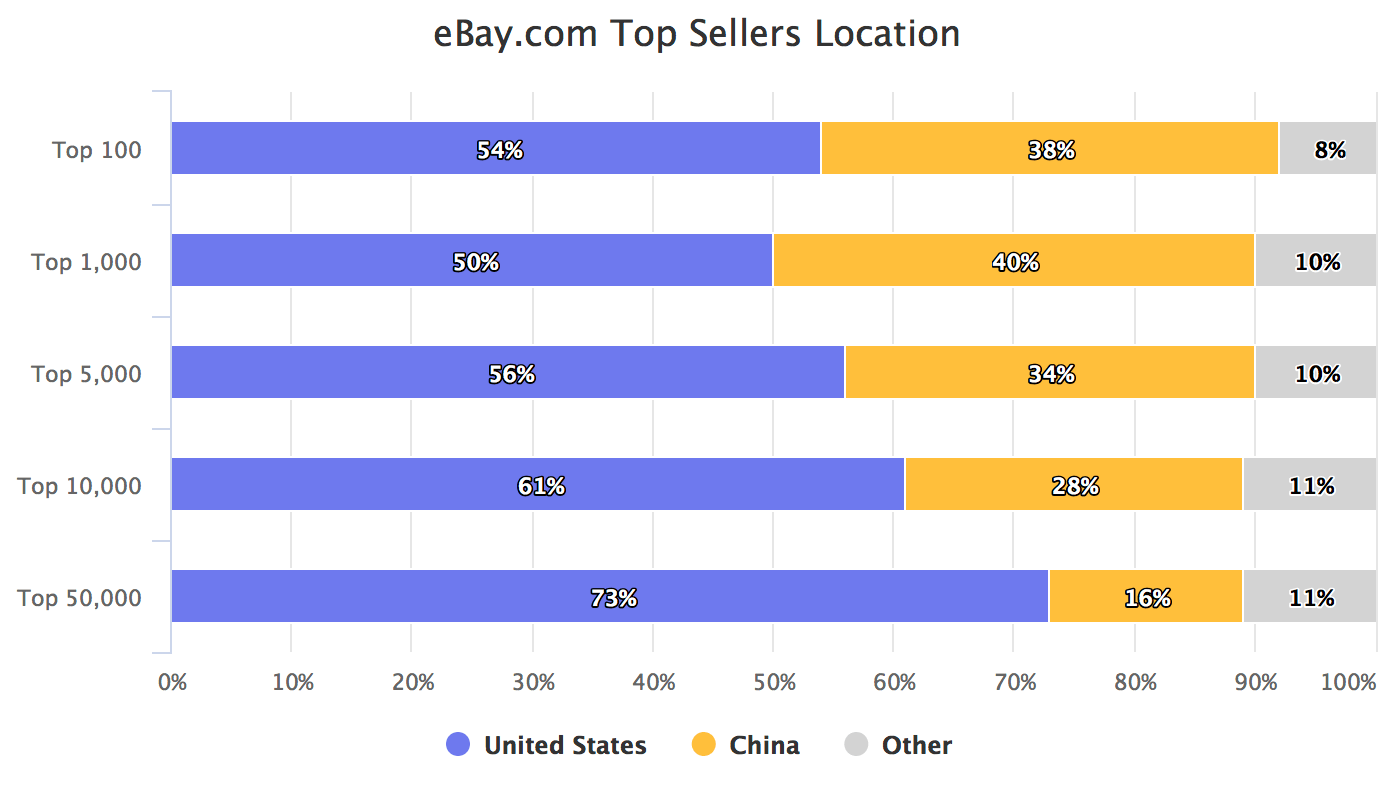 We also peaked into other eBay countries and found that in Australia it is 21 percent, in the UK it is 15 percent, and in Germany it is 5 percent. No big surprise here since eBay.com is the biggest market and thus attracts the most attention.
This shows that international selling on eBay is dominated by Chinese sellers, and that customers are happy to buy from them. There is no concept of Prime to offer free two-day shipping on eBay, so many buyers are used to waiting a bit longer for their products to arrive. Which means Chinese sellers have an easier time competing. Although it is worth pointing it out that shipping times from China have been decreasing, a trend which is putting pressure on all US sellers.
There is a lot of talk on Chinese sellers growing on Amazon. This has over time became a bigger topic since Chinese sellers utilizing Fulfillment by Amazon (FBA) can offer virtually the same buying experience. It's harder to monitor this on Amazon, but we are certain that China's percent will continue to rise.
eBay catalog is presented differently than on Amazon, where products are shared among sellers. On eBay each seller has their own product page, meaning that product description, pictures, pricing, etc. is all up to them. As long as they attract a customer to that page, there is no mention of competition. It will be interesting to see how this will change over time. eBay has been working a lot on the structured data initiative, which among other things will allow eBay to show the same product available from other sellers if they have a better price. This will have impact on the international seller split, likely upsetting US based sellers.