Since 2014 eBay.es is second largest ecommerce website in Spain, behind Amazon Spain.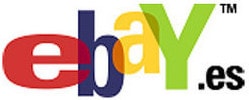 295,721,605 products
295,721,605 products are listed for sale by eBay.es marketplace sellers. On average a seller has 2,689 products listed for sale.
Ropa, calzado y complementos is the top category
20% of top sellers have their main category as Ropa, calzado y complementos. Other popular categories are Artículos para casa, jardín y bricolaje at 17%, Recambios y accesorios para motor at 11%, and Móviles y telefonía at 8%.
13,683,037 feedback reviews in a month
All sellers on the eBay.es marketplace received a total of 13,683,037 feedback reviews in a month. During the last 12 months on average 14,596,892 feedback reviews were received monthly, thus the current number is below the average, indicating that this is the slower period of the year. We use this change in feedback reviews number to determine
trending eBay.es sellers
.
99% run an eBay store
Most top sellers, 99% to be exact, run an eBay store. Sellers have an option to run a Basic, Premium, or Anchor store which each bring increasing benefits, but all in a way allow a seller to have a website inside of eBay to act as a landing page. Which means sellers can customize the design of it, create internal pages, and have a name for it.
81% have the Top Rated Seller status
Top Rated Seller status is awarded to sellers who meet certain sales and tracking requirements, as well as specific performance standards. 81% of the top sellers have the Top Rated Seller status. Of those with the Top Rated Seller status 1% are local sellers, meaning based in Spain.
Top Rated eBay.es sellers
.
1% sellers based in Spain, 99% are international
Among top sellers most are based in Reino Unido, representing 53% of all sellers. Other common locations include Alemania at 23%, China at 9%, and Estados Unidos at 8%. Many sellers on eBay.es marketplace are not based in Spain, instead they participate in cross-border trade. While eBay.es is a local website for Spain customers, most common location for a seller is Reino Unido. Thus
local eBay.es sellers
are filtered to only include Spain based sellers.
10% of sellers based in China
10% of top sellers are based in China and Hong Kong. 10% of international sellers on eBay.es are based in China and Hong Kong, showing that international selling on eBay is dominated by Chinese sellers, and that customers are happy to buy from them. There is no concept of Prime to offer free two-day shipping on eBay, so many buyers are used to waiting a bit longer for their products to arrive.
tigerkatze002 with 6,964% feedback increase at the top of trending sellers list
During the last month
tigerkatze002
increased their feedback received by 6,964% from the month before. They are at the top of the
trending sellers
list. They are currently ranked 3,372nd overall. Other trending sellers have also increased their feedback reviews:
kristiabau61
by 1,815%,
marcburge_5
by 1,641%,
craftykim5
by 834%,
all-canvas-uk
by 710%, and
*fantasy*dressing*up*
by 677%.
This report was last updated on . All metrics mentioned are calculated by our proprietary technology allowing us to collect data and analyze e-commerce marketplaces.
---
We monitor millions of sellers, if a seller you are looking for is missing report a missing seller and we will include them.