eBay News
A Growth Plan for eBay: Buy Etsy? No
There has been an article titled "A Growth Plan for eBay: Buy Etsy" circulating, which is quoting an analyst from Monness, Crespi, Hardt & Co. to have said that eBay should consider acquiring Etsy as a strategy for growth. The combined could company would have a larger product offering, and thus improve Ebay's chances in competition with Amazon. We think this is flawed idea.
Read more
Etsy News
Trending Etsy Shops Christmas Report
With only a few days left before Christmas we decided to look at which shops were trending on Etsy. Made With A Twist from Colorado Springs, Colorado makes winter hats, gloves and scarfs. After shooting a quick viral video about her product Messy Bun Hat which reached over 53 million people, she received over 11,000 orders in just 5 days. These are the sort of shops we are excited to uncover and share.
Read more
Etsy News
Etsy Shops from Nearly Every Country in the World, US Makes up 75%
English-speaking countries make up most of the list, with US shops at 75% of total shops, followed by United Kingdom, Canada, and Australia. Since launch in 2005, 11 years ago, Etsy has been most visible there, however as it grew bigger and as international shipping got easier and more affordable many more sellers joined the platform. 10% of Etsy shops are from all over the world.
Read more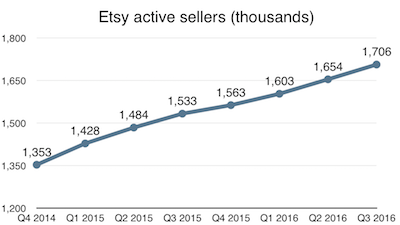 Etsy News
Etsy Adds 200,000 New Active Sellers in Q3 2016
Today Etsy released Q3 2016 financial results and there is plenty to be excited about. Etsy reports that active sellers count grew by 11.3% from 1.5 million to 1.7 million. This shows the marketplace at a healthy state and growing. As we noticed when analyzing top Etsy sellers the key marketplace drivers are small and medium sellers. So as the marketplace adds more of those, it only gets better to the customers.
Read more
Etsy News
Top Shops on Etsy Are Not the Most Interesting
Since including Etsy data in August we have been working hard on understanding how this marketplace functions and what insights we could uncover. Starting today we have enabled everyone to see how many products a seller has sold and how much feedback ratings they have received during the last month. More than 400,000 shops have sold at least one product in a month, while over 1.7 million have lifetime sales.
Read more
Etsy News
Analyzing 3,721,683 Sellers on Etsy Marketplace
We are very excited to include Etsy, the marketplace for hand-crafted and artisan goods. We have been monitoring Etsy for a couple of weeks and have a lot of interesting research planned for the upcoming months. Out of the 3,721,683 sellers on Etsy we found 586,740 sellers with at least one review in a year. Etsy is an international marketplace so a lot of those sellers are based all over the globe.
Read more